Canyoning in Queenstown
Canyoning in Queenstown
For those who love being active in the great outdoors, there's really nothing like canyoning to get
your heart beating, your adrenaline rushing and our sense of accomplishment fulfilled. Canyoning is
the act of creatively traversing a (usually) forested canyon landscape via walking, climbing, jumping,
swimming, abseiling and ziplining through each natural obstacle. These actions often resemble what
a person would have to do if he or she were exploring a remote area for the first time or lost in the
bush. As a result, survivalists often pursue canyoning with gusto and similar methods are used to
train military in survival skills the world over.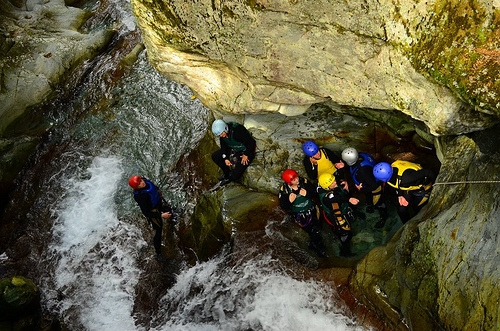 Having said that, canyoning is something that can be thoroughly enjoyed by anyone with a good
level of fitness and is perfect for thrill-seekers who are looking for a unique activity to give them the
edge. Canyoning in Queenstown offers the ideal mix of exciting terrain and stunning scenery,
meaning this location is one of the best canyoning locations in the world! Here are a couple of
Queenstown's best canyoning experiences:
Twelve Mile Delta
This two hour canyoning adventure offers a moderately difficult experience, perfect for total
beginners and even young teens (12 and up). Just ten minutes from Queenstown, this canyoning
course offers superb views of the Lake Isobel fed stream surrounded by towering canyon walls,
creating an atmosphere of lush, ancient landscapes. With native beech forests and rugged
topography as your backdrop, you'll swim through narrow channels, splash into calm pools, slide
down water chutes, abseil down steep cliffs and zipline over the wide gorge.
There's no need to be experienced at canyoning or abseiling – as long as you have a great sense of
adventure, don't mind getting wet and are open to having an amazingly fun time, you have
everything you need to successfully traverse the Twelve Mile Delta!
Routeburn
If you are after something a little more challenging and a lot more nail biting, the Routeburn
canyoning experience is your new best friend! Nestled deep within Routeburn Valley's stunning Mt
Aspiring National Park, this course will see you jumping, abseiling and ziplining your way down Bridal
Stream on a three-hour adventure (allow eight hours round trip, which includes gorgeous scenery of
Glenorchy, Lake Wakatipu and the surrounding National Park along the way).
This is undoubtedly one of New Zealand's most unique, inspiring and memorable experiences
available, in one of Queenstown's most beautiful locations.
You'll be guided along by friendly, professional guides, who will lead you along tight passages, creeks
and streams, steep cliffs, water chutes, over canyons and through challenging terrain. Prior to your
canyoning adventure, you'll be given full safety instructions and demonstrations of all the actions
you'll need to perform to complete the course. You'll require good physical fitness, good health and
swimming skills to complete this canyoning mission; however, you don't need any prior canyoning or
abseiling experience.
Regardless of which canyoning experience you choose, you'll come away from the experience with a
new zest for life, a true appreciation of nature, a new set of fantastic memories and a huge smile on
your face!


rating
93% of new customers that used Everything Queenstown to provide advice and securely book their Queenstown activities have let us know they've had a good or excellent experience with us. Thank you.