Why Bungy Jump in Queenstown?
Why Bungy Jump in Queenstown?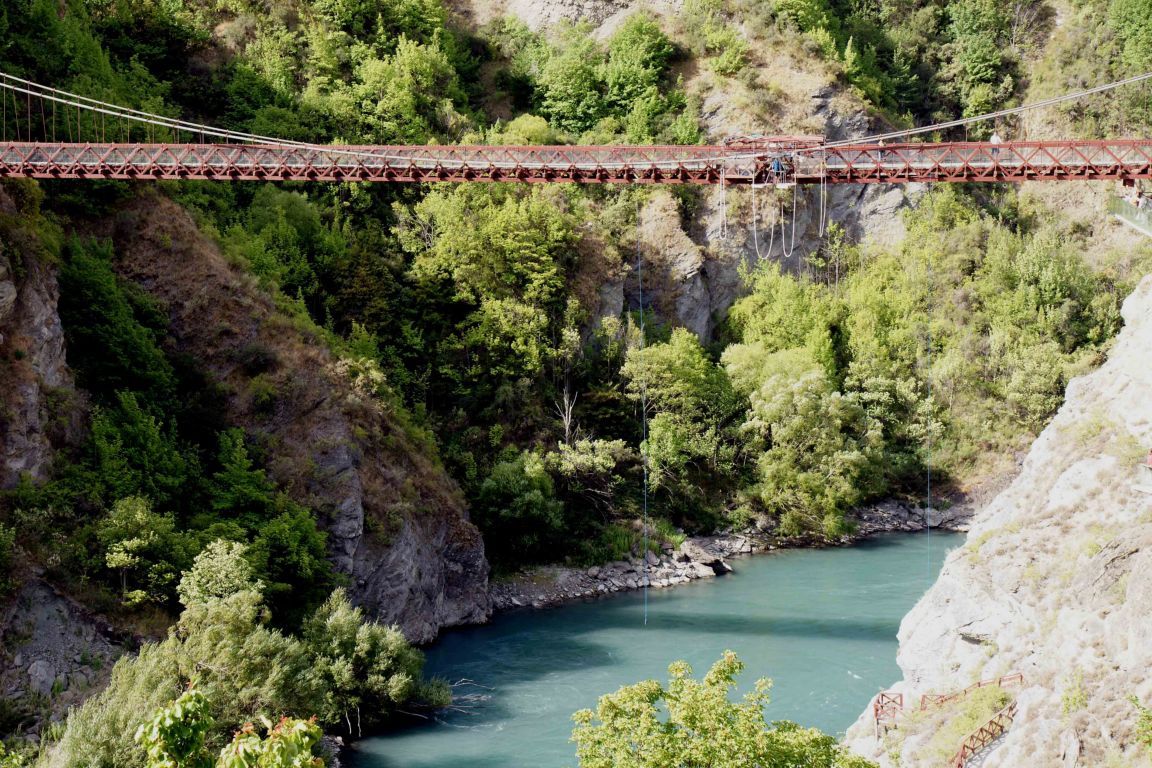 Although I feel the more pertinent question is: why wouldn't you bungy in Queenstown? Home of the world's first commercial bungy site and a number of other incredible options condensed into an idyllic, mountainous, prettier than a postcard little region. All this beauty, however, does not detract from it being any adrenaline junkies haven. It has a number of freefalling, high flying, speed demoning contraptions all willing to push you to the brink and make you question your purpose in life, before spitting you back out: alive, invincible and with a braver Instagram than any of your pals back home. Queenstown really is mother of the bungy and facilitator of all things adrenaline. It was only a few months ago that I arrived footloose and fancy free, ready to immerse myself into this act now think about death later culture, that attracts so many. What better way than to throw myself off a bridge, head first with an elastic cord stopping what felt like inevitable death? Thus, I researched the various options and set my sights on the first ever bungy site- mildly concerning because this did mean it was the oldest, but I rate experience and in time, would not regret my decision. This is also the only bungy around Queenstown that enables jumpers to go in tandem, although on this occasion I didn't fancy sharing the glory and figured if I were to really impress, I had to take the plunge solo.

The Kawarau Bridge bungy is situated a mere 20 minutes away from central Queenstown by coach and after the AJ Hackett team, a wild, but safety conscious bunch, branded me with my weight (sorry guys no time to be self-conscious, safety first), we arrived on site. My favourite thing about this spacious hub of souvenirs, photo viewing computers, cafe and toilets, had to be the 'Liquid Courage' bar outside. Had I known this alcoholic oasis was there, I would have eaten a more sufficient breakfast. Alas, I wanted a video of me jumping and not stumbling off the platform so thought better of it. The order of jumpers/victims is completely up to the group and you're able to wonder onto the platform at your leisure and declare yourself ready to take the plunge. Although I would recommend going reasonably quickly so you don't have to sit through others suffering at the edge, making you question your most recent purchase. Going first or near the beginning also gives you more time at the end to digest, celebrate and view the snaps and video of you conquering the bungy. With this in mind, I hurried along the bridge and was the third jumper in my group. It was a freezing winter morning, so I elected not to be dunked into the river, although I can definitely see the appeal of this in summer.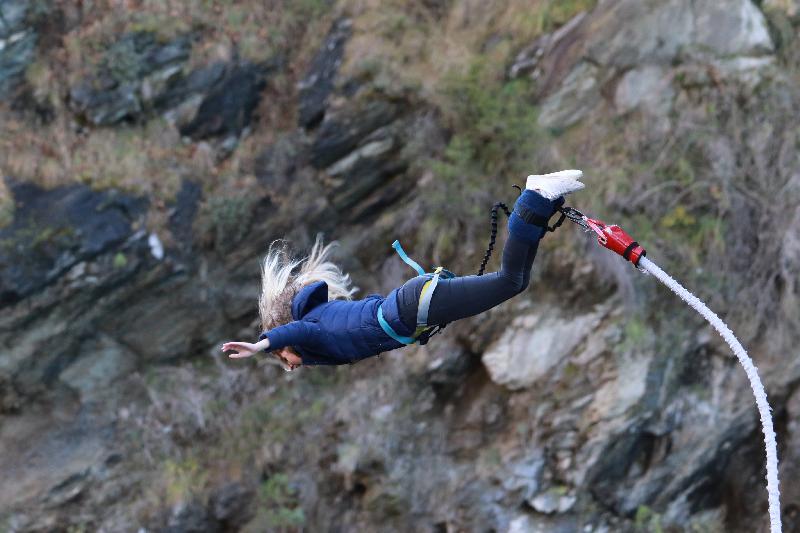 The team immediately put me at ease, teasing and joking around while they secured the cord around my ankles. It was at this moment I realised I would have to hobble onto the platform with my legs bound together and after watching a couple of people hop dangerously close to the edge, I opted for an awkward shimmy. The photo shoot then commenced and consisted of me posing away like a narcissist, trying to get that perfect shot #candid. Reality struck when the posing stopped and although the view was beautiful, 43m isn't exactly a walk in the park. From that moment on it was a blur, I heard a 3,2,1 bungy and before I knew it, I'd swan dived. I've always been pretty chilled with heights, but this was testing and I knew the longer I stood staring over the edge, the more torturous I was making the situation. Plus the AJ Hackett crew admitted they thrive on watching jumpers squirm and after talking a big game, I was not giving them that satisfaction. I would like to say I pirouetted and twirled through the air gracefully, but my video would indicate that this was not the case. I jerked and jolted like a rag doll and although the experience was short lived, it was unforgettable. I genuinely loved every second. Would I do it again? 100%. I got a real kick from it, although a few weeks on, the invincible feeling is dwindling. Onto the next one I think!


rating
93% of new customers that used Everything Queenstown to provide advice and securely book their Queenstown activities have let us know they've had a good or excellent experience with us. Thank you.