What to bring to Onsen Hot Pools in Queenstown - 5 top tips
What to bring to Onsen Hot Pools in Queenstown - 5 top tips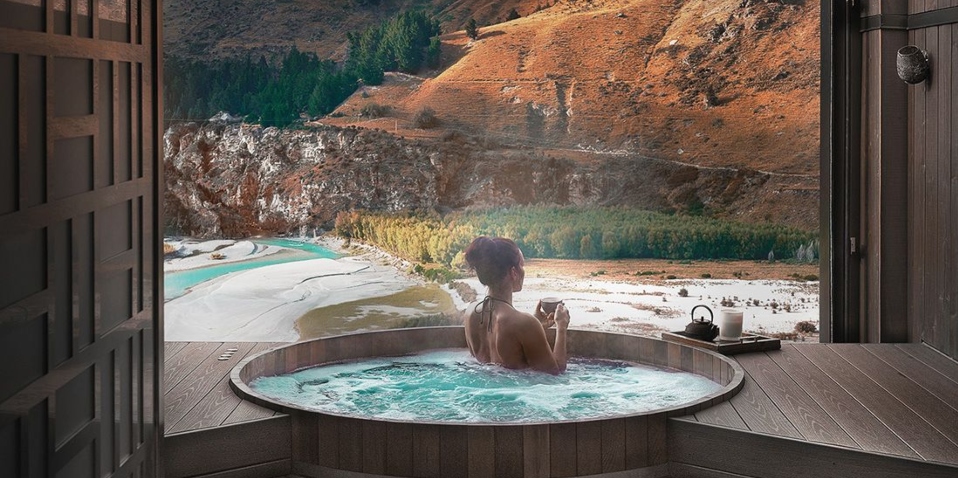 Queenstown is a popular holiday destination in New Zealand that is well known for its adventure and adrenaline-filled activities. But contrary to popular belief, bungy jumping, jet boating and skiing are not the be-all and end-all of this beautiful town. Yes, really! You can also enjoy the serenity of Queenstown's wild mountains and rivers from the comfort of a cedar-lined hot tub at Onsen Hot Pools. Talk or livechat with our local experts at Everything Queenstown today to create your dream Queenstown itinerary!
Perched high above the mighty Shotover River and surrounded by snow-capped mountains, Onsen Hot Pools is the definition of idyllic. Seriously, so much so that they should update the dictionary. The combination of its beautiful setting and luxury pools have made Onsen Hot Pools a Queenstown holiday essential. And because of this 'wow factor', a slot at this slice of heaven in Queenstown is often booked out months in advance. To tick Onsen Hot Pools off your bucket list, we recommend choosing your experience now and booking ahead of time here.
Fancy the best of both worlds? Here at Everything Queenstown, we've come up with what we think are the best Queenstown activities to pair with Onsen Hot Pools, so you don't have to! Find and book our Onsen combos here: Shotover Jet, Twilight Wine & Beer Tour, Shotover Canyon Swing and Walter Peak BBQ Lunch & Lake Cruise.
So now that you are all booked in, your next question is probably: 'What should I bring to Onsen Hot Pools?' Well, before we create the ultimate packing list for your Queenstown spa experience, we thought it would be useful to answer some Frequently Asked Questions on what to bring (and what not to bring) to Onsen Hot Pools below:
1. Are towels provided?
Yes! Towels are provided at Onsen Hot Pools, so there is no need to weigh down your bag by bringing your own. Fluffy white towels are waiting for guests in the pool room, which means you are all set to get changed and start your 1 hour of bliss. After your time's up, you can simply leave the towels behind in the pool area to be collected by the amazing Onsen Hot Pools team.
2. What about snacks?
The all-important question - will there be snacks? While you are unable to take BYO food into the pool room with you, Onsen Hot Pools provide some great options for hot tub snacks. Upon your arrival, choose between your favourite flavour of ice cream, crisps or chocolate, all sourced locally in New Zealand. Then, once you are all settled in the pool room, your complimentary nibbles are brought in for you to enjoy while soaking in the view.
3. Can I bring a bottle of bubbly?
Onsen Hot Pools lends itself as the perfect venue for a romantic date or special occasion with friends. A glass of bubbly or your favourite tipple while relaxing in a luxury hot tub seems like the ideal pairing, and Onsen Hot Pools have already thought of this. Due to the nature of this experience - 'hot pools' being the clue - dehydration and overheating are important health and safety factors to consider. So while you cannot bring your own drinks, Onsen Hot Pools do provide a complimentary glass of delicious wine, beer or juice of your choice, and a jug of water to keep you hydrated.
4. Is skinny dipping allowed?
A cheeky skinny dip is not permitted at Onsen Hot Pools and correct me if I'm wrong, but I think we can all understand why. Each cedar-lined hot tub is constantly refreshed with spring water from nearby mountains, which makes Onsen Hot Pools a truly pure experience. So be sure to pack your togs as item Number 1 of what to bring to Onsen Hot Pools with you.
5. Should I bring a camera?
Set in a dream location for photographers and Instagrammers, there are some incredible shots to be had at Onsen Hot Pools. Let's be honest, there is a new profile picture in the making here! No matter the time of day or year, or whether you book the Outdoor Onsen or Original Onsen, we promise the photos you take will be ones to share with your family and friends. That's why if you're half way to Onsen Hot Pools already and you don't have your camera, we recommend turning around and going back for it.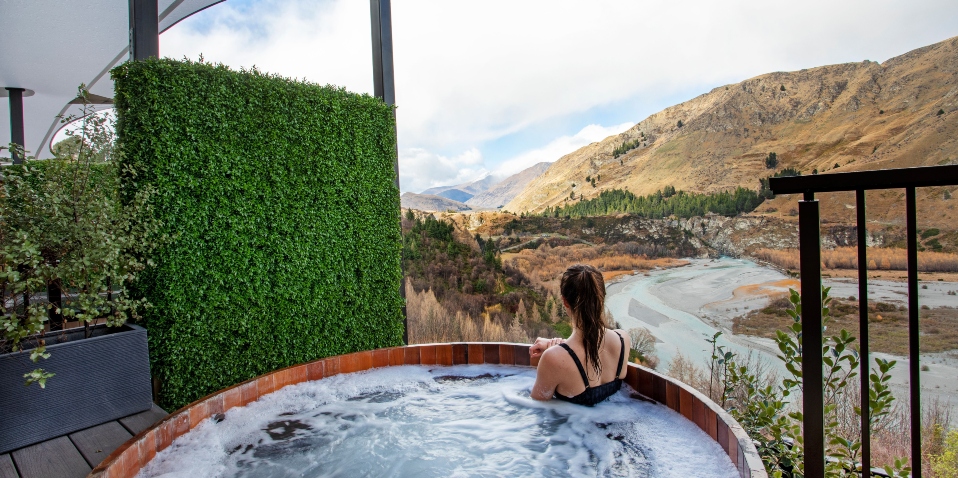 Now that we have answered all those questions you may (or may not) have had about what to bring to Onsen Hot Pools, we can put together a definitive packing list.
What to bring to Onsen Hot Pools:
Your comfiest or most gram-worthy swimwear
Camera and/or smartphone
Flip flops (optional) for the stroll from changing room to pool room
A hair tie (optional) to keep those long locks out of the water
Bottle of water (recommended) for the drive home
Good vibes - very important
Onsen Hot Pools provide a great way to unwind after a day full of outdoor adventures in Queenstown. Once you are all packed and ready to go, simply relax, rejuvenate and spend time with your friends and loved ones in this beautiful setting.
Here at Everything Queenstown, we are passionate about finding and testing out the best tours and activities in Queenstown. Whether you're looking for adventure or relaxation, chat with our friendly team to make your Queenstown vacation one to remember. So what are you waiting for? Contact us today!


rating
93% of new customers that used Everything Queenstown to provide advice and securely book their Queenstown activities have let us know they've had a good or excellent experience with us. Thank you.