Easy to book - Secure Online Payments - Instant email confirmation - Flexible to make changes
Hang Gliding - Skytrek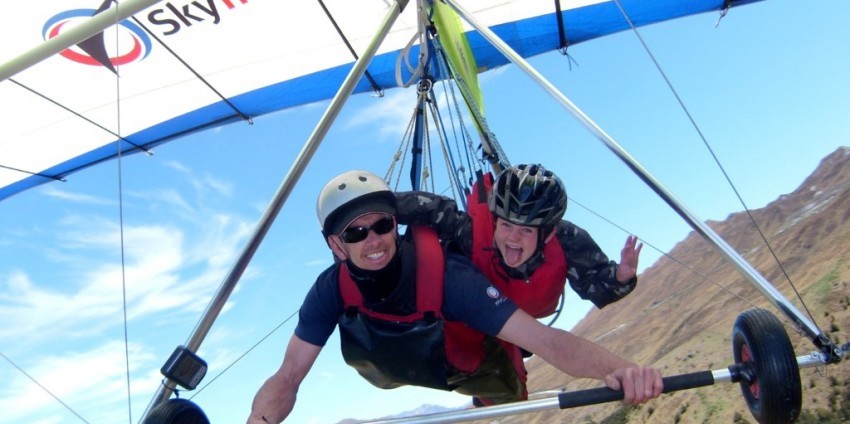 from NZD$235.00
Hang Gliding - Skytrek
Description
As you run as fast down the slope as your legs will carry you, you feel the crisp, cool wind in your face. With every step you take you feel your body becoming lighter and lighter until finally, reaching a point of seeming weightlessness, you lift off and to your amazement take flight. You are stunned as ancient rock formations, mighty tortuous rivers and tranquil turquoise lakes unfold beneath the hang glider in an incredible panorama. The feelings of amazement, exhilaration and enchantment that you experience on a hang glider cannot be replicated anywhere else. Coast above the awesome views or, if you are so inclined, making daring dives and swoops at high speeds of up to 80km/h.
Manoeuvre your own hang glider under the careful supervision of our professional pilots. Alternatively, put yourself in the care of experienced staff who will ensure you're as safe and secure as possible. Skytrek's hang gliding adventures are the most value for money in Queenstown, and also the most impervious to weather conditions. Unlike other companies, Skytrek operates its hang gliding adventures all year around.
Trip Includes
Return transfers from central Queenstown
The flight!
Digital photos are available to purchase after flight
Duration
Departures
Summer (Nov-Apr) - 9am, 12pm, 3pm, 6pm
Spring (Oct) - 9am, 11am, 1pm, 3pm
Does not operate during winter months (May-Sep). In winter see Aerotow Hang Gliding
Departs from Ziptrek office, 45 Camp Street, central Queenstown
Other Information
Operates during summer only from October to April. If you are wanting to hang glide during the winter months please click on the following link: Aerotow Hang Gliding

Warm clothing and sturdy footwear are recommended
Digital photos are available to purchase after flight. They are taken by the pilot using a specially mounted camera pole that captures you, your pilot and the amazing scenery around you
Flights average 10 to 20 minutes. Passengers can take the controls and fly the glider under supervision
Maximum weight is 100kgs
Skytrek has flown passengers aged 4 to 84. Passengers aged 16 or under require parent's or guardian's permission
Genuine Customer Reviews powered by
Service rating: excellent
service is easy to use

Product rating: excellent
exciting
Service rating: excellent
Booking was quick and easy. Great service and prompt reply from helpful staff.

Product rating: excellent
Great experience and my guide Beau was friendly and professional.
Service rating: excellent
The staff is friendly and helpful

Product rating: bad
As customers from an Asian country, hang gliding is very foreign to us. We treat this as a once in a lifetime experience. The staff could have made the whole activity worth the time and money, like having the driver take photos of us before the flight. The worst thing was they seem to be in a hurry to go somewhere, rushing through the entire activity, as though we were a last minute booking. In fact one of them was going to meet someone else. We were very disappointed with this event.
Service rating: excellent
excelent

Product rating: excellent
amazing!
Service rating: excellent
Prompt and professional service

Product rating: good
For the price, the duration of the adventure was a bit short
Service rating: good
Easy to navigate and book

Product rating: excellent
Awesome trip, staff brilliant and experience was amazing.
Service rating: excellent
really good.

Product rating: excellent
amazing experience.
Service rating: excellent
Easy to adjust booking due to weather forecast and very professional

Product rating: excellent
Ian was a very informative and supportive Pilot, Carmen also helped to keep us in the know and ease us into the adventure. Overall a fantastic experience with a great team!
Service rating: excellent
Easy to book, good information on the website

Product rating: excellent
Great
Everything Travel Group Review
It's like flying like a bird, soar high above the fields below and fly past the outcrops of the Remarkables mountains. If conditions allow the pilot may even allow you to take the controls for a while and see how smooth a flight it can be. Want more action? Simply let your pilot know and they can dive and swoop, or relax and take the scenic flight, its all up to you in flight. Make sure you get the inflight photos.
Wow Factor
Fun Factor
Latest Questions about Hang Gliding - Skytrek
Can I bring a friend with me to watch my flight or is that not possible because of transportation to Queenstown and the different landing site?
Comments
Where is the launch site for your hang gliding?
Comments
I am planning to be in Queenstown from 15/4/15 until 27/4/15. I am more interested in doing the Aerotow hang gliding over Glenorchy. Is this possible within these dates? Or will l see the same scenery regardless of which hang gliding l do?
Comments
I want to do hang Gliding in June but dates is not available online when I try to book? Or I need to book from Skytrek?
Comments
Hi, what's the minimum age to do Hang Gliding? My 9 year old is very keen and I was wondering if she could do it...
Comments
I will be in NZ next February 2014 and wish to hang glide. Is there a tolerance on that max wgt. I'm currently at 106 kg.
Comments
Website states bring your camera. Are we permitted to carry our camera and take pics/video. ?
Comments
Do you provide photos plus video of the tandem flight? Is there a video flyer who does it or the glider pilot does it himself. I will bring my own camera also but looking at your videos on your website, would like to have one of those if poss, where you can see the passenger and pilot flying. What are the costs of photos/videos please? thanks
Comments
Hi I am thinking of driving to the SkyTrek hang gliding site. Is the location at the Cromwell Racecourse Airport at state highway 6 in Gibbston Valley?
I am thinking of taking the 12pm session. How many minutes ahead should I be at the site. Can I purchase the hang gliding tickets at the site?
Appreciate your advise. Thanks
Regards
Tao Chih, Lim

Comments
Due to hang glide with you in late July. Is it OK to bring our own GoPro camera to record the hangglideing?
Thanks and can't wait to see NZ!!
Comments
We will be visiting Te Anau and on the 24th we would like to book Hang Gliding Skytrek but I way 115kg's. Will this be a problem.
Comments
Comments

rating
96% of new customers that used Everything Queenstown to provide advice and securely book their Queenstown activities have let us know they've had a good or excellent experience with us. Thank you.