Easy to book - Secure Online Payments - Instant email confirmation - Flexible to make changes
Jet boat - Skippers Canyon Jet & 4wd
Highly Recommended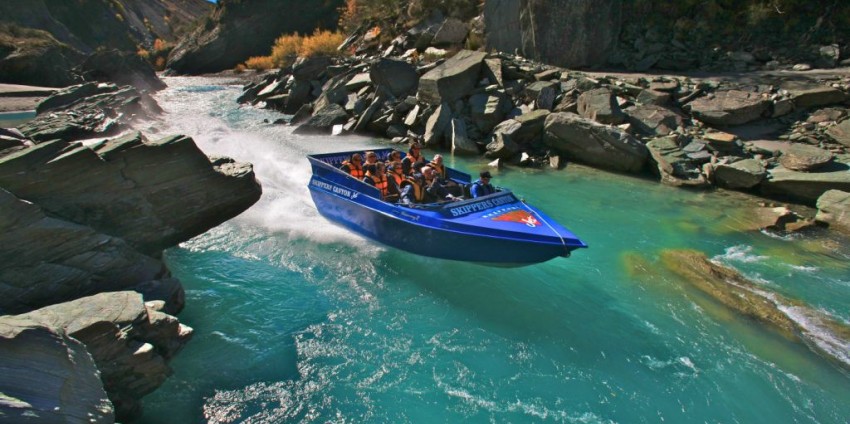 Jet boat - Skippers Canyon Jet & 4wd
Description
Charge through an awe inspiring canyon towering intimidatingly over the river, and grip the handrail with white knuckled hands as the boat careens past craggy cliff faces and rocky canyon walls. Your adrenalin levels skyrocket as you coast the shallow waters of the Shotover River at terrifying speeds and launch into dizzying jet spins, otherwise known as Hamilton turns.
A jetboat ride with Skippers Canyon adventures in Queenstown is the only way you can explore the renowned Skippers Canyon in such an exciting manner. The company is the only one allowed to operate in the area. Getting to the start of your ride is great fun in itself, as your transport to and from Queenstown takes you down the Skippers Canyon Road, which was dug out of schist rock and takes you past some of the most incredible scenery in New Zealand.
Get to see several filming locations used in the making of the Lord of the Rings, learn about the incredible engineering prowess of the early pioneers and enjoy your driver's commentary as he details the history of various mining relics littering the riverbank.
The Boats
The large, blue jet boat used by Skippers Canyon was specially designed for use on the Upper Shotover River. Made of heavy gauge aluminium, the boats offer the utmost in strength and are extremely manoeuvrable.
The "Big Blue" jet boats run on Chevrolet v8 engines with 450 horsepower and consume high-octane aviation fuel. A powerful Hamilton Jet 212 jet unit, which pumps an impressive 25,000 litres of water per minute, provides a mighty thrust.
Skippers Gold Experience
If you'd like to try your hand at gold panning, enjoy a visit to Winky's Museum and cross the Pipeline suspension bridge, you have the option of upgrading your adventure to include a 4wd ride that takes you into Skippers and includes light refreshments.
Trip Includes
Return transfers from central Queenstown
Transport into Skippers Canyon from Queenstown with amazing canyon views (45 min each way)
The thrill seeking Jet boat adventure ride powering up & down the Shotover River through narrow canyons (30 min)
Gold mining history, Lord of the Rings locations & spectacular scenery
Gold panning & light refreshments (Skippers Gold Experience only)
Duration
30 minute jetboat ride
Allow 3 hours from Queenstown including 4wd trip each way
Allow 4.5 hours for Skippers Gold Experience
Departures
Skippers Jet - 9am & 1pm during winter (May - Sept)
Skippers Jet - 8.30am, 12pm & 3.30pm during summer (Oct - Apr)
Skippers Gold - 9am & 1pm during winter
Skippers Gold - 8am & 1pm during summer
Pick up from outside the Station Building, central Queenstown
Other Information
Child rates available (3-15 yrs)
Photo packs of your jet boat can be purchased on the day
Dress warmly, sunglasses are recommended
Spray jackets are provided on request to help keep you dry
Not suitable for pregnant women
Upgrade to the Skippers Gold Experience which includes a 4wd ride into Skippers, a visit to Winky's gold mining museum and the 102 m high Pipeline suspension bridge
Normal Retail Prices
Skippers Jet:

adult NZD$159.00
child (3-15yrs) NZD$85.00
family (2ad+1ch) NZD$318.00

Skippers Gold Experience:

adult NZD$195.00
child (3-15yrs) NZD$115.00
family (2ad+1ch) NZD$390.00
All prices shown in NZD$.
Everything Travel Group Review
This definitely gets my tick of approval. Racing through the world famous Skippers Canyons via jet boat is a truly unique way to feel embraced by the beauty of Lord of the Rings territory and miners history. Reaching speeds of up to 80km/hr, make sure you hold on tight while your driver navigates the cliff faces and then swings the boat into a 360 degree spin known as a Hamilton jet spin. Not to mention the 4WD tour getting to the boat, the Skippers Canyon Jet Boat sure does get the adrenalin pumping.
Thrill Factor
Wow Factor
Fun Factor
Latest Questions about Jet boat - Skippers Canyon Jet & 4wd
How much of the 23km of Skippers road do you travel to get to the skippers jet boat?
Comments
Hi,
Do you sell gift vouchers for this trip and do they need to be bought for a specific date?
Thanks
Adam
Comments
Are we able to self drive to the canyon and then take the jet boat trip.
Regards
Col
Comments
Hello
I would like to book a jet boat ride for my family of three. I am in a wheelchair and wanted to find out if you are accessible and if the 4 wheel drive part of the skippers gold package is accessible as well?
Comments
Our son is 2 years and 8 months. Is he allowed on jet boat and if so how much?
Comments
Can you tell me the duration of this tour from pick up at accom & return as we have limited time.
Comments
Hi,
I was just wondering is the do u need to purchase the
Gold tour ticket to see The Lord of the rings or is that
Included in the standard one.
Thank you
Comments
Does the $129 Price includes the 4wd?

Can you please confirm what the $129 price includes?? Does it only include the transfer fro m Queenstown to destination and jet ride?
Comments
Can I take my own GoPro on the Skippers Jet?
Comments
Hi,
Will there be photos and/or video available for purchase of the Skippers Gold Experience package?
Thanks
Comments
How long does the actual journey down this dangerous road take? I really want to do this, but am more than just a little bit scared...Is there any other way to get to the bottom of the canyon?
Comments
What does the Skipper's Canypn Gold include?
Comments
would it be ok for our 2 1/2 year old to join us adults on this jet boat adventure? If not, can the three of us take the organized trip from Queenstown to the canyon, and only one adult takes the skipper boat ride while the other one stays on land with our toddler? Thanks for the info, Gitta
Comments
Can I book the above and give you the details of my accommodation for pick up later?
Comments

rating
95% of new customers that used Everything Queenstown to provide advice and securely book their Queenstown activities have let us know they've had a good or excellent experience with us. Thank you.