Easy to book - Secure Online Payments - Instant email confirmation - Flexible to make changes
Kayaking - Funyaks
Current Special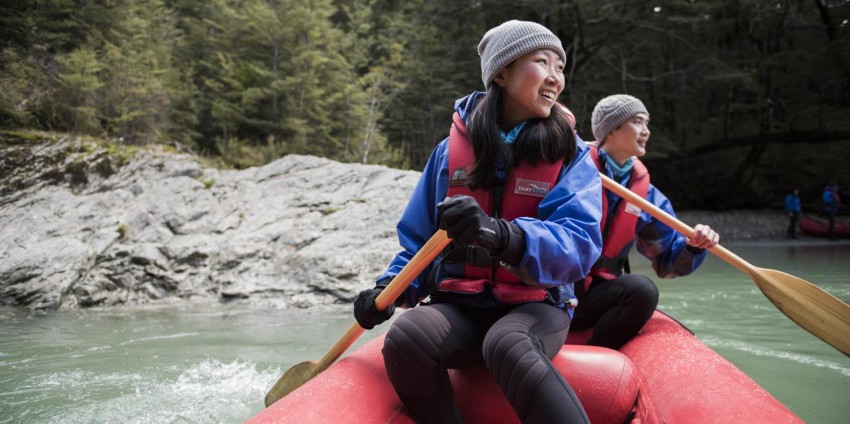 from NZD$339.00
Kayaking - Funyaks
Description
Experience the wilderness in an original and exciting way by embarking on a Funyak Kayaking Safari, where the exhilaration of jet boating is combined with the quirkiness of Funyak inflatable canoes. Explore the astounding beauty of the World Heritage area in Mt Aspiring Natural Park on this very special adventure. You will be well taken care of by professional guides who will ensure you have the best possible experience in this incredibly diverse land of natural and cultural wonders.
Jet Boat Action
Race down the river on a thrilling jet boat ride, gripping the handrails in alarm as your driver launches into jet spins that will get your adrenalin pumping. Travel up the fascinating channels of the Dart River with its braided river system. Your experienced driver will make frequent pauses in order to point out to you some of the most amazing sights in what is a simply breathtaking natural lanscape.
Unique Funyak Adventure
Move on to the next segment of your adventure by boarding your very own Funyak and paddling or drifting down the river accompanied by an expert guide, who will indicate notable sights and regale you with tales of this amazing part of New Zealand. Navigate the sparkling Dart River channels, explore concealed side streams, float past pristine rock pools and peer into awe-inspiring chasms.
Wilderness Buffet Lunch
Along the way, stop for a mouth-watering buffet lunch deep in the wilderness and nestled in a beautiful setting. After eating your fill, board your Funyak and continue on to Paradise, after which you'll take a lovely route through rustic back-country in order to view stunning scenery that has been featured in numerous global films, most notably the epic Lord of the Rings trilogy.
People of all ages and with all levels of fitness are welcome, and you need no particular experience or skills to enjoy a Funyak adventure.
Trip Includes
Optional transfers from Queenstown
Exhilarating wilderness jet boating along the Dart River
Unique Funyak adventure in inflatable canoes
Delicious wilderness buffet amidst spectacular scenery
Journey through the back country roads of Paradise to Glenorchy
Entertaining & informative commentary including Lord of the Rings trivia
Duration
Allow 8-9 hours inlcuding transfers to Glenorchy from Queenstown (45mins each way)
Departures
8am (returns 4pm)
Queenstown Hotel pick up or self drive to Glenorchy (45 mins from Queenstown)
Operates daily all year
Other Information
Child price available for children aged 5 - 15 years
Children under 5 years are not permitted
Please take swimwear & a towel with you
Dress warmly as the wind chill can often be quite cold in the winter months
We advise you to take the following: Sunscreen, water, hat, shades, insect repellent & of course your camera
Adult : Special NZD$339.00 (was NZD$349.00)
(Special from 1 st April 2017 - 31 st December 2017)
Child (5-15yrs): NZD$239.00
Family (2ad+2ch): Special NZD$917.00 (was NZD$937.00)
(Special from 1 st April 2017 - 31 st December 2017)
Genuine Customer Reviews powered by
Service rating: excellent
Really good service - I had to change my booking and they were brilliant - really helpful!!!

Product rating: excellent
The tour guide was excellent!! Really good knowledge of the area and detail on the Rainforest - it made travelling by bus a pleasure!! There were many activities and many things to see and do. I really enjoyed the whole experience!!!
Service rating: good
Would have been better if the meeting time for the Segway was on our confirmation and ticket the same! But luckily Segway found a Guide for us to be able to still do the tour same day but different time slot!
Product rating: excellent
Service rating: excellent
Booking & organization very efficient

Product rating: excellent
Great day out, thanks
Service rating: good
Very good although we were told by everything travel that we needed to be at the funyak base for 8.30 am and it would take an hour to get there from Queenstown so we left just before 7.30 am only to arrive just before 8am and the staff to tell us to go away and get a coffee. in fact the rest of the group on the bus didn't arrive till 9am meaning we could have had an extra hour in bed!

Product rating: excellent
brilliant activity with amazing vieW's!
Service rating: excellent
very great friendly
Product rating: excellent
Service rating: excellent
Very easy to deal with and any changes were no problem at all.

Product rating: excellent
One of the best days we've had. I can highly recommend this tour to everyone.
Service rating: excellent
Booked as easy as A B C.. thank you.

Product rating: excellent
This is a must for anyone travels to Queenstown. The instructors Gareth, Sean and Haidy were awesome and fun. We enjoyed this so much.
Service rating: good
Cool site
Product rating: excellent
Service rating: excellent
Excellent

Product rating: excellent
Super Fun
Service rating: excellent
Well organised

Product rating: excellent
Great fun - great guides - felt very safe especially as we had kids with us
Service rating: good
Food was ordinary and can be improved.

Product rating: excellent
We enjoyed the day with the tour guide Peter who was exceptional in sharing his knowledge about Cairns, Port Douglas and the Daintree rainforest in general. He was very passionate and approachable in every way taking a comedic roll throughout the tour. Will definately recommend this tour purely based on his performance.
Service rating: excellent
Great service from all staff
Product rating: excellent
Service rating: good
No comment no direct contact with them

Product rating: good
Engaging staff that gave you a feeling of being with people with enough experience. Great scenary. Good mix of jet boat kayak and driving.
Service rating: excellent
Booking was easy - all my emailed questions were answered. I was so happy I booked another two activities

Product rating: excellent
Guides Finn and Christian were the BEST!! They made us feel special and travelling on my own, Finn made sure I had a great time [I was his "engine" and he was the "captain" and did the steering]. I will recommend the Funyaks / Dart River activity to everyone I speak to. Absolutely WONDERFUL. The whole team from booking, to suiting up, to kayaking, lunch and finally the staff back at base were top notch.
Service rating: excellent
Was such an amazing experience, our most favourite activity so far!! Massive thank too stu & fin for being outstanding fun & enjoyable tour guides
Would recommend it to anyone!!! Great value for money, sincerely Mathew and Sarah

Product rating: excellent
Comfortable kayaks and loved the wooden paddles
Also compliments to the chef who prepared our gourmet lunch
Service rating: good
Overall a pretty good tour, get to see the rainforest in a few different areas and crocs if your lucky!

Product rating: good
Be aware though that you see Port Douglas briefly as you drive back from cape Tribulation
Service rating: excellent
Excellent.

Product rating: excellent
Fantastic day, helpful staff, beautiful sceinary.
Service rating: good
Very good

Product rating: excellent
The tour we did in port Douglas was excellent . The best was the man who did our tour George I think his name was .
Service rating: excellent
Booked all my Cairns adventures through Everything Travel Group due to value for money. Best decision ever. The tours were awesome. You have a customer for life.!!!

Product rating: excellent
Thanks George. Fun, informative and great day !
Service rating: excellent
The company were very quick their response and issuing of the vouchers. We had not problems with any of the activities that we had vouchers for. Overall, a perfect holiday was planned for us! Thank you!

Product rating: excellent
Another fantastic day activity that was worth the money!
Service rating: excellent
Very easy to book online.

Product rating: excellent
Funyaks was the best days I had in Queenstown. A great experience with jetboating, canoeing and a great lunch.
Latest Questions about Kayaking - Funyaks
is it ok to book a family pass with 2 adults and two kids if the adults are the same sex and one of the kids is 15yrs
Comments
Should we bring a change of trousers for the day as we probably may get wet on the fun yak tour? Can we leave a backpack dry in the bus?
Comments
can you accomodate 35 people on day?
Comments
There are 2 of us travelling together. All the promotional pictures show 2 people in the Funyaks but the words seem to indicate each person has there own. Can you please clarify as we would like to be in the 1 Funyak.
Comments
May i know how long the kayaking will be?..do you provide halal or vegetarian food for this trip?..is this trip consists of 4wd drive and speed boat?, for speed boat, how long the journey is?
Comments
Hi;
Will you be operating on New Years Day 2013?

Comments
We are looking at booking in late August, do we still require swimmers? Also is a vegetarian lunch available. Cheers
Comments
Hi I am coming to Queenstown in Oct. I will be travelling on my own - is it OK to be solo.
Comments
Hi, we are in Queenstown from 21 - 27 July and my son who is currently 4 will be turning 5 on 21 August. Is he able to participate on the fun yaks with an adult? Thanks
Comments
We will be visiting in July, and are booked on this tour. How do we dress for this tour?! We are coming in from the states and I am starting to pack!
Comments
ALready scheduled for 7 Apr. 2012 and curious if any weather gear is provided? Also, is trip cancelled if it rains?
Comments
Hi
Just wondering if it's possible to arrange for a pick up from our accom at Breakfree The Point 239 Frankton Rd Queenstown.

Also, are there still plenty of places available on 7th April ? we're looking at booking for 3 adults.
Can we secure booking with credit card details and pay closer to the event date

Thank you.
Comments
Do you have to go on the jet boat on the Funyaks tour or is there another way to get to the start of the Funyaks?
Comments
Hi, interested in the Funyak tour. What happens if it's raining?
Comments
Hi there
We are arriving in Queenstown on the 13th Jan for 7 nights and would love to do something like this, what are our chances of getting a booking once we arrive.
Comments
Hi, me, my husband and 2 gals aged 11 and 12 years are interested to book the Funyaks adventure. Can we book on 27th Dec?. May i know if we are require to wear waterproof shoes. Crocs? slippers? normal swimwear? Will you provide the wetsuit? What are the difference in fees if we drive on our own from hotel to Glenorchy? Any further discounts for 2 adults and 2 childs package?
Comments
This trip looks amazing, do we need any kayaking experience to be able to do this trip? We are in our 50's and really keen to see some of the scenery and Lord of the Rings locations in Glenorchy, this looks like a great way to see it with the jetboat ride as well. Is the jetboat ride very fast or scarey?
Comments

rating
96% of new customers that used Everything Queenstown to provide advice and securely book their Queenstown activities have let us know they've had a good or excellent experience with us. Thank you.