Easy to book - Secure Online Payments - Instant email confirmation - Flexible to make changes
Lake Cruises - TSS Earnslaw Steamship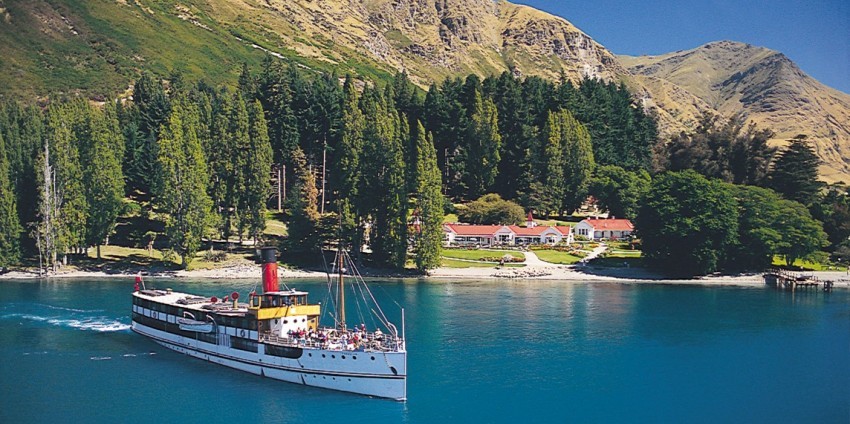 from NZD$65.00
Queenstown Lake Cruise on the Earnslaw
Description
The grand old TSS Earnslaw, which has earned the affectionate nickname of the 'Lady of the Lake', is a favourite amongst the people of Queenstown. Since 1912, the vessel has been sending goods to inaccessible settlements and carrying passengers on the lovely Lake Wakatipu. Taking a cruise on the TSS Earnslaw enables you to view breathtaking scenery from the decks of a wonderful vintage steamship.
Soak in the nostalgic atmosphere as you board the steamship, catch sight of stokers adding fuel to the fireboxes and listen to the puffing of the steam engines. In between gasping at stunning views of Lake Wakatipu, you will have ample time to tour the bridge and decks of the TSS Earnslaw, visit the engine room and view displays on history in the Gallery. You might even like to join a singalong session accompanied by the TSS Earnslaw's resident pianist.
Departures take place at regular intervals throughout the day. You may choose between taking a cruise on its own and combining it with a stop at Walter Peak High Country Farm, where you will embark on a guided tour of the farm. You can also include a barbecue lunch or sumptuous evening buffet to complement your visit to Walter Peak.
Walter Peak Evening Dining & Lake Cruise
Spend an evening on board the TSS Earnslaw and enjoy Colonel's Homestead Restaurant's mouthwatering carvery buffet. Find out more about this wonderful evening at the following link: Walter Peak Evening Dining & Lake Cruise.
Water Peak BBQ Lunch & Lake Cruise
Add to your lake cruise by participating in a guided visit to the farm, which includes a delicious barbecue lunch. To find out more, clock on the following link: Walter Peak BBQ Lunch & Lake Cruise.
Trip Includes
Return cruise to Walter Peak (45 minutes each way)
The Cruise & Farm Tour option includes a guided farm tour of Walter Peak Station
Duration
Cruise only - 1.5 hours
Cruise & Farm Tour - 3.5 hours
Departures
Cruise only - 12pm, 2pm, 4pm (& 10am in summer)
Cruise & Farm Tour - 12pm & 2pm (& 10am in summer)
Departs from the Steamer Wharf on Queenstown's lakefront
Other Information
Includes a 1 hr 30 minute cruise across Lake Wakatipu to Walter Peak High Country Farm
On the 'cruise only' option passengers do not disembark at Walter Peak
Child is 5 -14 years (4yrs & under are free)
The Earnslaw is on annual survey during June (during this period a launch will subsitute for day tours)
Customers booking the Farm Tour also receive morning or afternoon tea
Guided Cycling tour available at Walter Peak (must be prebooked)
As us about the Real Journeys 20% Multi Purchase Discount off selected Real Journeys products
Cruise only:
adult NZD$65.00
child (5-14yrs) NZD$22.00
Cruise & Farm Tour:
adult NZD$80.00
child (5-14yrs) NZD$22.00
Genuine Customer Reviews powered by
Service rating: excellent
I'm very thankful to your team, fast response of my ticket purchased. Really enjoy the farm tour!
Product rating:
Service rating: excellent
Loved the Earnslaw boat trip. She is a lovely old steamer & I was very lucky with the weather.
The Skyline gave fantastic views of the town, lake & surrounding mountains from the viewing gallery & the buffet dinner was wonderful.

Product rating: excellent
Lovely lake cruise on a lovely old steamer on a perfect day
Service rating: good
A pleasant experience from start to finish and a good way to explore on our last day in Queenstown.
Product rating:
Everything Travel Group Review
Experience the majestic sites of Queenstown by looking back at the land from the comforts of the iconic Earnslaw. I highly recommend combining your cruise with a visit to Walter Peak Station, one of the magnificent high country stations in the region. A great way to make the most of the picturesque setting Queenstown has to offer. The "Lady of the Lake" will be enjoyed by all ages.
Value for Money
Wow Factor
Latest Questions about Lake Cruises - TSS Earnslaw Steamship
I would like to book a cruise at 10am on Tuesday 28th November for a group of 50. Can you please advise the cost for a group.
I just need transport to Walter Peak Station with my bicycle. I will be heading south from there and don't need morning tea. Can I get a reduction in the fare. Thanks
Hello - I was wondering if there is also a NYE cruise. I have read about it but can't find any recent information. Thank you!
Comments
What time does this go tomorrow and what is the price for 4 adults we would just like to go over to the Walter peak cruise
What is the cost for an adult with cruise and barbeque at lunchtime
Comments
Do you have anything special planned for the evening of 31 Dec 2013 or is the trip the same as any other evening?
Comments
Hi, I am wondering do we have to arrive the port exactly at six o clock. Is it possible to be fifteen minutes late before departure? Since I don't see any information for the departure time.
Comments
Hi, is there access and facilities for a wheelchair?
Comments
I am interested in booking for the cruise and dinner for New Years Eve (31st Dec). What is the cost for 2 pax?

Thanks,
Angela
Comments
Can i bring a 6 month old infant on the cruise and farm tour?
Comments
Hi was just wanting to know by any chance if a group of 8 should cancel there booking for the cruise and evening meal on the 22nd of Feb 2013 we would be very interested in taking there places. Our group has been wanting to travel on this beauty for ages but have never got around to do this or have never been together in Queenstown at the same time and that weekend we are. Please please contact me if 8 spaces come available.
Many thanks
Kerrie-ann
Comments
Comments
Does the costs for the steamship include return fares?
So for example, if I decide to take the cruise+horse trek option, after the horse trek, would I be cruising back to the starting point?
Comments
Hi, Is there a Cruise option for Christmas Day 2012?


Comments
Where is the departure point in Queenstown?
Comments
We'd like to book Steamship+farm+BBQ lunch for tomorrow. But I'm concerned if we have enough time to catch this trip from Airport as we take flight JQ279 from Auckland and estimated arriving at 8.45am tomorrow, then we have to take a rental car at the airport. Thanks, Jim
Comments
Hi there, We are a party of 4 adults and we expect to be in your area on or about Thursday 20th September. We are looking to book the daytime cruise, farm and BBQ.
As we will only be in the district for a couple of days, what happens if the weather is really bad and the trip is cancelled ?
Would we get a refund ?
Comments
hello! We are coming to NZ in Oct just wondering if we did the evening cruise if it was daylight savings? Didn't want to book and be in the dark on the farm and miss all those spectacular views!! Also do the bbq lunch and the evening tour have bar facilities on the farm?
We will have a booking of 15 adults, do you offer any group discounts?
Comments
hi there,i am planning to come down in october and i was wondering if you do these cruises all year round particully on sundays? and if so is there still a ten am departure as your web page suggests? when i went to book it only had a 12pm departure option. . . .?
Comments
I was wondering if you there would be a New Years Eve dining option on the Earnslaw this year and if so what the details/prices are? Thanks!
Comments
Hi Just wanted to check that the TSS earnslaw will be back in the water on the 2nd July. It is something I have always wanted to do!
Comments
Hi, do you take persons confined to a wheelchair on your TSS Earnslaw Lake Cruises?
Comments
Hi there
On another website I saw there is a special for kids in July that they are free? Is this the same for you guys? Also on the cruise + farm tour, is there an option for afternoon tea instead of bbq lunch on the 12noon cruise? or can you purchase food once at Walter Peak? Got a 7yr old and a 4yr old travelling in July with me and I know they will be hungry
Comments
We will be visiting in September, will the dinner cruise be operating on the TSS Earnslaw?
Comments
Hi am disapointed to read in your Q&A that the Earnslaw is out of action during June. We are visiting then haven't been for 18yrs my one disire was a trip to Walter Peak Station for lunch is there any other way of getting there.
Comments
Arriving on 31 May will Steamship be operating
Comments
Hi. will be in Queenstown in late August and would like to know what options are available with the cruise at that time, Thanks Sandra.
Comments
How much walking is involved with the Walter Peak bbq lunch etc? (1 pax with walking stick)
Comments
Hi
Is the cruise and evening dinning available on the 31st May?
Comments
Just wondering how much for my daughter for cruise only, she is 3 yrs old. thanks.
Comments
Is the steamship wheel chair friendly?
Comments

rating
89% of new customers that used Everything Queenstown to provide advice and securely book their Queenstown activities have let us know they've had a good or excellent experience with us. Thank you.