Easy to book - Secure Online Payments - Instant email confirmation - Flexible to make changes
Milford Sound Coach & Cruise - Mitre Peak Cruises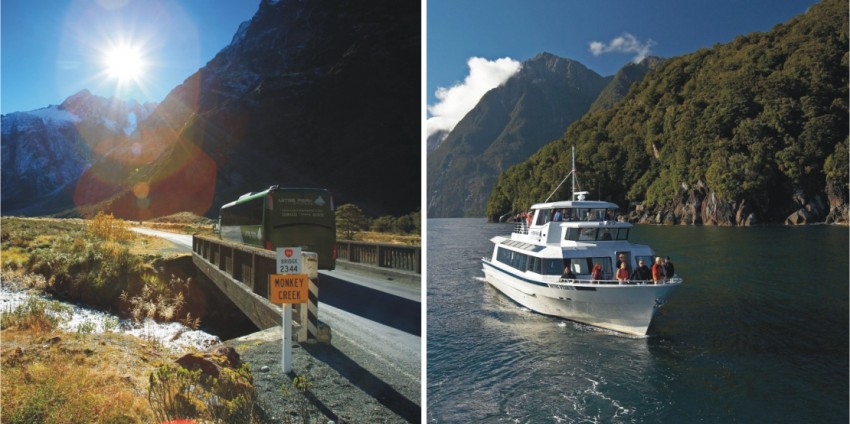 from NZD$179.00
Milford Sound Coach & Cruise - Mitre Peak Cruises
Description
Skip the big, impersonal cruises in favour of a small, cosy and intimate cruise courtesy of Mitre Peak Cruises that will enable you to experience the spectacular Milford Sound, New Zealand's pride and joy, in a way you never imagined was possible.
Mitre Peak Cruises transport you right up close to the Fiord where bigger boats are unable to follow, enabling you to see deep into its very soul. Experience Milford Sound in the most intimate way possible.
The Coach trip
Ride to Milford and back in absolute comfort in the most luxurious coach in town from either Queenstown or Te Anau. An onboard host will ensure that you enjoy the complimentary drinks and snacks as you look out the window at stunning scenery. You will also be accompanied by a well-informed driver who will pause at various scenic spots before you board the Mitre Peak II in time for the cruise at 12:20pm. Make a pit stop in Te Anau where you will watch Ata Whenua, also known as Shadowland, an award winning short film with a duration of 30 minutes that will take you deep into the wilds of the Fiordland World Heritage area, otherwise inaccessible and unknowable. The cost of this activity is included in the ticket price. Enjoy a languid ride back to Queenstown or Te Anau at the end of your experience.
The Boat ride
Your knowledgable guides will ensure you don't miss any of the incredible sights along the way, including the torrential Bowen Falls at a height of 160 metres, the rugged hanging valley the Sinbad Gulley, the majestic snow-capped peaks of Mount Pembroke and the imposing Mitre Peak soaring 1,692 metres above the sea floor.
The smaller vessels operated by Mitre Peak Cruises, which measure about 20 metres, allow for much closer proximity to the shoreline of Milford Sound, enabling you to get a much better view of the stunning surroundings. Built specifically for plying the waters around Milford, these vessels are ideal for viewing local wildelife including herds of fur seals, once almost decimated due to hunting, scarce Fiordland crested penguins and schools of dusky dolphins.
The area around Fiordland National Park and Milford Sound receive more rainfall than the rest of New Zealand, but are captivating in any weather.
Trip Includes
Luxury return coach transfers from Queenstown or Te Anau including hotel pick ups
Exceptional service from friendly staff
Knowledgeable guides & informative commentary
Complimentary tea & coffee
Free hot soup during winter cruises
Duration
12 hours return from Queenstown (2hrs on the boat)
6 hours return from Te Anau (2 hours on the boat)
Departures
6.30am (from Queenstown returns 6.30pm)
9.30am (from Te Anau returns 3.30pm)
Pick up from your Queenstown or Te Anau accommodation
Operates daily all year
Other Information
Purpose built, all weather vessels offer superior comfort & personalised service
Maximum capacity on board the boat is 75 passengers. We limit our numbers to keep our cruises uncrowded enhancing your enjoyment & appreciation of this spectacular wilderness area
Picnic lunch includes a filled roll (or sushi), bacon & egg pie, muesli slice, choc biscuit & fresh fruit
Lunch must be booked in advance (vegetarian option available) or you can bring your own
Complimentary tea & coffee
Children 3 years old & under are free
Milford Sound is located 4.5hrs drive from Queenstown & 2.5hrs from Te Anau
If you wish to drive yourself to Milford Sound then you can book just a Milford boat cruise without the coach
Coach from Queenstown:
adult NZD$179.00
child (4-14yrs) NZD$125.00
Coach from Te Anau:
adult NZD$129.00
child (4-14yrs) NZD$79.00
Genuine Customer Reviews powered by
Service rating: excellent
The service was excellent. Prompt pick up and friendly informative driver. The cruise was just amazing. Great size boat. Very helpful crew who charged my camera for me.
Product rating:
Service rating: good
Fast transaction

Product rating: good
Worth-it
Service rating: good
I had forgotten to confirm our booking 24 hours before so was slightly panicked on the morning. Luckily there was another couple at our bus stop and we were on the list and our booked lunch. Perhaps a text reminder we can reply to?

Product rating: good
Fantastic - only downside was no toilet on the bus. Bus driver was very good.
Service rating: excellent
A great day out. The trip on the Milford Sound was really enjoyable with beautiful scenery.
Product rating: excellent
Service rating: excellent
The service was very good indeed - exactly as it should be thank you
Product rating: excellent
Latest Questions about Milford Sound Coach & Cruise - Mitre Peak Cruises
Description mentions 6 hours from Te Anau,
When Cruise is 2 hours, and 2.5 hrs one way from Te Anau,

It does not add up.
Does it means we would not be stopping any where in between from Te Anau to Milford Sounds?
Comments
I am coming over in July for a holiday and want to do the Milford sound trip but have been told sometimes the weather is bad and the trip can be cancelled if this happens would I get a refund?
Comments

rating
96% of new customers that used Everything Queenstown to provide advice and securely book their Queenstown activities have let us know they've had a good or excellent experience with us. Thank you.