Easy to book - Secure Online Payments - Instant email confirmation - Flexible to make changes
Milford Sound Fly Cruise Heli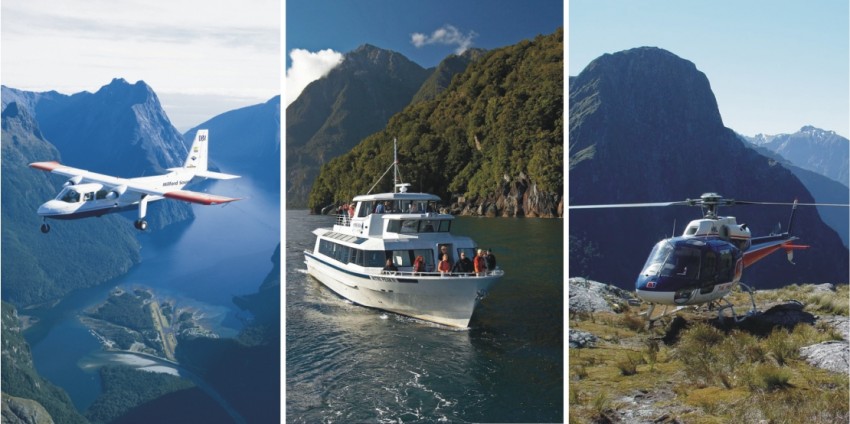 from NZD$845.00
Milford Sound Fly Cruise Heli
Description
View Milford Sound from above on a scenic helicopter flight that will, weather permitting, enable you to land on a glacier or in the mountains. When you get to Milford, embark on a cruise that will ply the entire length of the breathtaking Milford Sound. After the cruise, return to Queenstown by air in a fixed wing plane that will take you over the stunning Fiordland National Park. This trip offers some of the best ways to enjoy the incredible scenery and can also run in the opposite manner, beginning with a plane flight, continuing on a cruise and then concluding with a helicopter flight.
Milford Sound is one of the world's most spectacular sights and is not to be missed. The fiord is majestic, awe-inspiring and stunningly beautiful, created over more than a million years by the carving action of ancient glaciers. The inky blue, icy waters travel towards the Tasman Sea as the snow-capped peaks of the Fiordland National Park tower overhead.
Milford Sound is absolutely essential viewing for any traveller to New Zealand. Stunning from the air on a scenic flight, the glacier and its surrounds should also be explored on a cruise to enable full appreciation of its beauty.
Heli Cruise Heli
If you'd like both your flights to be helicopter flights, choose the heli cruise heli package which also includes the Milford Sound cruise.
Trip Includes
Return transfers from your accommodation to the airport
40 minute helicopter flight to Milford Sound with a landing
1 hr 45 mins scenic cruise on Milford Sound
40 minute fixed wing flight back to Queenstown (or heli back if booking the Heli Cruise Heli)
Duration
Departures
8am & 10am during summer
9am & 11am during winter
Pick up from hotel or central Queenstown
Operates daily all year
Other Information
Trip may operate in either way: as heli, cruise, fly or fly, cruise , heli
Children 3 years & under are free
Dress warmly for the boat cruise and dont forget your camera
You always have a window seat in the planes - great photo opportunities
Free tea and coffee is available on the boat cruise
If your flight is cancelled due to bad weather you can reschedule or contact us for a full refund
Fly Cruise Heli:
adult NZD$845.00
child (4-14yrs) NZD$520.00
Heli Cruise Heli:
adult NZD$980.00
child (4-14yrs) NZD$686.00
private charter (up to 6 people) NZD$4950.00
Genuine Customer Reviews powered by
Service rating: excellent
Alex was great to deal with. Very helpful online and staff were great on the day. 25th Wedding anniversary day trip from CHCH. Tight timeline, ran like a dream, fantastic experience. Helicopter landing on the glacier took the prize. Milford was glorious. Well done.
Product rating:
Service rating: excellent
Kyran, our helicopter pilot was great, friendly and informative.

The only thing we were not aware of, were the sand flies which were in their masses, when we landed at Milford Sound. Luckily our fellow passengers shared their spray with us.
The helicopter ride was the highlight of our trip and the cruise was good too.

Thank you

Product rating: excellent
Well worth the money to do the helicopter trip both ways and the cruise.
Service rating: excellent
We spent a lot of money and received service and satisfaction for every penny.

Product rating: excellent
Phillip was excellent. Landing on the glacier and flying so close to see the crevices was beautiful . We've done a number of helicopter flights in different areas of the world, but this topped them all. Thank you
Service rating: excellent
10 out of 10. Friendly staff, from booking to too short and end.

Product rating: excellent
We flew by helicopter both ways.The skilled and friendly pilot made us feel safe and welcome. The scenery from the air was spectacular. An excellent cruise on Milford Sound, with a tasty salad meal box, and we were lucky enough to enjoy whale encounters. Something to definitely tick off on your bucket list.
Service rating: excellent
All Good

Product rating: excellent
Great trip, good pilots and crew on the boat, would reccomend this trip to everyone
Service rating: good
Am not sure what Travel Group did. I booked on the net, and it was prompt and efficient. Our lunches were re-embursed straight away, when we got home.

Product rating: good
wonderful day, however I was very nervous, when the pilot was taking a photo of one of the passengers, and also when he turned around to show us his favourite view. i know he was experienced, but it is very exacting flying through the mountains, and I expected his eyes to be straight ahead. also our lunches which we had ordered ahead, were forgotten, and there was only tea or coffee on the boat, not even a biscuit! I would certainly recommend it, but probably speak up next time.
Latest Questions about Milford Sound Fly Cruise Heli
Hi we are looking at booking the milford sound cruise in sept this year and wondering what time we would be getting picked up from our hotel if we were to do the 9am trip. It is 9am pick up from the hotel. We are staying at Crown Plaza in Queenstown.
Comments
How often are you currently having to cancel the fly-cruise-heli trips due to weather? We are planning to be in Queenstown at the end of the month and would like to take such a trip.
Comments
Hi we are visiting July 2013, just wondering with the cruise, is lunch included? I see most cruises on Milford Sound include lunch. Also we have 2 adults & 2 kids which will be 2 and 3 1/2 at time of travel can I have a price please.
Comments
Hello - could you please let me know whether this activity will run over Easter weekend? Thank you.
Comments
I note the pictures of the cruise vessel and helicopter. Please advise (1.) are these the actual vessels/helicopters or sister vessels and (2.) how many people max do each carry or have on board?
Thank You
Comments
Hi
We are about to book this tour departing at 9am on 31st August. I am just wondering if there is an opportunity to purchase any snacks or lunch at any point on the tour?

Thanks
Lyn
Comments
Hi, there will be 9 people traveling together from Brisbane in August. We would like to do the flight/cruise/heli or visa versa from Qtown. How many of us can fly together at one time? Are there any group booking discounts available?
I used to work at Milford Sound 20 years ago and cant wait to show my family your wonderful country. Look forward to hearing from you.
Comments
I have another question: What is the advantage of doing this trip with two heli rides verses one plane and one heli? I suppose you get to land on both the glacier and the mountains? Do both plane and helicopter run the same route?
Comments
Hi, If I did this combo in the morning (8am departurn), would I be back in time to hook up with the Shotover Trio, departing at 12:15pm? Alternatively, could I do the the Skidive NZone in the afternoon?
You offer so many wonderful adventures, I'm having trouble deciding!!
Comments
Once the first flight is complete, do the operating company take the passengers to where the boat leaves from?
Comments

rating
96% of new customers that used Everything Queenstown to provide advice and securely book their Queenstown activities have let us know they've had a good or excellent experience with us. Thank you.