About Everything Queenstown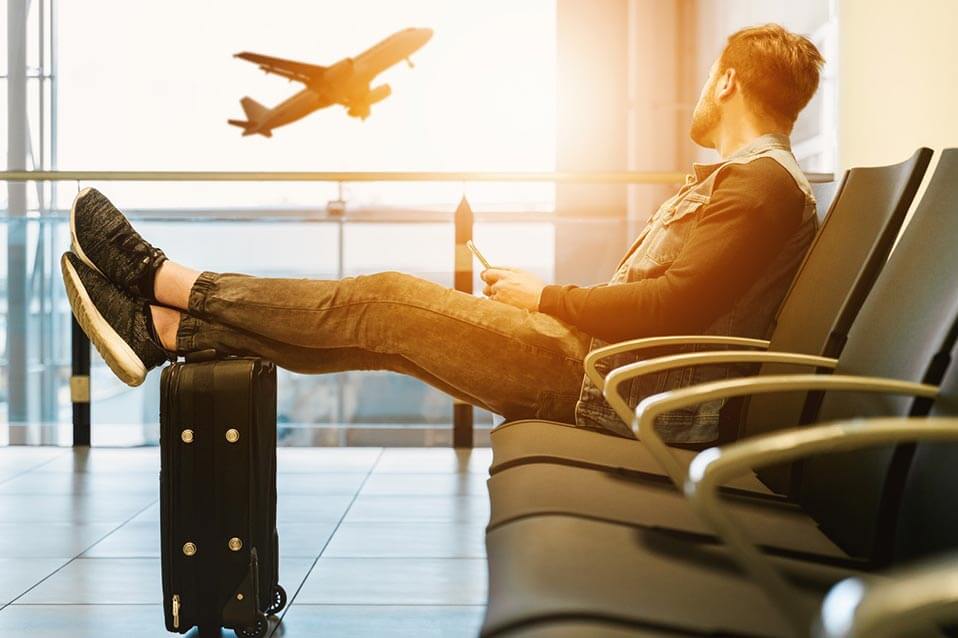 About Us
The Everything Travel Group (Est 2004) is made up of passionate travel experts from New Zealand & Australia, who actually get out and experience the products we list and sell. If it doesn't make the cut, we won't sell it!
We cover over 50 locations & more than 1500 handpicked and reviewed travel experiences through New Zealand & Australia.
All of our staff have endured endless hours arduously partaking in all of the activities we offer on our extensive websites. Only kidding! One of the perks of our job is that we all get to do everything in Australia & New Zealand from jumping off a bridge, throwing ourselves out of a plane, lavish wine tours or diving on the Great Barrier Reef as often as possible. This may sound like fun, and it certainly is, but we do this so that we can offer the most knowledgeable and insightful information and feedback to you our customer.
The Everything Travel Group aims to create a user-friendly website where leisure travellers can quickly and easily navigate throughout the vast range of experiences available, check reviews, ask questions, get the right advice at the right price, book and most importantly enjoy an organized, stress free holiday.

We believe life should be all about going everywhere and doing everything!
Reviews & Ratings
Customer Reviews & Ratings - Powered by Feefo
Customer reviews are non-bias and only made by people that have actually experienced the activity. We encourage all customers to leave a comment and rate the activity so future customers can make informed decisions with the help and guidance of completely independent travellers. A great form of 'Word of Mouse'!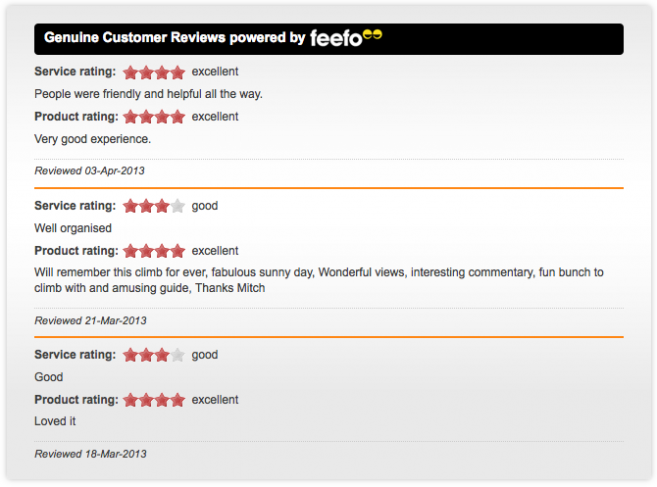 ---
Everything Travel Group Reviews & Ratings
Our unbiased and knowledgeable staff have added their own personal comments to some of the activities in which they have participated. Click on the Reviews tab to see the Everything Travel Group review written by a member of our staff. You'll also notice a 'Thrill Factor', 'Wow Factor', 'Fun Factor' and 'Value for Money' rating at the end of each Comment. The more stars, the bigger the thrill, the better the wow or the more fun to be had. Typically, adrenalin and adventure activities will have a higher "Thrill" rating, while the more scenic and sightseeing activities will rate better in the 'Wow' factor.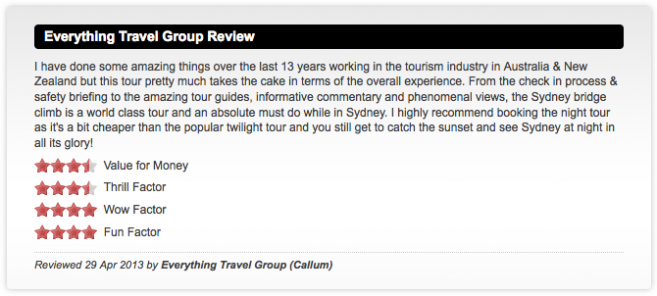 Why Us?
The Everything Travel Group provides a free booking service for all your activity & tour needs. Operated by locals, our friendly and knowledgeable customer service consultants are here to help guide you through the hundreds of scenic, exciting and often thrilling, uniquely New Zealand & Australian activities.
Best Price Guarantee & No booking fees
We guarantee that you will pay the best price online. If you are able to find a lower online advertised price for the same activity run by the same operator then the Everything Travel Group will endeavour to match it. Also, unlike many online retailers, when you book with the Everything Travel Group there are no hidden costs. We don't believe in passing on any credit card, handling or booking fees to our customers.
Peace of mind
With millions visiting these extremely popular holiday destinations every year, booking your adventure and sightseeing activities well in advance means that when you get to your destination you can relax. You won't have to queue up for hours at an information centre with hundreds of other tourists trying to book something that may already be full. Paying for your activities in full before you arrive also means that you can disperse the cost of your holiday so that when you get here you can spend your money on other things. Also, if your plans change and you need to reschedule any of your activities just contact us and we'll take care of it for you.
Ease and accuracy
Before we finalise your bookings, one of our experienced and locally based customer service representatives will double check all your specific details and holiday requirements. This will ensure you are getting the best possible price and that your order and choice of activities is the most suitable for your travel itinerary. With so many sightseeing tours and activities to experience, it pays to let us help you save time choosing, so you can skip straight to the fun!
Independent and free advice
Our service is free and best of all, because we are independently owned and operated, we are able to give you unbiased information and opinions about all that New Zealand and Australia has to offer.
User Friendly Websites
We have tried to set up a website that is not only jam packed full of useful information but, equally as important, is user friendly and also easy to navigate. This has been many years in the making and since our launch in April 2004 we have spent countless hours upgrading and improving our sites so that your experience is as good as it possibly can be. We have also recently launched www.everythingcairns.com in April 2009, www.everythingnewzealand.com in June 2010 and www.everythingaustralia.com in April 2012
Book Your Activities Online
When looking through our site you will notice that you are able to book activities online by simply clicking the "book now" icon at the top and bottom of each activity page. This will take you through to our purpose built shopping cart where you are able to add more activities or progress through to our secure bookings page hosted by the ASB Bank in New Zealand and Westpac Bank in Australia.
Accommodation
Unlike deciding which activities to book, finding a place to stay is usually pretty damn boring and often takes up way too much of your time. As a result, we have decided to simplify things and take the hassle out of booking your accommodation by using Booking.com. Simply click on the link located on the accommodation page and you will be redirect to the Booking.com website which offers real time availability and instant confirmation. If you're still not sure where to stay once visiting the website then please contact us and we'll be happy to offer our suggestions.
Note: We recommend booking your accommodation several months in advance.
Ask a Question?
You will also notice that throughout our site there is an Ask a Question icon located at the top of every activity listing. We have included this because we know that everyone is different and not everyone wants to book online without talking to a 'real person' first. We welcome all enquiries and questions, regardless of how silly you may think they sound! Our staff are here to answer those questions and help you make informed decisions so that you can make the most of your trip of a lifetime to our beautiful town. You can contact us by email or Live chat.
Enjoy our sites, have a great trip to NZ or Australia and remember, most locations are buysy all year round so book your activities and accommodation in advance to ensure you don't miss out.
If you have any questions relating to our site or any of the activities on offer please don't hesitate to email us or check out our FAQs
Live Chat
If you have a question that you want answered straight away then click on the red "Live Chat" icon to chat with one of our online customer service team. We will type an answer straight back.
Affiliates
Refer, Track, Reward!
1. Refer
Simply refer your customers to one of our adventure activity and sightseeing tour websites and if they book an activity we'll pay you a referral commission. Using our iFrame technology we can feed all of our activity listings, deals and shopping cart process (or part of) into your existing website, matching your look and feel.
2. Track
Every visit to our website from yours is tracked by our affiliate software, so at any time you can log into your own online dashboard and view how many people you have referred, how many have booked and how much commission you have made.
3. Reward
All bookings and enquiries are managed by our team of expert tour consultants and once the customer has completed their activity we will pay your referral commission into your bank account.
Why Choose Everything Travel?
No lock in contract
Earn commission on over 1500 New Zealand and Australian activities/tours
Fast, simple, seamless
Locally owned, operated and easy to get in touch with
Interested in becoming an Everything Travel Group affiliate partner? Contact Us for more information and to view some examples of working affiliates.


rating
93% of new customers that used Everything Queenstown to provide advice and securely book their Queenstown activities have let us know they've had a good or excellent experience with us. Thank you.