Queenstown Boat Tours & Cruises
The beauty of Queenstown and its surroundings is dominated not only by soaring mountains but also the myriad of waterways that ply this breathtaking region. From pristine lakes to raging rivers, the waters of Queenstown can be explored on a variety of boat tours that enable you to enjoy the serenity of cruising on turquoise waters surrounded by magnificent mountains and fiords. If you're captivated by history, a cruise on the iconic historic steamship TSS Earnslaw will ferry you down the stunning Lake Wakatipu in style. The TSS Earnslaw Steamship offers several different departures daily including lunch & dinner cruises.
COMPARE Queenstown Boat Tours & Cruises.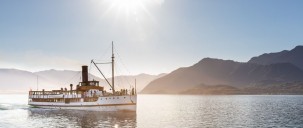 Lake Cruises - TSS Earnslaw Steamship
Price from$99
Savings-
Time (hrs)1.5
Scenery Rating5
VesselSteamship
Meal optionYes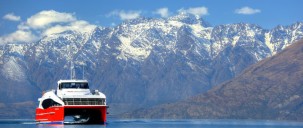 Lake Cruises - Spirit of Queenstown Scenic Cruise
Price from$59
Savings-
Time (hrs)1.5
Scenery Rating4.5
VesselCatamaran
Meal optionNo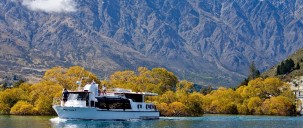 Lake Cruises - Million Dollar Cruise
Price from$49
Savings-
Time (hrs)1.5
Scenery Rating4
VesselBoat
Meal optionNo
The unparalleled Milford Sound can be explored on a day tour from Queenstown on a Small Group Coach & Cruise or the popular Milford Flight & Cruise option. If you have time, Milford Sound is best enjoyed on an Overnight Cruise that will give you the opportunity to revel in an enchanting liveaboard experience.

Or take a cruise on the less well known but just as spectacular Doubtful Sound, the second largest fiord in the Fiordland National Park World Heritage area. Spend a night on board the exquisite Doubtful Sound Overnight Cruise or do a day tour from Queenstown. Whichever option you choose, the experience will remain with you for a long time to come.

Can't find what you are looking for? Check out Queenstown's Best Deals.
What is the best Queenstown lake cruise?
The best lake cruise in Queenstown that operates daily is the Queenstown Million Dollar Cruise. This is the original Queenstown boat tour that operates regular morning and afternoon departures 365 days of the year. It's really good value for money. This Queenstown boat tour will take you around Queenstown bay and commentary on the area is provided. However it's no frills and if you are wanting a more comprehensive Queenstown boat experience then we would suggest going on the historic TSS Earnslaw Steamship that will take you over to Walter Peak where you will visit a real NZ farm, including farm show and buffet lunch or dinner.
What are the best family-friendly boat tours in Queenstown?
The best family boat tour in Queenstown is the TSS Earnslaw boat trip. This is a large very stable, and comfortable Queenstown boat that has lots of toilets, food, and beverage on board. It also includes a stop off at Walter Peak high country farm station, where you will see local NZ farm animals, sheep being shared, and the option for lunch or dinner. Being on board a steamship that is over 100 years old is such a fun experience. On board you can even see the coal being burnt to create heat and power the steamship.
What Milford overnight boat trips are available in Milford Sound?
Yes, you can actually spend the night aboard a boat in Milford Sound, an amazing experience! There are two options, the Milford Sound Mariner which has private cabins, or the Luxury Milford Sound Overnight Cruise which is a small boat with modern amenities - the most luxurious way to stay overnight in Milford Sound.
What Queenstown dinner boat cruise options are there in Queenstown?
Yes, there is now a Queenstown Dinner Cruise option. This is a unique Queenstown dinner experience where you 'trust the chef' which means you don't know what you are getting and it changes often utilizing locally sourced produce. The dinner is designed to be shared between your group and the boat is fully licensed with Central Otago wine and beer. A fantastic twilight or evening experience.
How do I book the Queenstown Earnslaw Cruise, Dinner & Farm Show?
Easy, you can book the TSS Earnslaw Cruise, Dinner & Farm Show right here through Everything Queenstown. The Earnslaw is one of the top Queenstown things to do so you must book this in advance, especially through peak periods of December - April and July - September.
What is the Hydro Attack Queenstown Shark Ride?
The Queenstown Shark Ride is a super unique Queenstown adventure lake experience that allows you to be strapped into a shark shaped boat, where your pilot will drive the semi-submersible watercraft above and below the water. There are not many places in the world you can do this.
Can you private charter a boat in Queenstown?
Yes, there are two options for boat charters in Queenstown. There is a luxury super yacht that can accommodate 30 people and a fun party boat that can take up to 40 people and is set up well for bucks, hens, or small groups looking to have a great time. Bookings for these are on demand, please email us at [email protected] and we will help you organize your private boat charter.


rating
93% of new customers that used Everything Queenstown to provide advice and securely book their Queenstown activities have let us know they've had a good or excellent experience with us. Thank you.