Easy to book - Secure Online Payments - Instant email confirmation - Flexible to make changes
Doubtful Sound Overnight Cruises
Current Special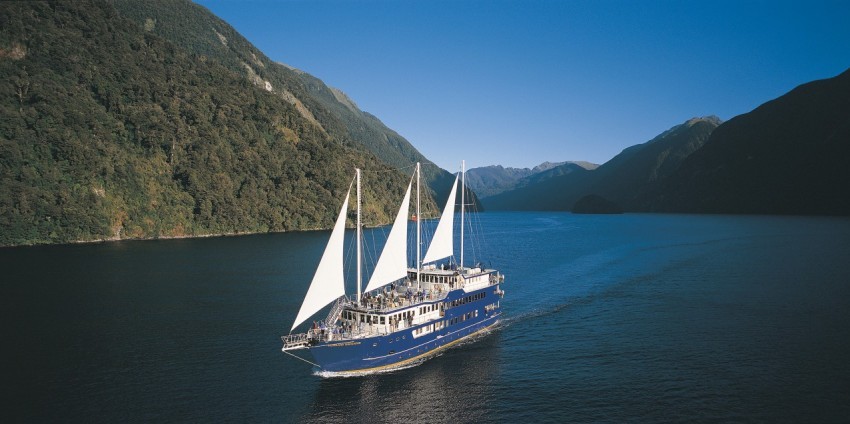 Doubtful Sound Overnight Cruises
Description
The magnificent Doubtful Sound, located in a pristine World Heritage Area, will amaze and astound. The sheer power of nature hangs in the air amidst the isolation, the raw wilderness and the incredible peace of this very special part of the world. Famed for its wild flora and fauna, Doubtful Sound is the second largest fiord of the fourteen in Fiordland National Park, being ten times as large and three times as long as Milford Sound.
Enjoy a brief but tranquil cruise across the pristine Lake Manapouri and then ride in a coach over Wilmot Pass, after which you will get onboard the Fiordland Navigator at Deep Cove.
On your overnight cruise with Real Journeys, you will have ample time to gape at the amazing views and to fully explore Doubtful Sound's secret arms. Spot bottlenose dolphins and fur seals, and even rare penguins if you're lucky. You'll be able to kayak at leisure along the shoreline or take a ride in the tender craft with a knowledgeable nature guide. As the sun sets, the ship will drop anchor at a cherished spot. After a long day of exploring, tuck into a sumptuous buffet in the elegant dining saloon. You may choose from private cabins with ensuite bathrooms on a double or twin share basis. Alternatively, if you are travelling alone then you can book a quad share room with bunk-style beds. To make a booking for quad share accommodation please refer to the following link: Doubtful Sound Overnight Cruise Quad Share.
Includes
Optional return transfers from Queenstown, Te Anau or self drive to Manapouri
45 min boat ride across Lake Manapouri
Luxury cruise on Doubtful Sound on board the Fiordland Navigator
Overnight accommodation (twin share in 2 x single beds or a double bed)
Kayaking or tender craft (small boat) tour
Three course buffet dinner and cooked breakfast
Duration
Departures
9am from Queenstown (returns by 3.30pm next day)
11am from Te Anau (returns by 12.45pm next day)
12.30pm from Manapouri (returns by 11.45pm next day)
Boat departs from Manapouri or you can get picked up from your Queenstown or Te Anau accommodation
Operates daily during summer only (Sep-May)
Other Information
Cancellations made within 5 days of the date of travel will incur a 100% cancellation fee
Rooms are private cabins (sleep 2). If you are travelling on your own we suggest you book quad share accommodation otherwise you will have to book a private cabin on your own which costs 2 x twin share. Quad share rooms are not suitable for kids under 5 years of age. If you are travelling with kids under 5 you will need to book a private twin room. Please contact us for more information
If you are wanting to book in a quad share room rather than a twin or double room please make your booking via the following link: Doubtful Sound Overnight Cruise Quad Share
Boat sleeps a maximum of 70 people
There is no food available on board until dinner, so either take your own or pre purchase a picnic lunch
Limited space for luggage so we recommend taking a small backpack only overnight
Suitable for all ages with the exception of infants. Child rates apply up to 14 years of age
Operates September to May only
Dress warmly and don't forget your camera
Free tea and coffee is available on the cruise boat as well as a fully licensed bar
This trip begins in Manapouri (30 min drive from Te Anau). Coach options are available from Queenstown and Te Anau
Ask us about the Real Journeys 20% Multi Purchase Discount off selected Real Journeys products
Normal Retail Price
Adult (twin share per person):

from Manapouri NZD$749.00
from Te Anau NZD$759.00
from Queenstown NZD$809.00
All prices shown in NZD$.
Everything Travel Group Review
This is a must do activity. Even if all your accommodation is already booked, spend a night floating on Doubtful Sound. The food is plentiful, the staff are helpful, funny and knoweldgable and the scenery is second to none. It beats Milford Sound hands down!
Suggestions: Book well in advance as this is often booked up months ahead. The quad share is fine if you want to save a buck and a good way to meet new friends but if you really want to spoil your loved one then book a double room with a private ensuite.
Wow Factor
Fun Factor
Latest Questions about Doubtful Sound Overnight Cruises
I have filled details of my payment for 3rd of May but have not received a receipt notice and wonder if it has gone through ? Regards Don Jenkins
We have booked an overnight cruise for July. We need to book lodging for the day before and day after the cruise. Where do passengers typically stay?
Comments
Hi 4 adults and requiring 2x cabins looking at overnight on Doughtfull Sounds on 2 /3 ? Jan 2018
How much would be the cancellation fee in case we cannot make it?
Hi there...my wife and I and daughter who will be five in November are interested in an over night cruise in October. ..are we able to book a twin share for the three of us? Or would you not recommend this trip with our daughter?
Thanks Kelvin
We will be in NZ next Feb and March, 2017
Is it too early to book it now?
Comments
We are considering to join the doubtful sound overnight cruise. As we have four adults and one children of 11, do you provide one extra bed in a quad sharing room?
Comments
Can you confirm what accomodation options are available and does each cabin have it's own ensuite?
Comments
Hi! I will like to confirm if the overnight cruise is available on 29 May 2016? Thanks!
Comments
Looking to book this for 10th November 2015. I'll be in Te Anau on the 9th. Is it possible to take a coach connection fetching me from Te Anau and dropping me off at Queenstown the next day?
Comments
dear, we are coming to NZ wih the family (2 adults, 4 kids). Is it possible to go on the cruise the doubtfull sound in the period 10 to 14th of august ?

isabelle
Comments
Hi
We want to do a trip on Doubtful or Milford Sound with a 2 and a half yr old. Are the overnight cruises suitable? Is there availability at end of Jan/beginning Feb? We would need a double cabin (our daughter can sleep with us.)

I presume booking ahead in essential?
Comments
How many people are on the cruise normally in summer?
Comments
If I self drive from Queenstown,is it a straight forward drive, that is not likely to get lost on the way, and how long should I allow to get there.



Comments
If I want departure from Te Anau and reture to Queenstown, how much would be charges on Nov?
Comments

rating
95% of new customers that used Everything Queenstown to provide advice and securely book their Queenstown activities have let us know they've had a good or excellent experience with us. Thank you.