Bungy Jumping - Queenstown Bungee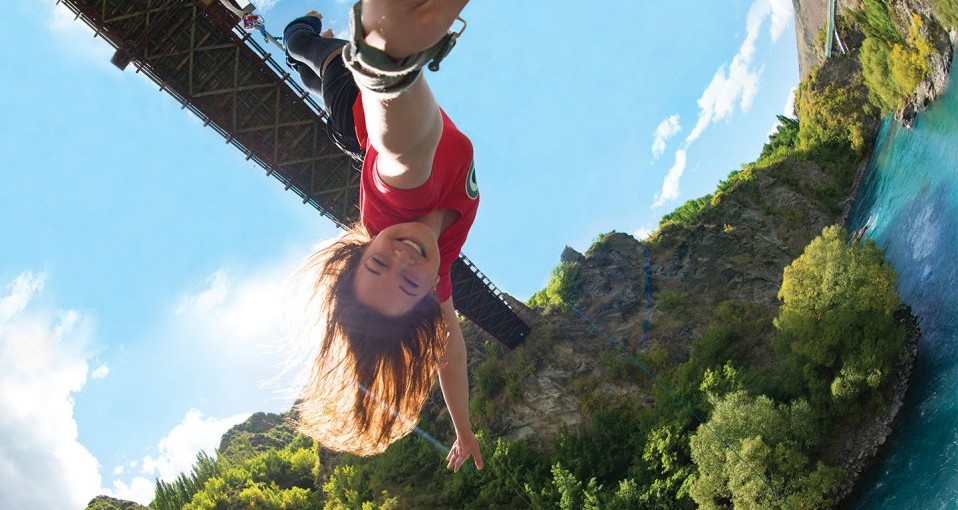 Queenstown is the home of the world's first bungy. Choose from either the original Kawarau bridge bungy where water touches are a must, the Ledge bungy located high above Queenstown, or the 134 metre Nevis Bungy, Queenstown's highest bungy jump.


---
Bungy jumping (aka bungee) is an essential feature on every daredevil's bucket list, and there is no better place to take the plunge than Queenstown, New Zealand, the home of the world's original bungy jump. Bungy jumping began commercially in Queenstown back in 1987, and there are currently three different bungy sites in Queenstown to choose from that operate daily all year.

The Kawarau bungy is the world's first commercial bungy and offers bungy jumping off an old bridge positioned 43m above the Kawarau river below. It is located at Gibbston, 25 minutes from Queenstown, with free transfers available from Queenstown. You can bungy jump solo or tandem and whlst water touches (or dunks) aren't mandatory, they are definitely a must!

The Ledge bungy is 47 metres high, but it feels so much higher! The Ledge bungy site is located at the top of the Skyline complex 300 metres above central Queenstown, with the bungy platform literally poised on the edge of a cliff! This is an afternoon and early evening bungy, meaning its a great option for those wanting to fit other activities into their tight Queenstown travel itinerary. It's also a great Queenstown bungy for those wanting to watch others jump as there is an excellent viewing area offering birds eye views.

The Nevis bungy is the biggest and most scary bungy in Queenstown. Measuring 134 metres (440ft) above the stunning Nevis valley below, it truly is a test of willpower and bravery!! Free transfers from Queenstown are included and the round trip takes around 3.5 hours. You can even combine the Nevis Swing while out on site for a truly memorable Queenstown bungy experience.

Does bungy jumping in Queenstown operate in all weather conditions?
Bungy jumping is not as dependent on weather as skydiving or other air activities. However, if the winds are really high then bungy jumping in Queenstown can get cancelled. If this does happen then you can reschedule to another day or get a full refund.

Which bungy jump in Queenstown can I jump tandem with a friend?
You can tandem bungy off the Kawarau bungy. It is not possible to tandem bungy at the Ledge bungy or Nevis bungy sites.

What if I want to do all 3 bungy jumps in Queenstown?
You can book the Bungy Thrillogy which offers a big discount when booking all 3 bungy jumps. These can be done on the same day or over multiple days.

rating
94% of new customers that used Everything Queenstown to provide advice and securely book their Queenstown activities have let us know they've had a good or excellent experience with us. Thank you.