Paragliding in Queenstown
Paragliding in Queenstown offers the thrilling opportunity to experience the ultimate flight over Queenstown. Whether you are an adrenaline junkie or want to relax and take in the stunning mountain views, this Queenstown paragliding flight will leave you with memories to last a lifetime!
COMPARE Paragliding in Queenstown.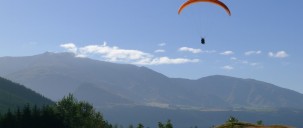 Paragliding - Skytrek Summer Paragliding
Price from$329
Savings-
Time (mins)20
Thrill Factor4.5
Scenery4.5
Height (ft)4000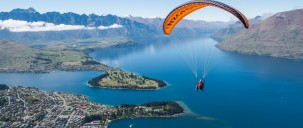 Paragliding - G Force Tandem Paragliding
Price from$285
Savings11%
Time (mins)10
Thrill Factor4
Scenery4
Height (ft)2500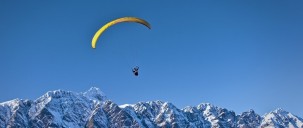 Paragliding - Skytrek Winter Paragliding
Price from$369
Savings-
Time (mins)20
Thrill Factor5
Scenery5
Height (ft)5400
Queenstown's Best Paragliding
Being one of the best adventure activities you can experience, a paragliding flight in Queenstown is an absolute must! This is one of the most exhilarating experiences that will leave you feeling like you are soaring weightlessly through the air, all while taking in the spectacular views of the mountains and the town itself. Queenstown is the perfect location for paragliding as you have the choice between the Skyline Gondola and Coronet Peak as your launch site. Both sites offer outstanding views for you to enjoy while your experienced tandem master takes you on a breathtaking flight. If you choose to do a paragliding flight from Coronet Peak, during the winter months you will have access to the launch point at the Coronet ski field which allows for a flight from an incredible 5,400ft!
When paragliding in Queenstown you may choose a thrilling fast and furious ride, or a relaxed and scenic perusal of the countryside. Either way, the friendly and experienced paragliding enthusiasts will give you a fabulous experience. Paragliding flights in Queenstown can be enjoyed by moderately fit and agile people on any day of the year, depending on the weather.
How do I take off for my Queenstown paragliding flight?
For your Queenstown paragliding flight, you will either launch from the peak above the Skyline Gondola or Coronet peak. You will simply take a gentle jog down a slope to begin your flight! Your tandem master with guide your through the steps required to become airborne. Once in the air your guide will take the controls and may even let you have a go at steering your parachute!
How long am I in the air for my paragliding flight over Queenstown?
Your paragliding flight can last anywhere between 10-20 minutes. The weather conditions on the day will determine how long you will be in the air but your tandem master will always do their best to make sure you have the best paragliding experience and airtime possible.
Does Queenstown paragliding operate year round?
One of the best things about paragliding in Queenstown is that flights operate year round so you can experience this incredible flight both during the Summer months and also witness the beautiful snow-capped mountains in the Winter. Paragliding is weather dependant so we always recommend booking towards the start of your trip in case it needs to be rescheduled.
Do I need to book Paragliding in Queenstown in advance?
Yes! Paragliding flights in Queenstown are one of the most popular adventure activities! Flights book up at least a day or two in advance, especially during the Summer, so make sure you get book on early to avoid missing out on this awesome Queenstown experience!


rating
93% of new customers that used Everything Queenstown to provide advice and securely book their Queenstown activities have let us know they've had a good or excellent experience with us. Thank you.