Easy to book - Secure Online Payments - Instant email confirmation - Flexible to make changes
Milford Sound Overnight Cruise - Mariner
Current Special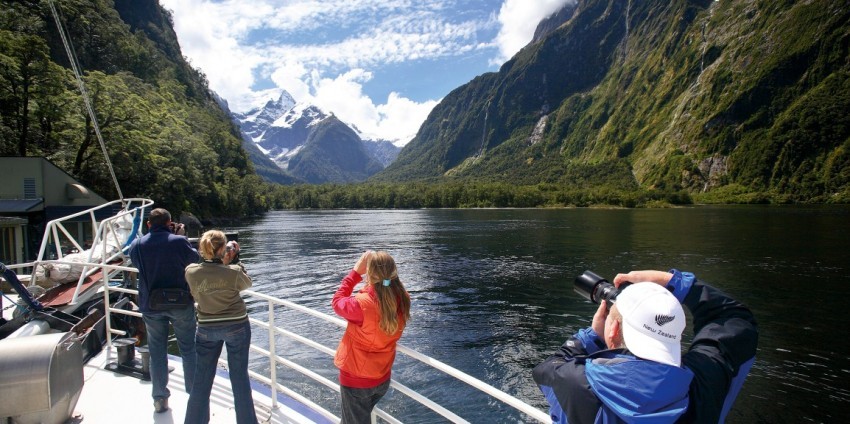 Milford Sound Mariner Overnight Cruise
Description
Milford Sound paints a stunning picture in the already spectacular Fiordland National Park. Ancient Maori legends maintain that the fiords were created by the mighty Tu Te Raki Whanoa, an axe-wielding and incantation-chanting demi-god. To modern scientists, on the other hand, fiords such as Milford Sound are carved over centuries by icy rivers. Milford Sound, or Piopiotahi as it is known to the Maoris, is Tu Te Raki Whanoa's most incredible creation. Whatever the weather, it is a sight to behold.
As night falls, a peaceful silence blankets Milford, and an overnight cruise by the silent glacier is one of the most memorable experiences you can have in New Zealand.
Two overnight cruises are available courtesy of Real Journeys, offering the opportunity to experience the jaw-dropping scenery and raw wilderness of Milford Sound in a leisurely manner. The Milford Mariner option offers private cabins equipped with ensuite bathrooms and can accommodate up to 60 passengers, while the Milford Wanderer option offers shared bunk accommodation and can carry up to 61 passengers.
On the Milford Mariner, enjoy an extra-special dinner, as well as a cosy bed and breakfast onboard experience. Cruise the entire length of Milford Sound all the way to the Tasman Sea before the boat drops anchor for the night in the tranquil and protected Harrison Cove. Join your nature guide in the kayaks or tender craft, or enjoy the sights from the ship's deck. After a fulfilling day, tuck in to a sumptuous buffet in the commodious saloon before getting some rest in your private cabin.
Trip Includes
Optional return transfers from central Queenstown or Te Anau
Luxury cruise on Milford Sound
Expert commentary and guides
Overnight accommodation (private cabin with ensuite that sleeps 2)
Kayaking or tender craft tour
Three course buffet dinner & cooked breakfast
Duration
17 hrs (from Milford)
24 hrs (from Te Anau)
31 hrs (from Queenstown)
Departures
Boat departs from Milford Sound Wharf or pick up can be arranged from your Queenstown or Te Anau accommodation
4.30pm (from Milford) returns by 10.30am
12.30pm (from Te Anau) returns by 12.30pm
9am (from Queenstown) returns by 3.30pm
Operates during summer only (Sep-May)
Other Information
Cancellations made within 5 days of the date of travel will incur a 100% cancellation fee
Please note that the Mariner has private cabins that sleep 2 people. If you are travelling on your own please book sole occupancy which means you get a cabin on your own. Alternatively you can book a bunk bed on the Milford Wanderer
During October & November there are also cheaper quad share rooms available on the Mariner. Please contact us for availability.
If you wish to book the flight back from Milford Sound to Queenstown please select 'Adult + flight back' option
Infants under 12 months old travel for free. Please bring your own cot
Dress warmly & don't forget your camera
Free tea and coffee is available on the cruise boat as well as a fully licensed bar & dinner & breakfast
This trip begins in Milford (PLEASE NOTE MILFORD SOUND IS A 5 HOUR DRIVE FROM QUEENSTOWN). Coach options are available from Te Anau or Queenstown
Ask us about the Real Journeys 20% Multi Purchase Discount off selected Real Journeys products
A Milford Sound Levy of $10 is included in the price
Normal Retail Prices
Adult:

from Milford NZD$535.00
from Te Anau NZD$599.00
from Queenstown NZD$685.00

Child (1-15yrs):

from Milford NZD$268.00
from Te Anau NZD$280.00
from Queenstown NZD$343.00

Adult + flight back from Queenstown:

Sole Occupancy NZD$1608.00
Twin/Double NZD$1141.00

Sole Occupancy:

from Milford NZD$963.00
from Te Anau NZD$978.00
from Queenstown NZD$1113.00
All prices shown in NZD$.
Latest Questions about Milford Sound Overnight Cruise - Mariner
Does the Milford Mariner have tap beer in its bar ?
Comments
How many tourists does the boat carry

Comments
Hello, my wife and I are looking at coming over from Australia early December. We hope to stay in Queenstown for 5 nights with the ACCOR Vacation Club then overnight with you on a Milford Sound tour. The problem is that ACCOR only accept bookings 6 months in advance. We would love to book a tour now but there is a possibility that we may have to cancel in June if the accommodation falls through. What are your feelings on this please? I know that December is very busy for you. Thank you. Jeff.
If we were to do the "Milford Sound Overnight Cruise - Mariner", where can we (securely or otherwise) park our car in Te Anau?
Comments
Hi, my wife and I are interested in booking an overnight cruise, we have an infant (5months at time of cruise) and are wondering if she can sleep in a cabin with us and what, if any, the charge is for her, as prices for children start from 1 year olds.
Comments
Hi - there are 3 of us. 2 adults and 1 child (under 1 years old i.e. 11 months old). Looking to do the Mariner overnite cruise. We will be coming from Queenstown.
1. Could you quote for the coach option 2 ways, and coach + fly back option? I see the price for adult on flight but not for the child of 11 months. Thanks.
2. Are there any restrictions in terms of luggage for the flight? We will be bringing a foldable travel cot.
3. Also, is there enough space in the cabin for a travel cot?
Comments
Hi - can you cater for gluten AND dairy free diet?
Comments
I WOULD LIKE TO TAKE MY CHILDREN ON THIS OVERNIGHT CRUISE ARE THER AJOINING ROOMS
Comments
Do any of the overnight cruise boats have access for wheelchairs?
Comments
Hi, we are a family of 5. Two adults and 3 children under 11, what accommodation options do you suggest and what would the cost be?
Kind regards
Comments
Do the cabins on the Milford Mariner have hair dryers?
Comments
If I book this cruise we will be driving to Milford Sound to join the boat. I would like to know if there is parking available for us to leave the car overnight at Milford Sound
Thanking you
Comments
Need quote for overnight mi,Ford sound cruise from/to Queenstwon for approx 17 March 2015....2 adults + 1 child 10 yrs and 1 child 14 yrs, please
Comments
Looking at the 5 nov - what time does cruise leave , and what time do you disembark the following day . Thanks phil.
Comments
Hi
I'm looking at the cruise on either 29 Nov or 1 Dec. It's for 3 adults. Is the only option one twin and one sole traveler?
Comments
We are looking at booking an overnight trip with the Mariner, does this go on certain days. If we book a certain day is it certain that it will go.
Comments
Hi,
If I were to book to travel with you from Te Anau is it on your boat or by road.
Also I am travelling with my wife and would like a private cabin. In your booking website it says double / twin share, is this the correct drop down box.
We would like a room with en-suite facilities.
How can we be sure we are booking this?
Comments
Hello, are there any luggage restrictions for the overnight trip? We will be carrying two check in luggage and two carry on bags during our trip, I'm assuming luggage is allowed on the boat correct? For some reason I thought I read that only limited space will be available for storage, so only a small bag was advised, please let me know if that is the case. If luggage is not allowed on board, where do people normally store their luggage during the trip? thanks in advance
Comments
If I choose the Adult + Flight Back option, is the flight a 'scenic flight' and what time do I get back to Queenstown?
Comments
Hi I'm wondering if there is parking at Milford sound and is there any parking fees if we leave the car there overnight?
Comments
I I have accommodation in Lake Wanaka from the 14th-21st June next year and have a hire car that we have to drop off on the 21st, will it be possible to get picked up from Queenstown on the 21st after we drop our hire car off and then travel to Milford sound for an overnight cruise and then back to the airport to head home?
Comments

rating
95% of new customers that used Everything Queenstown to provide advice and securely book their Queenstown activities have let us know they've had a good or excellent experience with us. Thank you.