Milford Sound Overnight Cruise - Mariner
7% off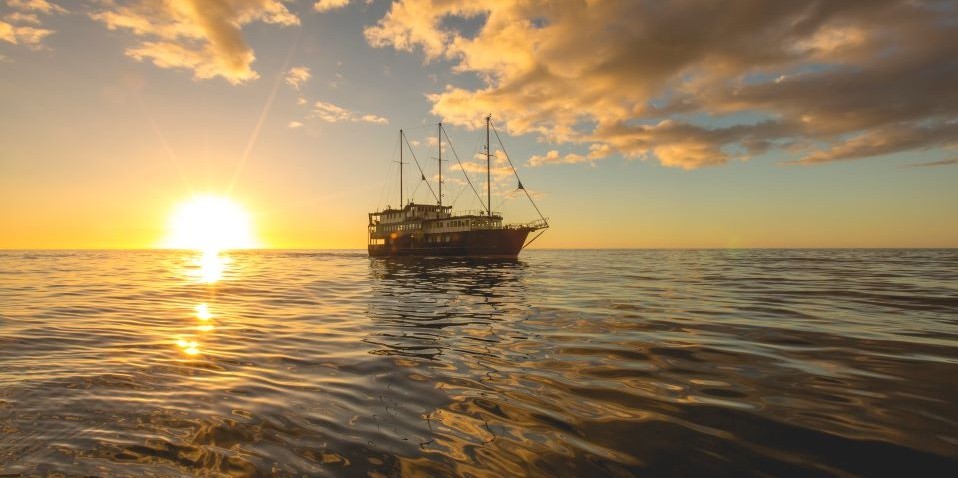 Milford Sound Mariner Overnight Cruise
Highlights:
Peaceful, traffic-free Fiord blanketed under the stars
3-course buffet dinner & cooked breakfast
Kayaking or tender craft tour
Private double/twin cabins
Description
Milford Sound paints a stunning picture in the already spectacular Fiordland National Park. Ancient Maori legends maintain that the fiords were created by the mighty Tu Te Raki Whanoa, an axe-wielding and incantation-chanting demi-god. To modern scientists, on the other hand, fiords such as Milford Sound are carved over centuries by icy rivers. Milford Sound, or Piopiotahi as it is known to the Maoris, is Tu Te Raki Whanoa's most incredible creation. Whatever the weather, it is a sight to behold.
As night falls, a peaceful silence blankets Milford, and an overnight cruise by the silent glacier is one of the most memorable experiences you can have in New Zealand.
The Milford Mariner offers private cabins equipped with ensuite bathrooms as well as quad share cabins and can accommodate up to 60 passengers.
On the Milford Mariner, enjoy an extra-special dinner, as well as a cosy bed and breakfast onboard experience. Cruise the entire length of Milford Sound all the way to the Tasman Sea before the boat drops anchor for the night in the tranquil and protected Harrison Cove. Join your nature guide in the kayaks or tender craft, or enjoy the sights from the ship's deck. After a fulfilling day, tuck into a sumptuous buffet in the commodious saloon before getting some rest in your private cabin.
Trip Includes
Luxury cruise on Milford Sound
Expert commentary and guides
Overnight accommodation
Kayaking or tender craft tour
3-course buffet dinner & cooked breakfast
Duration
17 hrs (from Milford)
Departs at 4:00 pm (from Milford) & returns by 9:15 am
The boat departs from Milford Sound Wharf, transfers available from Queenstown or Te Anau
Operates during summer only (Sep-May)
Other Information
Cancellations made within 30 days prior to the date of travel will incur a 100% cancellation fee
Within 30 days, amendment of travel date can be made outside 5 days prior to travel
Quad share rooms are not suitable for kids under 5 years of age. If you are travelling with kids under 5 you will need to book a private twin room
Infants 0-23 months old travel for free (twin cabins only). Please bring your own cot
Twin cabin child rates (2-15yrs) apply. Children must be accompanied by an adult (including overnight)
Dress warmly & don't forget your camera
Free tea and coffee is available on the cruise boat as well as a fully licensed bar & dinner & breakfast
Overnight Cruise passengers should park in the coach car park after 3.30 pm, which will not be charged. Overnight parking in the main car parks will be charged a flat rate of $25 between the hours of 8 pm and 8 am in addition to any daytime hours.
If there is limited availability, you can also check out the Doubtful Sound Overnight Cruise
A Milford Sound Levy of $10 is included in the price
Normal Retail Prices
Twin/ Double ex Milford:

Adult NZD$749.00
Child (2-15yrs) NZD$375.00

Quad Share ex Milford:

Adult NZD$599.00
Child (5-15yrs) NZD$299.00

Sole Occupancy ex Milford:
Twin/ Double ex Queenstown:

Adult NZD$859.00
Child (2-15yrs) NZD$485.00

Quad Share ex Queenstown:

Adult NZD$709.00
Child (5-15yrs) NZD$409.00

Sole Occupancy ex Queenstown:
Twin/ Double ex Te Anau:

Adult NZD$819.00
Child (2-15yrs) NZD$445.00

Quad Share ex Te Anau:

Adult NZD$669.00
Child (5-15yrs) NZD$369.00

Sole Occupancy ex Te Anau:
All prices shown in NZD$.
Genuine Customer Reviews powered by
Service rating:
The food and facilities were fantastic. Crew were very helpful and knowledgeable.

Product rating:
Perfect! The Mariner was ideal for the trip.
Service rating:
Amazing experience. Lots of beautiful sites to see, crew was amazing, and it made my wife so happy how they handled her dietary restrictions. Highlight of our 3 weeks in New Zealand.

Product rating:
5 star service and experience
Service rating:
From Pete the tour driver to the team onboard. Everyone was super friendly. Everything ran like clock work. The kayak and tender options were great for all ages. The scenery speaks for itself. A must do and see for anyone in New Zealand

Product rating:
Great experience , highly recommend
Service rating:
We booked online. Paid in full. We got a call from the company the next day saying that actually they didn't have space. We were then high pressure sold into two trips on the sounds that in the end were very similar. Felt a lot taken advantage of! Feels like it's done on purpose so they can they sell you more stuff instead of just refunding and correcting the site to say fully booked. We looked again a week later and the trip still said they had availability! So clearly this is a tactic they commonly use.

Product rating:
Expensive. We were cancelled on so we didn't get to go,
Service rating:
I booked an overnight cruise in Milford Sound. The cruise itself is quite expensive but refundable until 30 days before the booking date. I really worried about the possibility of the cancellation of my whole trip because of COVID. I chose Everything NZ because of their cancellation insurance.

Product rating:
Amazing scenery and great encounter with wildlife such as fur seals and dolphins. It was sunny and the sea was calm. I enjoyed a lot without worrying about sea sickness.
It's a pity we couldn't see sunset to the sea. It was maybe because the sunset time is around 9:30pm. The ship can't be in the open ocean at that time. (It anchored at a cove by then.)
Service rating:
They were incredibly helpful. Went out of there way to make my holiday a success and I can't fault anything. Highly recommended. Best holiday ever!

Product rating:
It was one of the most memorable holidays I've had. A must-do bucket -list addition. Food, accommodation, service, and adventure, all rolled into an over-night, breathtakingly beautiful experience.
Service rating:
Everything was confirmed promptly and documents sent out. Very straight forward.

Product rating:
Fabulous experience to get up close to Nature in the Milford Sound. The crew were very attentive and the meals were outstanding.
Service rating:
The way it is written suggests that you get a discount from the total price when booking 2 trips. You need to be more specific on how the multi saver works and that the discount is only on the lowest price product. Made me feel a little suspicious of the sort of company I was dealing with and honestly I would have looked at bookme for a better deal.

Product rating:
I have already recommend this trip to others. The staff were so awesome and entertaining. Loved the three course meal, food scrumptious and there was plenty to go round. The boat was so clean and our bed was cozy.
The only thing was the cabin toilet were a little small for our men but luckily the ones upstairs had plenty of room. The kayaking in the sounds, being able to swim was so worth it.
Service rating:
Outstanding experience and service on board Milford Mariner, with Crew focused on ensuring guests enjoy the beautiful Milford Sounds and providing wonderful insight and information into its history and creation.

Product rating:
Excellent experience, service and natural beauty
Service rating:
Great service and especially the after sales service when i wanted to change parts of my booking

Product rating:
Wonderful time in Milford Sound, hundreds of water falls due to all of the rain which was spectacular. The ship and crew were fantastic, very helpful and knowledgeable.
Service rating:
Booked overnight Milford Sound cruise. Actually it took two days and two SEVEN HOUR BUS RIDES (not a direct route at all! Dropped people off all over the island) for a two hour boat ride, not a cruise. Didn't get on boat until after 4pm and it did not sail out to the Tasman sea as described. Instead we had to get up at 6am in the dark and they ran us out to the sea. We were dumped off the boat before 9am. Not a relaxing cruise but a very tiring waste of two days. There must be a better way to see the sound.

Product rating:
Overpriced, bus didn't take direct route and took seven hours one way, very obnoxious bus driver who wouldn't stop talking about how great he was (he wasn't), very little time on boat. Cabin had window the size of my I phone and had to stand on bed to see out. Dinner was a buffet and to add insult to injury, they charged $17 for a glass of wine!!!! Nature guide didn't even know what kind of fish were in the sound—when asked, he said "lots". Really?
Service rating:
would have liked to get an email a day before travelling to remind me of my journey that was coming up as I had lost my booking email.

Product rating:
bus driver (Roland) from Queenstown was excellent and very good commentary. Accommodation on cruise was good but the crusie was shorter than we had expected. Also with Autumn day light it didn't give us much time for water activities. There was quite a lot of doubling up of information about nature and wildlife and a great opportunity to show off Fiordland as a whole was missed. Instead of a slide show (which was not that good from a New Zealander perspective) there could have been a DVD on the whole area - like the current TV programme of NZ coast. Overall though the crew were very helpful with a smile.
Service rating:
Great organisers. Belinda was very helpful

Product rating:
Great experience with professional tour operators
Service rating:
Staff were very helpful and took excellent care of us

Product rating:
The cruise was magical, very beautiful scenery and excellent guides, very knowledgeable and approachable. Excellent food and service.
Service rating:
Website probably would benefit from a little I,pro meant but sr ice otherwise ok.

Product rating:
Really enjoyed the cruise,better than expected. Would have preferred a slightly later finish.
Service rating:
Fantastic cruise overnight

Product rating:
The real journeys staff were fantastic, this trip is so good I could have done it all again a second day and night x
Service rating:
The booking was easy and straightforward. There were conflicting times given for arrival time for the cruise. I had to phone the actual cruise company for the correct time, it was fortunate I did this as the cruise actually left an hour earlier than the time I had been given!

Product rating:
The overnight cruise was outstanding. We had a lovely room, comfortable beds and adequate bathroom. The only negative in the room was the constant sound of the bathroom extractor fan, which didn't turn off...and the head end of the beds were against the wall of the bathroom!!
The kayaking was great. The meals were outstanding. The views of our stunning fjords first thing in the morning is a very special experience. We have cruised the Milford Sound many times during our lifetime here in NZ, but this added a new dimension to our experiences, in one of our most favourite and beautiful places in NZ!
Service rating:
Loved every minute! Well worth the money! Right up there amongst the best things I have ever done ! That includes the pyramids in Egypt, the Great Barrier Reef etc

Product rating:
Like I said above one of the best things I have ever done!
Service rating:
Great service from all involved

Product rating:
A wonderful couple of days. From Coach trip to overnight Cruise all ran like clockwork with informative commentary, great food and service in an awesome location. The coach stops in and out of Milford were all interesting.
Service rating:
Hassle free booking service

Product rating:
Very enjoyable cruise, Highly recommended.
Service rating:
No problems with booking etc

Product rating:
Most enjoyable trip. Not to be missed.
Service rating:
Really helpful, great customer service.

Product rating:
I was so excited about this trip and it really didn't disappoint. It was truly amazing. Everything was perfect, the boat, the accommodation, the food and the staff. Even the weather was good and it didn't rain ! Milford Sound is one of the most beautiful, stunning places I have ever been to. Being the only two boats on the Sound overnight and in the morning was magical, even saw dolphins and seals. What a fantastic trip.
Service rating:
You are great!

Product rating:
The best way to visit milford!
Service rating:
Easy booking system no problems

Product rating:
Top activity. Loved the boat, the cosy cabin, the food, the sightseeing, the kayaks, the wildlife...everything!!!
Service rating:
Well organised company, excellent on pick ups etc, helpful informative coach drivers.

Product rating:
Would have preferred a day trip. No point staying overnight on the ship
Service rating:
Good service, seemed confused that I only had a reservation number and not an actual ticket. I booked online in canada and never saw anything about needing a physical ticket... I thought that's what they would have provided me on check in.

Product rating:
So amazing!! I will recommend this to everyone i know going to New Zealand!
Service rating:
First class experience. Thank you.

Product rating:
Despite the weather this was a memorable experience. The driver, Steve, was first class. Always felt perfectly safe and his commentary was just right....not too much and always informative. Pity he had trouble with my weird Scottish accent ! Full marks to the chef for his outstanding food. The wildlife talk could be improved.
Service rating:
Had good online service but was not told about what to to do when we went to the gondola ride & dinner & show. we ended up getting a bad table on our honeymoon as once we worked out what to do it was quite late even though we got there early
Product rating:
Service rating:
Great customer service online prior to my vacation, and great bookings with top notch vendors!

Product rating:
I LOVED our Milford Sound overnight cruise. The staff was very attentive, took great care to make sure everyone was well taken care of, and the accommodations were very nice for such a short trip. I can't speak highly enough of the staff, food and experience!
Service rating:
Well organized

Product rating:
Not daylight savings so not a lot of time to do activities so felt rushed and packed. Wasn't a very relaxing trip. Also sound system to cabins isn't clear so was unable to hear commentary and direction while in cabin.
Latest Questions about Milford Sound Overnight Cruise - Mariner
Hello! Do you have a round-trip transfer from Queenstown?
I want to book an overnight cruise on 13 Dec from Queenstown to milford sound.
1. What is the pick up time from Queenstown? Is there one at 4 pm ? What is the return time the next day?
2. There are 3 adults. Is it practical to book one twin shared cabin ?
Can the overnight mariner cruise handle a severe gluten allergy?
Comments
Two questions:

The boat cruise begins at 4pm on Monday, Feb 5, and what time do we arrive back?
Can we park our car in an overnight parking lot there? Is there a fee for overnight parking?
Comments
Can you fly from Queenstown to Milford sound cruise return flight to Queenstown 6th December
Comments
I am looking at Bookings in May and see that past May 20th there are no listings. Are you operating past May 20th? Will those dates be open in the future?
Comments
Hi,
Is there any pricing available to this cruise on Saturday 18 Feb for 2 people?
Thanks

Comments
Hi there, just wanted to ask if there is a smoking area on the boat please?
Comments
Does this boat have a hot tub on deck that we would be able to soak in during the evening?
Comments
Hello, are you able to bring a suitcase and a rucksack per person on board for the overnight cruise?
Thank you
Comments
Inquiring about the overnight cruise in Milford sound.Do they still sail in March.? How much are the double cabins for two adults .Hope to hear from you soon.Thanks
Comments
Hi there,

We are a Northland family of 6 (kids aged 18/17/12/11) and are wanting to find the most cost effective way to book a room/s to do the overnighter in Milford Sound on Saturday Jan 15th.
Can you please tell me how the kids quad cabins work?

Thanks

Comments
Hi, am I able to book without the transport from Queenstown?
Comments
I would like to book a overnight cruise ship for 28th November.
We have 5 adults and 2 kids but kids need seperate bed as well. What will be the best deal for us?
3 adults and 1 kid like to stay together.
2 adults and 1 kids together.
Comments
Hey we are wanting to book two rooms for 4 people for Apirl 20th 2021. Is this available?
Comments
Does anyone have any experience travelling solo on the overnight cruise? How was it?
Comments
So the offer price of $199 includes the accomodation price as well or it's just the price of Cruise ticket & food ??
Do we have to pay extra for accommodation?? If me & my partner books in ?

Any help would be appreciated.

Thanks
Deepika
Comments
I am planning to travel to Milford Sound in May with my husband and our six month old child. Can we bring our pram on board and is this advisable?
Comments
Why are the prices in May so varied?
Does the Milford Mariner have tap beer in its bar ?
Comments
How many tourists does the boat carry

Comments
Hello, my wife and I are looking at coming over from Australia early December. We hope to stay in Queenstown for 5 nights with the ACCOR Vacation Club then overnight with you on a Milford Sound tour. The problem is that ACCOR only accept bookings 6 months in advance. We would love to book a tour now but there is a possibility that we may have to cancel in June if the accommodation falls through. What are your feelings on this please? I know that December is very busy for you. Thank you. Jeff.
If we were to do the "Milford Sound Overnight Cruise - Mariner", where can we (securely or otherwise) park our car in Te Anau?
Comments
Hi, my wife and I are interested in booking an overnight cruise, we have an infant (5months at time of cruise) and are wondering if she can sleep in a cabin with us and what, if any, the charge is for her, as prices for children start from 1 year olds.
Comments
Hi - there are 3 of us. 2 adults and 1 child (under 1 years old i.e. 11 months old). Looking to do the Mariner overnite cruise. We will be coming from Queenstown.
1. Could you quote for the coach option 2 ways, and coach + fly back option? I see the price for adult on flight but not for the child of 11 months. Thanks.
2. Are there any restrictions in terms of luggage for the flight? We will be bringing a foldable travel cot.
3. Also, is there enough space in the cabin for a travel cot?
Comments
Hi - can you cater for gluten AND dairy free diet?
Comments
I WOULD LIKE TO TAKE MY CHILDREN ON THIS OVERNIGHT CRUISE ARE THER AJOINING ROOMS
Comments
Do any of the overnight cruise boats have access for wheelchairs?
Comments
Hi, we are a family of 5. Two adults and 3 children under 11, what accommodation options do you suggest and what would the cost be?
Kind regards
Comments
Do the cabins on the Milford Mariner have hair dryers?
Comments
If I book this cruise we will be driving to Milford Sound to join the boat. I would like to know if there is parking available for us to leave the car overnight at Milford Sound
Thanking you
Comments
Need quote for overnight mi,Ford sound cruise from/to Queenstwon for approx 17 March 2015....2 adults + 1 child 10 yrs and 1 child 14 yrs, please
Comments
Looking at the 5 nov - what time does cruise leave , and what time do you disembark the following day . Thanks phil.
Comments
Hi
I'm looking at the cruise on either 29 Nov or 1 Dec. It's for 3 adults. Is the only option one twin and one sole traveler?
Comments
We are looking at booking an overnight trip with the Mariner, does this go on certain days. If we book a certain day is it certain that it will go.
Comments
Hi,
If I were to book to travel with you from Te Anau is it on your boat or by road.
Also I am travelling with my wife and would like a private cabin. In your booking website it says double / twin share, is this the correct drop down box.
We would like a room with en-suite facilities.
How can we be sure we are booking this?
Comments
Hello, are there any luggage restrictions for the overnight trip? We will be carrying two check in luggage and two carry on bags during our trip, I'm assuming luggage is allowed on the boat correct? For some reason I thought I read that only limited space will be available for storage, so only a small bag was advised, please let me know if that is the case. If luggage is not allowed on board, where do people normally store their luggage during the trip? thanks in advance
Comments
If I choose the Adult + Flight Back option, is the flight a 'scenic flight' and what time do I get back to Queenstown?
Comments
Hi I'm wondering if there is parking at Milford sound and is there any parking fees if we leave the car there overnight?
Comments
I I have accommodation in Lake Wanaka from the 14th-21st June next year and have a hire car that we have to drop off on the 21st, will it be possible to get picked up from Queenstown on the 21st after we drop our hire car off and then travel to Milford sound for an overnight cruise and then back to the airport to head home?
Comments


rating
93% of new customers that used Everything Queenstown to provide advice and securely book their Queenstown activities have let us know they've had a good or excellent experience with us. Thank you.