Milford Flight & Cruise - MSSF
35% off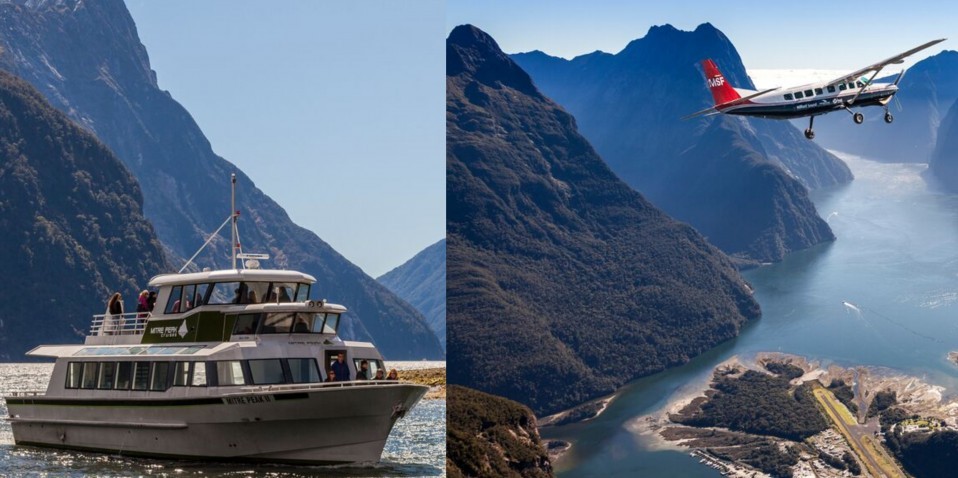 Milford Sound Flight & Scenic Cruise from Queenstown
Highlights
Scenic flight from Queenstown to Milford Sound return
2 hour nature cruise in Milford Sound
Complimentary tea, coffee and water onboard the cruise
Knowledgeable guides & informative commentary
Description
You can't say you've truly experienced Queenstown until you've visited the amazing Milford Sound, one of the most visually stunning and renowned destinations in the world. Surrender to the awe induced by the unparalleled views that only a scenic flight can enable you to enjoy.
Scenic flights with Milford Sound Scenic Flights (MSSF) place you in the safe hands of committed pilots with more than 20 years of experience operating aircraft in the region. Each passenger will be allotted a window seat offering unmitigated views. Commentary from your pilots will ensure you don't miss a thing.
Milford Sound is one of the grandest and most beautiful fiords in the world, crafted by age old glaciers. Situated by a waterway that continues on to the Tasman Sea, the fiord is set in the spectacular Fiordland National Park against a majestic backdrop of soaring peaks.
Your trip will fly you over Queenstown to the jaw dropping Milford Sound, causing you to gasp at the astounding views of mountain peaks, pristine lakes and magnificent fiords in the Fiordland National Park. Once you reach Milford Sound your pilot will take you across the full length of the fiord and land you into the famous Milford airstrip. You will then be transported to the main harbour to board your boat and head out for 2 hours of sightseeing on the water. You will then Fly over the renowned Sutherland Falls and Milford Track on your way back to Queenstown.
The Planes
Milford Sound Scenic Tours use 3 different planes on a daily basis depending on booking numbers and conditions. There are 3 x GA8 Airvans (7 passenger seats, single engine), 3 x BN2 Islanders (9 passenger seats, twin engine aircraft), 2 x Cessna Grand Caravan (13 passenger seats, single turbine engine).
Trip Includes
Return transfers from your accommodation to the airport
40 minute flight to Milford Sound
2 hour scenic cruise on Milford Sound
40 minute return flight back to Queenstown via the Milford Track & Sutherland Falls
Duration
Departures
8am, 10am & 2pm during summer (October - April)
10am & 12:30pm during winter (May - September)
Free pick up from your accommodation or central Queenstown
Operates daily all year round
Other Information
We recommend booking the morning flights as these often provide the best conditions for flying
Children under 11kg are free (they must be UNDER 11kg and be small enough to sit on your lap)
Dress warmly for the cruise on the fiord & don't forget your camera
All passengers have a window seat in the planes - great photo opportunities
Free tea and coffee is available on the boat
If your flight is cancelled due to bad weather you can reschedule or contact us for a full refund
In compliance with Government Public Health Requirements, most operators may require Covid 19 Vaccination Pass / Or a negative Covid 19 test result. Please note, if you are not able to satisfy the requirements of the operator, the booking will be subject to the operator's cancellation terms & conditions.
Normal Retail Prices
Adult: NZD$615.00
Child (Under 15yrs): NZD$380.00
Family (2 adults & 2 children): NZD$1990.00
All prices shown in NZD$.
Genuine Customer Reviews powered by
Service rating:
Fabulous trip and great staff. Just brilliant. Smooth landings and great views.

Product rating:
Value for money, worth the cost.
Service rating:
Very professional and friendly. Beautiful scenery and the views from the plane were spectacular. We loved the cruise and were blown away with the views. Highly recommend.

Product rating:
Great deal, great price. Definitely value for money.
Service rating:
Excellent and friendly service. A great range of tours and experiences on offer at very reasonable prices. The staff are very knowledgeable and made sure I got value for my money.

Product rating:
This is a great idea shame that the weather can have the final say on you trip. Didn't get to do the cruise but the Milford Sound over flight was great.
Service rating:
Easy to use for booking

Product rating:
Pilot Dean very friendly and helpful. Waiting area was outside before our flight, so not very ideal with limited shelter and food facilities close by, suggest offering drinks (including water bottles) and snacks for sale.
Service rating:
Twice the organised trip was cancelled and reschuled to the next day again to be notifies just half hour before departure time to cancel the same. Very dissppinying as had to then look out for a day trip organiser and make a road trip sorted instead.

Product rating:
No comment as this purchase was supposed to be a gift for us from my son who did the purchase but twice cancellation made us cancel this trip eventually and all were greatly dissapointed.
Service rating:
Good. Flights cancelled because of weather. Nothing they could do about that.

Product rating:
Couldn't go because of weather
Service rating:
Really quick confirmation and email for the booking, friendly service and had a fab trip on Milford Sound Scenic Flights that I booked through them.

Product rating:
Was a fab trip! From start to finish with the receptionist, the pilot and on the boat ... everyone was super lovely and helpful. Highly recommend the scenic flight and cruise.
Service rating:
Great service, very friendly and helpful. Would definitely recommend.

Product rating:
Amazing experience! Absolutely fantastic!
Service rating:
Every thing was great service transport and all staff.

Product rating:
Good value is all I can say would really do it again.
Service rating:
Easy to use service, friendly staff and great deals.

Product rating:
Waa amazing, Pilot was great. Smooth flight lots of good commentary during flight and cruise without being annoying. Would definitely recommend the experience to anyone!
Service rating:
Good service, provided partial refund promptly

Product rating:
Sadly did not get into Milford Sound due to low cloud so shortened flight and no cruise
Service rating:
Helpful and efficient

Product rating:
Appreciate the early call from the operator advising the trip was cancelled due to weather. They communicated with the booking agency, making the refund process simple and quick.
Service rating:
Trip cancelled - now awaiting full refund

Product rating:
Trip cancelled - awaiting full refund
Service rating:
The booking went without any problem. But our trip was changed by the operator who contacted ETQ to get them to refund us. 2 days later and this has not happened. We have not heard anything.

Product rating:
I would appreciate contact from ETQ to let me know about my refund
Service rating:
Office staff were friendly and efficient. The pilot and boat captain were professional and knowledgeable.

Product rating:
Definitely a must do activity! The pilot is professional and knowledgeable about the area. The flight and cruise to and from Milford on schedule. The scenic flight and cruise were unforgettable!! ...particularly on such a lovely winters day!
Service rating:
Simply stunning. Katie the pilot was just lovely. Flight was smooth and so beautiful. Cruise was fantastic also with some great commentary. Unforgettable experience. Worth every penny and at current rates an absolute steal.

Product rating:
Fantastic experience. Once in a lifetime. Unforgettable.
Service rating:
Excellent

Product rating:
What an Amazing flight to Milford Sound !!! So glad we decided to fly. What a beautiful day. The cruise was so relaxing, the waterfalls, the mountains and the Tasman Sea. Definitely recommend this trip!
Service rating:
Friendly and fast service. Fly cruise fly was aaaaaamazing. Would recommend!

Product rating:
Great experience!!!!!!'!!
Service rating:
Activité annulée pour cause de mauvais temps. Toujours pas remboursée à ce jour...

Product rating:
Annulée...
Service rating:
A lady named Shelley was super helpful and went above and beyond when our plans kept getting cancelled. Very good service.

Product rating:
Got cancelled............
Service rating:
Amazing team (Shelley and Siobhan) and very responsive particularly when we had to make last minute changes to our bookings. Pity the weather could not behave for our flights to Milford Sound but the bus alternative was equally breathtaking!
Product rating:
Service rating:
I received a voucher from my dad for Christmas last year, to use on my travels in New Zealand and I booked the Milford sound flight and cruise, I know it's not the average backpacker trip! But 100% worth the money! Even though there was so many trips to chose from this one was amazing! Would recommend to anyone. The website was easy to use and easy to make bookings etc.

Product rating:
Absolutely amazing! Had a fabulous time! Big thanks to Andy our pilot. The views were incredible! 10/10
Service rating:
Service OK, trip cancelled
Product rating:
Service rating:
Ryan our pilot was fantastic, great humor and had great knowledge

Product rating:
Great value for money with minimal downtime
Service rating:
Our tour was cancelled, so can't comment
Product rating:
Service rating:
Fantastic customer service, very friendly, calm and professional.

Product rating:
Didn't get a chance to fly into Milford Sound or do the cruise due to bad weather conditions, however the scenic flight over local areas of Queenstown was a nice alternative on the day.
Service rating:
Chat function very helpful when deciding what to book. Able to rearrange dates of tours due to weather and health issues. Best prices.
Product rating:
Service rating:
We took off for Milford Sound by plane and the scenery was amazing but unfortunately weather did not permit us to land at Milford Sound and we were turned back to Queenstown. Free scenic flight to my amazement and full refund. The pilot was great and all staff relating to transfers etc were awesome people. Everything was made easy for us and we will try to do this again as we missed out on our cruise. Good Value

Product rating:
Amazing flight but did not land at Milford Sound due to weather therefore did not get our cruise but know it would have been breath taking
Service rating:
The Milford Sound flight was a wonderful experience.

Product rating:
The cruise was very good with friendly service and good commentary.
Service rating:
Everything was well organised from pick up to return. I changed the pick up point and it was no problem. Polite and helpful staff.

Product rating:
It was certainly worth doing
Service rating:
Check In times were off we were told at the service providers , our Milford sound flight got rescheduled 3 times then cancelled due to weather and our canyon fox got rescheduled multiple times. The team were good at helping to make sure all the times fitted together and activities we did get to do was great

Product rating:
Did not get to do as the weather cancelled our flight 3 times
Service rating:
Our tour was cancelled due to weather, but the company issued our refund immediately without any questions.
Product rating:
Service rating:
This was an amazing experience. The flight provided breathtaking views of the Alps and valleys as well as the scenic flight into Milford Sound. The cruise was great but to be honest it would be hard to justify coming by bus with a 10 hour trip.

Product rating:
Easy and uncomplicated as well as accommodating moving the experience by a day.
Service rating:
You assisted after hours i.e. 6:45pm with a trip we wanted to do the next day. We got feedback early the next morning so knew exactly where we had to be etc. Great service - thank you

Product rating:
Absolutely fantastic trip - were thrilled we did it. Very easy to do online.
Service rating:
Our trip to Milford Sound from Queenstown went swimmingly. The flight and the cruise were spectacular. Everyone was very professional. We were picked up promptly at our hotel. Even the box lunch was very good. Would highly recommend. Incidentally our trip was cancelled twice due to weather, so be sure to spend extra days in Queenstown.

Product rating:
Loved the flight and cruise experience!
Service rating:
Good

Product rating:
If you get the weather you're in for a great trip.
Service rating:
Brilliant service; so easy and effective. We'll be using the service again the future.

Product rating:
Excellent communication throughout!
Service rating:
The flight to Milford Sound was awesome, fantastic views of the area which the pilot narrated as we flew. Once we landed the pilot was really helpful getting us to the boat, making sure we picked up our lunch and getting us all back to the airport afterwards. Great commentary on the boat trip.

Product rating:
Highly recommend flying to Milford Sound as it gives you great views of the whole area. The boat cruise was relaxing, a great way to see the seals and waterfalls up close. The packed lunch contained lots of tasty food.
Service rating:
We couldn't make the timing for pick up for an activity, and we could only communicate via email. That didn't stop them from facilitating a different meet up point with the tour organiser, some place we could reach on time.
They were accommodating when arranging replacement activities when weather threatened our original plans.
Eventually, when we requested a refund due to weather affecting an activity, they were prompt in executing it.

Product rating:
Aircraft was modern and comfortable. The pilot gave quite a detailed description of what we were flying over.

New Zealand looks amazing from the air. The jagged, snowcapped peaks, the lakes, the waterfalls.

Flying down along the sound gave us a chance to see the entire sound, including the mouth.

Unfortunately, winter weather wasn't t too cooperative. Our flight was postponed initially, then amended to skip the Milford sound cruise. We encountered patches of clouds enroute that caused turbulence and obscured our view.
Service rating:
The Service and information from the staff of ETG was just wonderful. Unfortunately our trip to Milford Sound (air, cruise etc.) had to be cancelled due to the weather.
They were very prompt in refunding us our money.
We hope to do this trip again one day, and will certainly book with ETG.
Product rating:
Service rating:
Excellent

Product rating:
Worth it! Really great day out with spectacular sights from the plane and the cruise.
Service rating:
It's awesome website guys n 100% trusted one...
Product rating:
Service rating:
Friendly, funny & informative pilot. Relaxing but beautiful boat ride. Lunch was good
Product rating:
Service rating:
Great service. Pilot had a good line in banter. Ground staff very helpful and pleasant. Great way to start the day.
Product rating:
Service rating:
Excellent communication and attentive service made my experience 5 star.

Product rating:
Professional, safe and fun
Service rating:
Really poor communication re scheduling. Taxi driver was angry at me becyase he said i had to meet him 1240 where as ypu tols me to check in if going at 1pn
Product rating:
Service rating:
Everything was done well, from the early morning pick up through to the flights and cruise, the Dolphins were a bonus.
Product rating:
Service rating:
Well organised, informative, and enjoyable

Product rating:
A great experience helped by the stunning weather. When the captain spotted a pod of dolphins he stopped the boat to give us an unforgettable treat
Service rating:
Excellent accommodation, but no safe which would have added extra security for valuable items. Plus did not receive details of how to enter property. We had to phone when arrived to obtain code for the key box, that we eventually found located at the bottom L/H side of the entrance door.
Product rating:
Service rating:
Great experience and very easy to deal with.

Product rating:
Best trip ever. The flight is worth the experience.
Service rating:
Excellent customer service. 5% discount on everything was a bonus.

Product rating:
This was the highlight of the whole holiday. If you can afford it, and even if you can't, this is a must do.
Service rating:
Smooth process and very convenient pick up/drop off.

Product rating:
Definitely worth it, amazing scenery and experience
Knowledgeable pilot and very smooth flight.
Service rating:
Great organisation and easy to book

Product rating:
well organised and a fab experience
Service rating:
So many options and great discount for booking multiple activities.
Product rating:
Service rating:
Feedback from Simon regarding conditions, and his efforts to upgrade us on short notice was greatly appreciated.

Product rating:
Pilot Grants' commentry, airmanship and sense of humor was brilliant.
Service rating:
OUR FLIGHT AND CRUISE WERE ORGANISED PERFECTLY

Product rating:
FANTASTIC EXPERIENCE. FLYING OVER AND BETWEEN MOUNTAINS WITH GLACIERS SHINING IN THE SUN AND THEN CRUISING ON THE MILFORD SOUND WAS AN EXPERIENCE THAT WILL WE WILL TALK ABOUT FOR A LONG TIME.
Service rating:
Tickets arrived.

Product rating:
Great day out. Return flight delayed due to weather but our pilot was extremely helpful and friendly. Best to not book another flight on the same day, just in case. Mitre cruise was great. Small boat with friendly crew
Service rating:
My flight to Milford Sound was cancelled due to weather. A week later it's still not clear when I will get my refund.

Product rating:
Flight was cancelled due to weather. I rate the excursion company good for placing safety first.
Service rating:
Booking process was easy and we received confirmation details through quickly.

Product rating:
Unfortunately our trip was cancelled due to bad weather which lasted the entire week so we were unable to reschedule but we were contacted by the tour operator re the cancellation and Everything Queenstown have arranged a refund for us. Would book with them again.
Service rating:
Our trip was cancelled due to weather. Please refund our $ ASAP. Thank you.
Product rating:
Service rating:
Easy to book online

Product rating:
Could not do tour due to weather conditions
Service rating:
Brilliant

Product rating:
Brilliant
Service rating:
Easy to book activities and were helpful in rescheduling when our tour was cancelled due to bad weather,

Product rating:
Upon taking off in the plane we were advised that due to bad weather we would not be doing the cruise part of the tour - only flying to Milford and then flying back (and that a refund would be given for the cruise portion).
This was very disappointing as had we known that we were only flying down and back we would have liked a full refund and had another day in the snow - instead of a quick flight then trying to think of something else to do for the other half of the day.
That being said, the pilot was friendly and very knowledgeable.
Just a bit disappointing we were told that we weren't getting what we originally paid for when it was too late to do anything about it.
Service rating:
Helpful and friendly staff. Flexible travel arrangements and very easy to use service.
Product rating:
Service rating:
No problems at all

Product rating:
Totally amazing - brilliant trip
Service rating:
Very quick to reply and arrange refund.

Product rating:
Although we weren't able to take part due to bad weather the service was good. It would be better if you were notified earlier if the tour was going to be cancelled
Service rating:
Great and easy to book

Product rating:
A holiday highlight!
Service rating:
Mbhugtd4rdytfh

Product rating:
Muylhjlhvghcygi
Service rating:
Again great service

Product rating:
An absolutely must do in Queenstown NZ. Stunning snow capped mountains and exciting flying thru them to the spectacular Milford Sound. Will be back for more.
Service rating:
Really well organised,

Product rating:
Absolutely fantastic experience. We were really well looked after from the initial booking inquiry, the whole process was really easy. Our pilot gave excellent commentary through out both flights, and made sure we boarded the correct tour boat. The picnic lunch was delicious and worth the $15.00.
Service rating:
Everything was so easy and efficient

Product rating:
Milford Cruise was very enjoyable but the small plane ride through the snow covered mountains was amazing.
Service rating:
easy to use, no problems.

Product rating:
Brilliant pilot, great size group, we loved this trip. (in fact the plane ride was as much of a highlight as the cruise!) We had the added bonus of landing in a field to drop one of the passengers off to another tour - awesome!
Service rating:
The process of searching / selecting / booking and paying was easy to follow.

Product rating:
This was truly one of the highlights of my life so far...the trip was originally cancelled due to poor weather. But, when I rang later to check, it was on. They collected me from the hotel, took us to the airport, boarded the plane and well....the flight over the mountains was absolutely stunning...awesome! It took my breath away at times. The cruise was informative and the sound offered great scenery...BUT, that flight over (and back) was the highlight. I haven't stopped talking about it and I have thoroughly recommended it to many.
Service rating:
Nothing to complain about quick confirmation and sending tickets

Product rating:
Amazing! Pilot was awesome, scenery was breathtaking. I definite must do!!
Service rating:
AWesome

Product rating:
AWesome
Service rating:
I want to thank both Callum and Belinda for their outstanding service. They were both very understanding of our situation and helped us out.

Thanks and regards Andrew Watts
Product rating:
Service rating:
All my bookings under the Group was successful and gave me an awesome experience.

Product rating:
The scenery was awesome and the pilot was knowledgeable and provided us with excellent commentary on the way.
Service rating:
Excellent, will use again when travelling to NZ.

Product rating:
Refund for cancelled cruise portion was handled very efficiently.
Service rating:
Everything went just as planned. Everyone was super helpful and could not do enough for us. We'll be back!
Product rating:
Service rating:
The service was very pleasant and helpful.

Product rating:
The pilot was very informative and did a great job of giving us the best views.
The weather was the best which made all the difference. The cruise was a bit too long but still very enjoyable.
Everything Travel Group Review
An absolute MUST DO whilst in Queenstown!! Without doubt the most scenic flight you will ever take and well worth the $$. Everyone gets a window seat and they only fly in good conditions so you are guaranteed a great view. The boat cruise on Milford Sound is equally spectacular.
Suggestions: Flights are weather dependent which means if you fly you will get a great day in Milford. Flights can sometimes be cancelled for several days in a row due to low cloud or high winds so we recommend that you book this for one of your first days in Queenstown so that you can reschedule if necessary.
Wow Factor
Latest Questions about Milford Flight & Cruise - MSSF
Hi, we have been disappointed a few times in the past when the weather has not been good enough to fly into mikford. I wondered if we can we coach into Milford from Queenstown and fly out weather permitting?
Good morning, is this experience available on Sunay the 20th of June, in the morning,, preferrabley the earlier time? It is for my Husband and I , as a Surprise Birthday present. I know nothing like last minute. I look forward to your reply.

Kind regards
Linda Plested
Comments
I am going to be in queenstown on 29th june and myself and my wife would like to do the plane trip into milford and boat then plane back to queenstown but concerned about cancellation because of weather and need to leave queenstown early on 30th?
Can we book and if cant get to do because of weather get our money back?
Comments
Hi, just enquiring if our trip is cancelled due to a Covid lockdown are we entitled to a refund please. Thank you
Comments
Hi there, our flight would be arriving at 10:30 am on Saturday and we have the MSSF activity booked in for 12:30 pm. I was wondering if we are able to store our 2 small bags at your office for those 2 hours before the flight to Milford?
Comments
Is there a weight restriction?
Comments
Hi,

Can I please fly to Milford and do the day cruise and then get the return flight the next day? I am hoping to also do the Milford overnight stay
Comments
Hi,

we are 2 travel agents and a plus 1 heading down your way. We are wondering if you offer any industry rates on the flight and then milford sound cruise as we are currently selling a lot of domestic travel and would love a chance to experience the product.

Cheers, Logan
Hi, may I know if the flight still go on a rainy day?
Can we get the flights only (as we have already purchased the cruise) and if so what would the price be? We are hoping to do Milford Sound on 25/07
We are only in Queenstown for 4 nights at the end July. Is the weather usually suitable at this time of year or is it a bad time to do a MSSF trip?
What happens if weather no good?
Comments
Is everyone guaranteed a window seat? Do you all provide transportation from Queenstown Hotels?
The flight to Milford and back to Queenstown? How long does the flight take? How long does the voyage take? A few hours after the departure from Queenstown and back?
Thank you
Comments
Hi
We have a 10 months old baby with us. Can he goes on the plane?
Comments
How many people can fit into the plane? we have 5 people in the group so we would like to travel together
Comments
my son is 4 will he still be free?
Comments
If you book the 9am time from Queenstown what time would you return to Queenstown? I'm trying to figure out flights back to Auckland.

Thank you
Comments
Can I get this in gift certificate form
Comments
Is there an option I can fly with partner to Milford Sound, then take the cruise but return back on the next day to Queenstown, rather than returning to Queenstown on the same day?
Comments
Can I get this in a gift card form?
Comments
I use a wheelchair and would like to take this tour . Would there be any problems?
Comments
Hi. If booking a flight to Milford Sound and it is canceled because of weather, can it automatically be rescheduled for the the next day or changed to a bus tour instead? Thanks
Comments
I like to know where is the terminal for catching this flight. Is it near the international airport at Queenstown? Is there a possibility of leaving our baggage at your flight office as we are catching a flight to Christchurch approximately 3.5 hours aftet touching down from the Milford Sound Flight. How much time will the whole fly cruise fly option take if we leave at 8am in Nov. Do we come back around 1245pm? Is the cancellation or delay rarer in Nov? Thks
Comments
Hi

We are looking at flying to Milford Sound instead of driving our RV from Queenstown.

Do you have an option to fly, cruise, and kayak? We could fly back or take a bus back
Comments
Hi there do you take AMEX ? Also is there a weight limit like the helicopter heli hikes ? Thanks
Comments
can an open ticket..s be purchased as a gift and dates set later when suitable?
Comments
what is the flight distance from queenstown to milford sound airport
Comments
Hi there-my brother and I plan to arrive in ZQN on may 17th at 945 am from CHC.If the weather is good is it possible to take the fly-cruise fly to Milford sound on that day directly from the airport?What time would we be back in Queenstown?
Comments
we are living in turner heights townhouses. is there a pickup service from this location. if we book the milford flight MSSF from queenstown
Comments
How far ahead do you have to book in advance for a booking of a flight to Milford boat trip and return flight to Queenstown.
What would the cost be for four adults and two children aged 5 years old
we arrive in Queenstown Monday the 17th of August
Cheers Adrian
Comments
Taking an 8:00 a.m. flight, when would the picnic lunch be provided? Can we be picked up at lodging in Queenstown? When is hotel name provided?
Comments
My husband and i are keen to do the flight cruise,
from Queenstown but I am not a great traveler! I am fine flying on a commercial airline - but small planes - might be very bumpy? Same with boat travel - I am fine if not rough waters. We would book January 14 or 15. I can take travel sickness tablets - but want to enjoy it as well!
How rough does it get - both air and sea?
Comments
How do I make a review. I could find no place to write a review. Please advise
Comments
Hello
I would like to know between the heli/cruise/fly and the fly/cruise/fly which one gets you a better view on the heli/flight and does the heli stop in the mountains on the way there/back before it gets to Milford sound?

Thank you
Comments
My wife has some walking issues - no long distances and long stairs must be avoided if and when possible. How do we get from the flight to the boat (walking, driving?) and then how do we get back to the plane? We have taken helicopter tours, so she can get in and out of the plane with some small assistance. I'd like to book, but would like your advice (looking at Sept 24th) from Queeenstown. Look forward to your response.
Comments
There will be six of us visiting Queenstown in October this year and we are considering a fly/Cruise to Milford Sound. Please advise the number of seats in plane. I assume we would all fit in the plane. Are there any discounts for a booking for 6 people?
Regards
Comments
We are a group of 7 adults looking at the Milford fly/cruise for the coming 24 or 27 December. Age range from mid seventies to late 30s with one mobility restricted in a motorised scooter type chair and all otherwise able bodied. Is the fly/cruise a suitable and available excursion for us from our Queenstown hotel on the above dates? If so what times, morning preferred.
Comments
Is it free pick up from wan aka ?
Comments
Hi, We have a group of 9 people traveling together and would like to know if we can all fly on the one plane. I was also wondering if there is a possibility of a discount for a group booking.
Look forward to hearing from you at your earliest convenience. Kind Regards
Comments
Hello, I am trying to work out a way to go on a Milford sound flight and cruise as well as a Nomad Safari 4WD tour on the same day. Their tour departs in QUEENSTOWN at 1:30pm.

Instead of dropping us off at our accommodation, I think your website said that's what you do, could you drop us off where the 4WD tours depart from?

Otherwise can you think of another way we could do both tours? Do you ever leave at 8am in Winter?

Thanks,
Jade
Comments
Can you take children under 4yrs on plane and boat.
Comments
Hi what type of aircraft is used for these flights? Are any single engine only?
Thanks
Comments
Is it possible to alter the last flight on the Milford fly cruise fly tour, so that we have more time to have a look around, rather than leaving immediately after the cruise?
Comments
What happens if my Milford Flight is cancelled due to bad weather?
Comments

rating
94% of new customers that used Everything Queenstown to provide advice and securely book their Queenstown activities have let us know they've had a good or excellent experience with us. Thank you.