Queenstown Bungy
Queenstown Bungy
In case you were not aware, bungy jumping is the act of tying an elasticised cord around your feet or waist, then hurling yourself off a crazy height in order to attain a feeling of knuckle whitening terror, which quickly changes to exhilaration as the adrenaline rush takes hold. Generally, a bungy jump is usually made from a fixed structure – such as a tower or bridge – but some daredevils have even tried it from a helicopter or hot air balloon – crazy, right? When the individual plunges towards the ground at speeds of up to about 120km per hour (depending on height), the bungy cord stretches, then recoils, then the jumper is flung upwards again – then downwards – then upwards, until the kinetic energy is used up. So, what sort of person would come up with such a lunatic (but totally awesome) invention? Why, AJ Hackett, of course!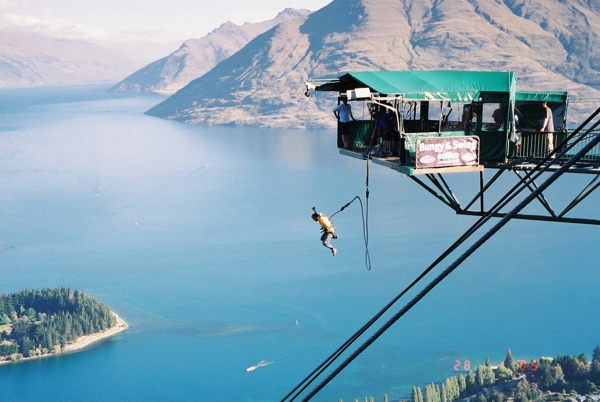 Drawing inspiration from both a Vanuatu ritual called land diving and the experimental jumps made by the Oxford University Dangerous Sports Club in the 1970s, Mr Hackett and his pal, Chris Sigglekow, decided they would try it for themselves. After consulting with the New Zealand Department of Scientific and Industrial Research in the 1980s, AJ used a mathematical formula to develop a stretchy cord that he dubbed a bungy. Satisfied with the results, AJ and Chris decided to test their new invention by bouncing off Auckland's Upper Harbour Bridge (Greenhithe Bridge) in 1986.
After successfully living through his first death-defying jump, AJ tested his bungy all over the place – from a bridge in Hamilton, the Auckland Harbour Bridge and a variety of other bridges on the North Island. All of these initial jumps were made using a full-body parachute harness, but AJ wanted to take it further, so he invented a method for anchoring the bungy to his ankles, and he tested this method for the first time back at the Auckland Harbour Bridge.
After bringing bungy to the world stage by jumping of the Eiffel Tower in Paris in 1987, AJ Hackett went back to New Zealand and set up his first commercial bungy jumping site. The location? The Kawarau Gorge Suspension Bridge in Queenstown, of course! Later on, AJ expanded his bungy sites to other parts of New Zealand, then internationally to Australia, The United States, France, Germany, Mexico, Indonesia, and Macau. He not only invented the sport, but also helped to develop an international safe code of operation for bungy jumping, which is obviously working, as this extreme activity is as popular as ever. So thanks to AJ Hackett and his co-creator, Chris Sigglekow, New Zealand's Adventure Tourism industry was born and is now thriving.
As the birthplace of bungy, Queenstown is the ideal spot to jump off big high things with a rubber band strapped to your ankles. Here are three of the best options:
Bungy - 43m Kawarau Bridge - The Original
While you're standing on the precipice, 43 metres above the sparkling waters of the Kawarau River below, make sure you take a few seconds to pay tribute to New Zealand's very first bungy site, before you jump. You may choose to touch the water at this amazing jump.
Bungy - 47m Ledge - Freestyle Bungy
The Ledge bungy is not only an excellent spot to jump from, but the views are spectacular from 300m above Queenstown! In winter, you can even perform a night jump for something different.
Bungy - 134m Nevis - NZ's Highest Bungy
For those who like to take their adrenaline to an extreme level, this is New Zealand's highest bungy! You'll hop aboard a scenic cable car on your way out to the 134-metre ledge, before feeling the rush of one of the world's most thrilling bungy jumps.
Do you have what it takes?


rating
93% of new customers that used Everything Queenstown to provide advice and securely book their Queenstown activities have let us know they've had a good or excellent experience with us. Thank you.