Floating in Paradise - Queenstown by Boat
Floating in Paradise - Queenstown by Boat
The lakes and rivers of Queenstown offer a spectacular and enjoyable way of viewing the beauty of Queenstown's natural wonderland. You can experience the serenity and tranquillity of Queenstown surrounds while cruising in comfort through Milford Sound, Doubtful Sound or Lake Wakatipu. These are all experiences that will never be forgotten.
The iconic Milford Sound is world-renowned and was once named by Rudyard Kipling as the Eighth Wonder of the World. Featuring spectacular waterfalls, lush rainforests and an abundance of wildlife including seals, penguins and dolphins, Milford Sound is undoubtedly a place of great beauty. You can experience it for yourself by booking a Milford Sound overnight cruise on the Milford Mariner. On this cruise, you can travel the length of Milford sound in comfort and style, enjoying private cabins with en suite bathrooms. This is more than a cruise – it's an adventure.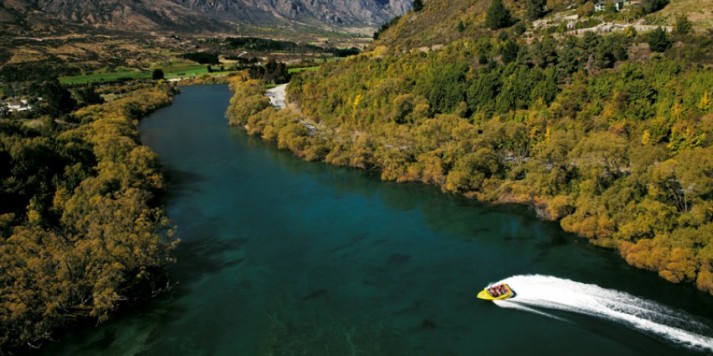 Alternatively, a Milford Sound Coach & Cruise day tour with Real Journeys will give you the chance to experience the beauty of Milford Sound in a single day. Specially fitted coaches afford maximum viewing of snow-capped mountain peaks and spectacular scenery, while the two and a half hour boat cruise will allow you to sample much of what Milford Sound has to offer.
Milford Sound is not the only overnight cruise option. The lesser-known Doubtful Sound is every bit as beautiful and breathtaking as Milford Sound. Doubtful Sound is ten times larger and three times longer than Milford Sound and visitors are overawed by its beauty and tranquillity. Sometimes called the "Sound of Silence" Doubtful Sound is a majestic place, rich in flora and fauna. Real Journeys offer Doubtful Sound Overnight cruises that allow you to experience the beauty and wonder of this delightful place at your own pace. You will see fur seals and bottlenose dolphins and maybe some rare penguin species as well.
Day tours of Doubtful Sound can be taken for those with less time available. Doubtful Sound Wilderness Day Cruises give you the opportunity to experience the Sound and features a three-hour catamaran cruise of the Sound and some of its most striking features.
While the Sounds offer spectacular awe-inspiring experiences, there are plenty of other very worthwhile lakes and rivers to view. A great way to view the spectacular scenery around Queenstown is to take a cruise on the steamship TSS Earnslaw across Lake Wakatipu to Walter Peak. The TSS Earnslaw – affectionately known by the locals as the "Lady of the Lake" – allows you to experience the nostalgia and romance of bygone days of steamships while enjoying the stunning scenery framing Lake Wakatipu. Two cruises are available – an evening dining and Lake Cruise or a barbecue lunch and lake cruise.
Queenstown's natural beauty is stunning. Don't miss the opportunity to experience the full beauty and natural wonder of the area. Make sure that you treat yourself to at least one cruise while you are staying in Queenstown. It will be an experience that will be remembered for a lifetime!


rating
93% of new customers that used Everything Queenstown to provide advice and securely book their Queenstown activities have let us know they've had a good or excellent experience with us. Thank you.