Easy to book - Secure Online Payments - Instant email confirmation - Flexible to make changes
Canyon Swing - Shotover
Current Special
Highly Recommended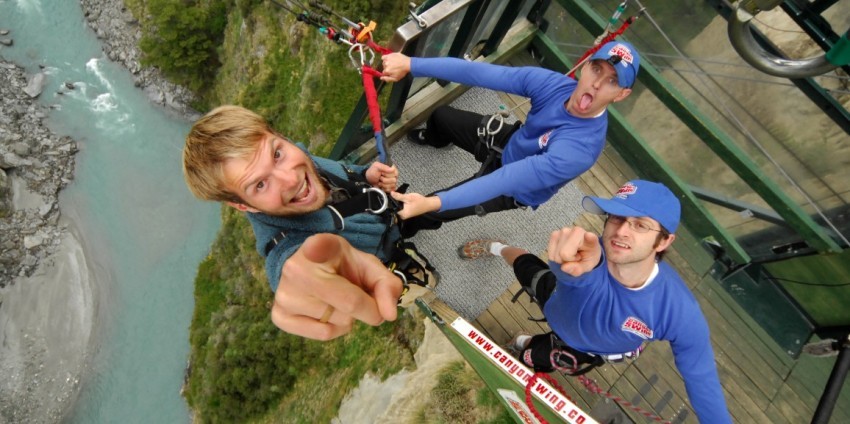 from NZD$229.00
Canyon Swing - Shotover
Description
Only the boldest adrenalin junkies dare to try the world's highest cliff jump. Leap off or be launched from a 109 metre platform mounted on top of a vertiginous cliff, reaching dizzying speeds of 150 kilometres per hour, the cliff face whizzing past you as you plummet 60 metres before feeling the jerk of the ropes, which then swiftly pendulum you into an incredible 200 metre swing over the magnificent Shotover River.
You can choose to either leap off the platform yourself or be launched from a specially constructed launch boom. Chest and seat harnesses make it possible to leave the platform in any way you can imagine, whether you choose to backflip off the edge or cannonball into the abyss. There are more than 70 jump styles for solo and tandem jumpers, and knowledgeable staff members can recommend the best jump for you. Thanks to the chest and seat safety harness, the design of the cliff top platform, the special release mechanism and various specialty products, virtually any jump style you can concoct is possible.
The trip takes approximately 2.5 hours and runs at a relaxed pace, allowing you to have more than one swing.
The Experience
The Shotover Canyon Swing experience is friendly and relaxed, and you need not worry that you'll be rushed and pressured. Each trip is open to a maximum of eleven people including spectators, so you won't have to worry about being herded about in a stressful crowd. You'll have ample time to enjoy the scenery at your own pace and admire the spectacular views of one of New Zealand's most stunning valleys. Feel free to chat with your driver, who will be your host during the trip. Your jumpmaster will see to it that you are at ease and end up loving your experience. Whether you're a seasoned daredevil or an apprehensive first-timer, the friendly staff will ensure you have a fantastic time.
View the different ways you can launch yourself off the platform
Trip Includes
Return transfers from central Queenstown
The world's highest cliff jump
Optional repeat jumps and photos
Duration
2.5 hrs round trip from Queenstown
Departures
Summer (Nov - Apr) - every hour from 8.30am - 5.30pm
Winter (May - Oct) - every hour from 8.30am - 3.30pm
Operates daily all year
Other Information
Solo maximum weight is 135kg
Tandem maximum total weight is 180kg (if you wish to jump tandem you still need to pay for 2 people)
Minimum age is 10 years
1 free spectator per swinger
Closed toe footwear required (no sandals)
Parental/guardian consent required for anyone under 16 years
Penalties apply to any changes or cancellations made to bookings less than 6 working hours prior to trip departure
Extra jumps cost $35 each payable on site
No child rates
Operates in all weather conditions
Combo with Shotover Canyon Swings newest adrenaline venture the Shotover Canyon Fox & save $40
Upgrade to the Shotover Canyon Combo (swing, jet, raft)
Upgrade this activity to one of the following combos:
Swinger: NZD$229.00
Spectator: Special NZD$0.01 (was NZD$20.00)
(Special from 1 st January 2017 - 31 st December 2017)
Additional Spectator: NZD$20.00
Shotover Canyon Swing & Fox Combo: NZD$349.00
Genuine Customer Reviews powered by
Service rating: good
Easy to use website

Product rating: excellent
Very fun but terrifying. Staff were somewhat helpful in trying to relax us
Service rating: excellent
Really good communication when I needed info/help. The one thing, my friends got me open date vouchers as presents which I had to redeem through the website which meant I saw the prices for the activities.

Product rating: excellent
Staff were awesome. Scary as experience though - haha!
Service rating: excellent
Everything worked out for us.

Product rating: excellent
A very big thrill!
Service rating: excellent
Very helpful website

Product rating: excellent
Staff and experience were fantastic
Service rating: excellent
Great service

Product rating: excellent
Was terrifying tho, staff amazing how they joke around etc
Service rating: excellent
Excellent, very helpful

Product rating: excellent
Amazing experience, funny staff, scary stuff but worth it!
Service rating: excellent
Very well organised

Product rating: excellent
Loved it! The staff were very good and made it an awesome experience
Service rating: excellent
Great!

Product rating: excellent
Great activity. Love the adrenaline rush
Service rating: good
The service for both were great
Product rating: excellent
Service rating: excellent
excellent, friendly staff

Product rating: excellent
great fun, and $40 extra swing was a fantastic bonus
Service rating: excellent
great service from pre booking to booking to follow up
Product rating: good
Service rating: excellent
great service, easy to use, everything worked out as planned!

Product rating: excellent
lots of fun, such an adrenaline rush, went twice and would do it again!
Service rating: excellent
Easy to book, good information on the website

Product rating: excellent
This was absolutely fantastic!
Everything Travel Group Review
I've done dozens of bungys around the world and this one takes the cake! Don't be fooled by the name... this is absolutely nothing like your average backyard swing! 109 metres of terror!!
One of the best things about this site is that there are so many ways to throw yourself into the deep canyon below. If you've only got time for one adrenalin activity in Queenstown then this is the one.
Suggestions: If you don't think you'll be able to make the leap of faith then the jump masters on site have plenty up their sleeves. They can take the responsibility entirely out of your hands. Check out the 'Chair' or 'Cutaway' jump styles. Extra jumps are dirt cheap so take advantage while you're out there.
Value for Money
Thrill Factor
Wow Factor
Fun Factor
Latest Questions about Canyon Swing - Shotover
Can we drive ourselves to the shotover swing?
Hi just wondering if I can buy a swing but not have a date set in place due to not sure when we will be in queenstown next and then ring up to book a date at a later time? Thanks.
Comments
Hi does the canyon swing happen in all weathers? Or will it be cancelled because of rain snow ect...
Comments
how much for 2 people to jump at once ?
cheers
Comments
Hi,

Can I strap my own Go Pro to myself while doing the canyon swing?
Comments
My 10 year old weights 20.5 kgs. Is she still able to do the canyon swing - either alone - or with me?
Comments
hii..
if i and my wife do this conyon swing together as a couple, so will it still be charged as 215 nzd per person or will there be any difference in rates for us.
Comments
Do you have a recommended maximum age? I am 52.
Comments
Hi

if doing the swing as a tandem jump is it still $199 each person?

Thank you
Comments
I will be 4 months pregnant. Can I go on the Shotover Canyon Swing?
Comments
Hi, I have a Gopro video camera with the wrist strap. Am I aloud to use it while I do the swing if its connected to my wrist. Thanks
Comments
i possible to do thwe swing without tipping the chair over BACKWARDS. I see pictures of people going tandem and they are still tethered to the platform so it's possible to swing facing forward.

Is the price for tandem 2X the price for single 'swingers'?
Comments
we are coming over soon and i want to do a tandem swing with my wife. is it $199.00 each?
Comments
My partner and I are coming to Queenstown for a short holiday in August and he is very interested in the Canyon Swing. I am not able to participate in the swing (I have a massive fear of heights) but would like to come and watch him swing. Is this possible?
Comments
hi im looking to get my boyfriend a canyon swing- shotover how much will it cost if i want to get a video aswel?
Comments
Enquiring on tandam swing my daughter is heading over with her friend one is 14 one is 13 they want to do the tandam wing. Can I write a concent form for them before she goes or is there a form I can fill in for her to take with her?
Comments
Hi, I am heading over in January and want to have a go at the canyon swing, is there a minimum age and can you go tandom?
Comments
Can you jump first ($199)and then decide if you'd like to do a second jump ($39 extra), or do you have to decide that before you begin? Thanks, Rosie
Comments
Hey can me and my boyfriend do a tandem swing ($199 each) and then he do his own solo jump after (extra $39) ???
Comments
Comments
Hello

Im enquiring how much it cost for tandem swing?

Thanks

Kind Regard
Vyvian
Comments
What is the minimum age to do the Canyon Swing - Shotover?
Comments
Can I jump with a friend?
Comments

rating
96% of new customers that used Everything Queenstown to provide advice and securely book their Queenstown activities have let us know they've had a good or excellent experience with us. Thank you.