Easy to book - Secure Online Payments - Instant email confirmation - Flexible to make changes
Jet boat - KJet
Current Special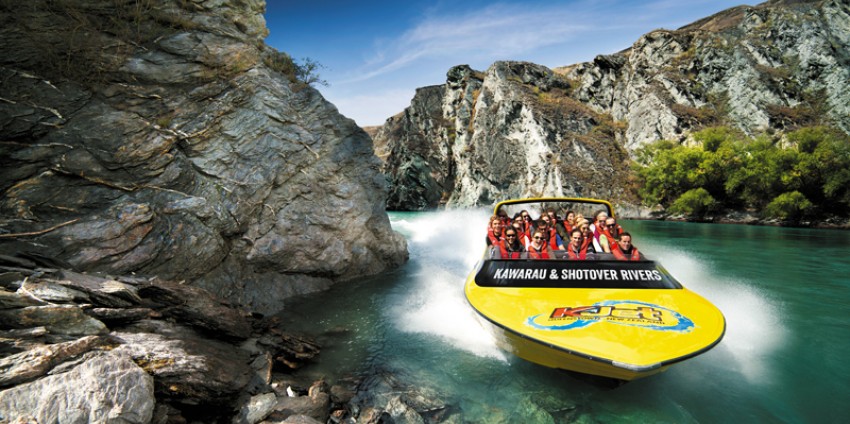 from NZD$116.00
K Jet Queenstown
Description
Behold the mighty roar of the enormous engines as the distinctive 'big yellow' KJet boat races out of scenic Queenstown Bay, does a dizzying 360 degree spin and then zips across the serene waters of Lake Wakatipu, taking you on an adventure across two of the most beautiful and wildest rivers in New Zealand. Make a journey of about 43 kilometres on a trip that lasts an hour. Your first stop will be the confluence of the Kawarau River, where you can marvel at the incredible mountain peaks, impressive alpine scenery as well as the elaborate lakeside properties of Queenstown's rich and famous costing millions of dollars. After negotiating the thrilling rapids beneath the bridge, charge down the Kawarau River at speeds of up to 85 kilometres per hour, swerving to avoid little islets and embankments laden with willow trees, before racing at top speed into the Shotover River's swiftly moving braids. Catch glimpses of glittering sand cliffs as the boat negotiates translucent water that is so shallow it measures less than 10cm in depth in parts. Grip the handrails with white-knuckled hands as the boat narrowly misses sandbanks and cruel rock faces, launching into a 360 degree spin that sends adrenalin levels through the roof.
The KJet has been in operation for half a century and is Queenstown's original jet boat. The ride offers not only thrills and spills but also deep insight into present knowledge of the Shotover River, once known for being rich in gold deposits, as well as the natural environment of the Southern Alps. On your way back to Queenstown's Main Town Pier, experience the excitement of negotiating rough waves, swerving around mark points and being launched into a thrilling 360 degree spin.
Underwater Observatory
Disembark from the boat and delve beneath the lake's shining surface into the Underwater Observatory, which offers you the chance to not only see photographs of your ride but also to explore the mysterious world below water level. Observe the fascinating behaviour of Queesntown's marine inhabitants, including paddling ducks, gliding eels and huge Brown and Rainbow Trout before you return to dry land.
Trip Includes
One hour of Jetboating on the Shotover and Kawarau rivers
FREE entry into Queenstown's Underwater Observatory
Duration
Departures
Every hour on the hour, 365 days a year, 8am till dusk
Departs from Main Town Pier at the bottom of the Queenstown Mall
Operates daily all year
Other Information
Minimum age is 2 years old
Children 2 - 4 years old travel for free
Wear a warm jacket or fleece, casual footwear, sunglasses & sunscreen
Bring your camera
We can look after your bags
Photos of your adventure can be purchased after your trip
Spray jackets are provided as well as beanies & gloves in winter months
Special Offer
Book the 9am (10am in winter) early bird special & save $20 per adult
Adult Early Bird Special: Special NZD$116.00 (was NZD$129.00)
(Special from 1 st January 2017 - 31 st December 2017)
Adult: NZD$129.00
Child (5-15yrs): NZD$69.00
Family (2ad+2ch): NZD$307.00
Family (2ad+2ch) Early Bird Special: Special NZD$276.00 (was NZD$307.00)
(Special from 1 st January 2017 - 31 st December 2017)
Genuine Customer Reviews powered by
Service rating: excellent
Great service

Product rating: excellent
Great people great ride very pleasant
Service rating: excellent
Had an online issue - resolved quickly and professionally!

Product rating: good
Great skills and scenery!
Service rating: excellent
Wish all travel agencies were half as good
Service rating: excellent
I would like to thankss soo much to you, bcoz all my activity plan purchase thru you, goes as smooth as planned. Your fast response to my email is much appreciated.

Product rating: excellent
Good experience, good guide & friendly staff!
Latest Questions about Jet boat - KJet
Hi, I just want to know if it's necessary to book beforehand or if my friend and I can book as we arrive?
Thanks.

PS. We are tourists so could you please tell us how far away the main town pier is from the city centre and if it's easy to get there?
I would like to book the early bird special for Saturday 23 May 10am but need to know what time will the tour end so that I can plan my afternoon for that day. We are a family of 4 adults
Comments
Hi we will be arriving queenstown around 10am from te anau and had booked Walter peak farm tour at 2pm. Will we be able to go for the jet boat and on time for the farm tour?
Comments
hello, I have a 4 yar old....can we she do the jet boat? is there any adventure activity she can do? thanks for your help.
Comments
I will be 4 months pregnant. Can I go on the Shotover Jet?
Comments
Hi Guys

Myself and my familly )wife son and daughter) will be travelling to Quneestown at the end of September and were keen to take your trip, As my daughter is now older than 15 was wondering if there is anything you can offer for 3adults and one child
Comments
We want to go on the early bird speacial would like to book four pax ,we will be at the Novotel is there a pick up?, if so at what time.?
Or we can drive to location ..how far is it from QT ?
Comments
Hey I was just wondering what's the difference between an early bird and the normal one??? I know it's cheaper,but what's the difference
Comments
Our boy will be 1yr and 9 months in November, will he be able to go on Jetboat with us. Looking at booking on 23rd
Comments
Hiya, looking at booking this in for july for me and my boyfriend, was wondering as you have said you can look after bags, if 2 decent sized suitcases would be ok ?? :S !
Thank you!
Comments

rating
96% of new customers that used Everything Queenstown to provide advice and securely book their Queenstown activities have let us know they've had a good or excellent experience with us. Thank you.