What's the best jet boat ride in Queenstown?
What's the best jet boat ride in Queenstown?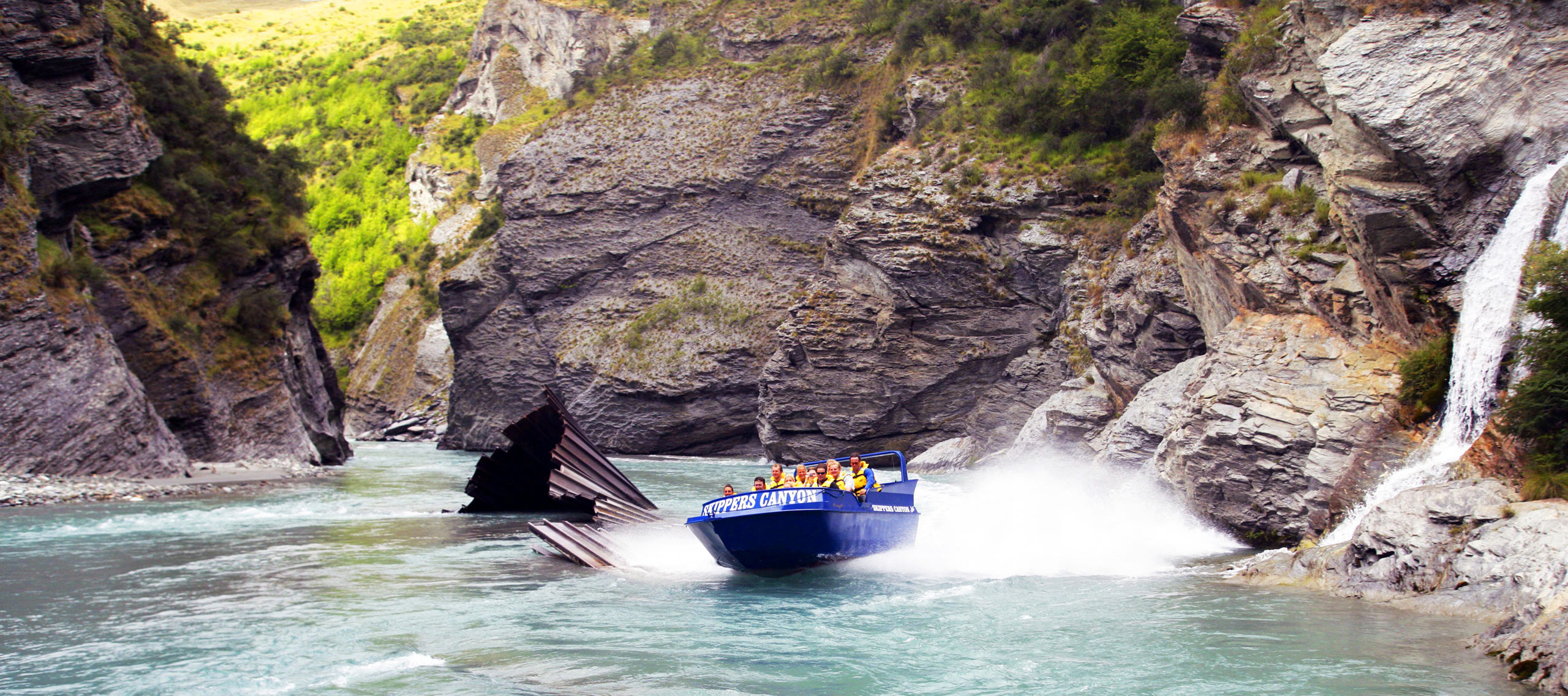 Contrary to popular belief, the Shotover Jet is not the only jet boat company in Queenstown, in fact Queenstown currently boasts five different jet boat rides. In this post I am going to attempt to shed some light on all the jet boat companies in and around Queenstown and more specifically, try and help you determine which one is the best match for you and why.
SPECIAL OFFER
Use promo code blog5 to get 5% off the cost of jet boating and all other Queenstown activities.

Shotover Jet
Let's start with the most famous of all the jet boat companies in Queenstown, the Shotover Jet. The big red boats are known worldwide and are by far the most popular of all the jet boats in New Zealand, thrilling more paying customers than all the other jet boat companies combined. Like all the other jet boats, they operate every day (except Christmas day), and during the busy summer months when kids are on school holidays (December and January) they thrill up to 1000 customers a day!!

The Shotover Jet base is located in Arthur's Point which is 10 minutes drive out of town. You can drive yourself or take the free shuttle from central Queenstown. The jet boat ride is 25 minutes long with trips departing every 30 minutes all day, so the total trip duration including return transfers from town and the jet boat ride is about 1.5 hours.

Why choose the Shotover Jet?
Well it's simple really, it's the most exciting jet boat ride in Queenstown. No other jet boat company is legally allowed to operate in the narrow canyons of the Shotover River, which means Shotover Jet has sole access to the most thrilling location in Queenstown to jet boat. It's a smooth operation with skilled drivers and well trained, friendly staff. Shotover Jet are also the only Queenstown jet boat operation that do full 360 degree spins.

At 25 minutes it is the shortest of all the jet boat rides in town. However, like a good roller coaster, quality beats quantity and after spinning and buzzing through the canyons at break neck speed for 25 minutes, you really don't need any longer! One other point to note is that during the busy summer months you do feel a bit like a number with dozens of other customers getting herded off and on shuttle buses and boats. Arguably a small price to pay if you want to ride the most famous jet boat in the WORLD! Adrenaline junkies need look no further.

More Shotover Jet Reviews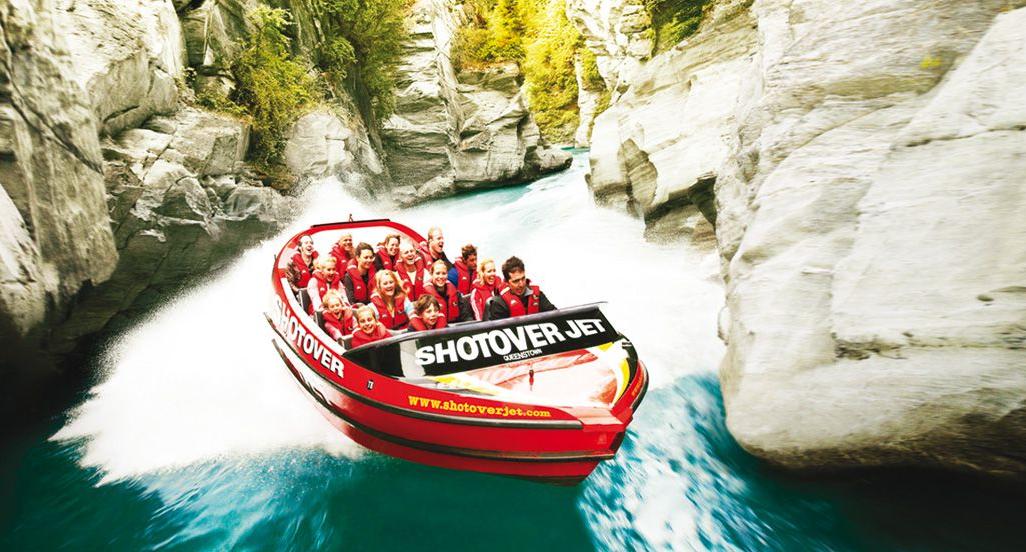 Skippers Jet
Whilst nowhere near as famous as the Shotover Jet (due mostly to their international marketing budget!), the Skippers Jet offers a very similar jet boating experience to its big brother with the added bonus of a return four wheel drive trip into Skippers Canyon. The Skippers Jet operates further upstream from the Shotover Jet in the shallow waters of the upper Shotover River and the canyon itself is not too different to that experienced on the Shotover Jet. Trips depart twice a day from central Queenstown at 8.30am and 12pm (and 3.30pm in summer) and take around 3 hours to complete, which includes 30 minutes of jet boating with a 45 minute four wheel drive trip in and out of the spectacular Skippers Canyon.

Why choose the Skippers Canyon Jet?
If you want a thrilling jet boat experience with a good dose of stunning scenery and without the 'big business' feel, then this is for you. Skippers Jet is an authentic kiwi experience and is still run by a 5th generation Queenstown family who live on site in Skippers Canyon. The boat ride is second to none and you also get to experience the drive in and out of Skippers, arguably a more hair raising experience as your driver navigates the narrow, winding road perched precariously 100 metres above the river.

Be warned though, it gets cold. In winter especially, you need to dress like you are going skiing, with a woolen hat and gloves, glasses or ski goggles, and lots and lots of layers. If you don't rug up, you'll hate every second of it. Mind you that goes for all the jet boat rides in winter. Don't be put off by the cold weather, just make sure you keep warm. Trust me, I've never been too hot going jet boating in Queenstown, so wear everything in your wardrobe or more to the point, your suitcase!

More Skippers Canyon Jet Reviews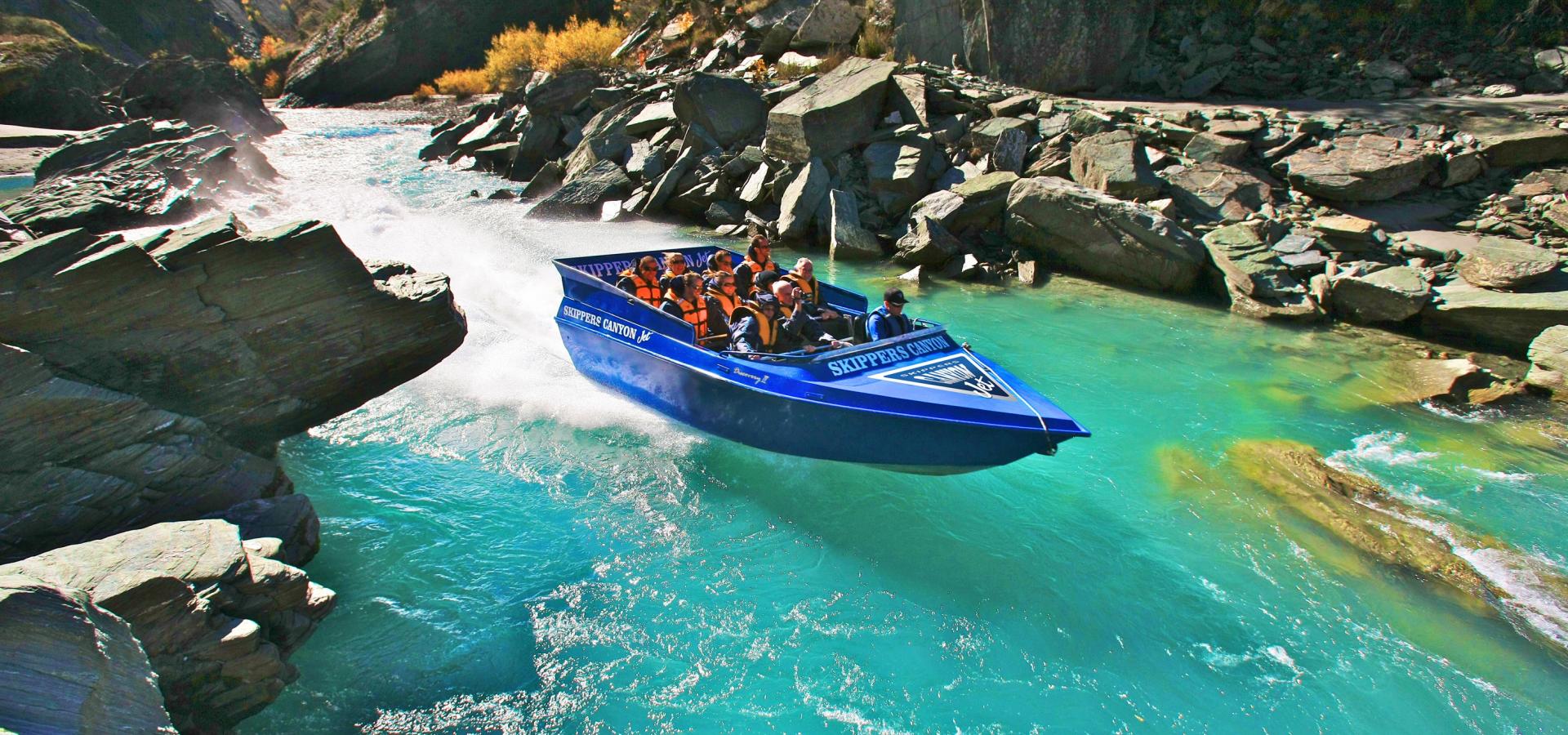 K Jet
The mantle of Queenstown's (and the world's) first commercial jet boating company proudly belongs to K Jet. Formerly known as Kawarau Jet, they started commercial jet boating in Queenstown over 50 years ago, ironically in the narrow canyons where Shotover Jet now operates. Some years later they decided (perhaps regretfully) to give up those rights and moved to their current location on the lakefront in Queenstown bay. They now run 55 minute jet boating trips departing hourly that start at the main town pier on the Queenstown lakefront and travel along the Frankton arm of lake Wakatipu before heading 20kms up the wider Kawarau and lower Shotover rivers (not in the canyons) before returning back to Queenstown bay.

Why choose the KJet?
There are three good reasons to choose the K Jet, time, location and price. The check in point for each boat ride is at the main town pier right on the lakefront in central Queenstown, so you can be on a boat and back to town within the hour. The price is always a little less than the Shotover Jet and you get more than twice the time in the jet boat so it's great value for money too. It is important to reiterate here though, that even though the K Jet does spend some time on the lower Shotover river, there is no time spent in the narrow Shotover Canyons as Shotover Jet own these rights exclusively.

One important thing to note about jet boats is that they were designed primarily to operate in shallow waters. Whilst the K Jet does spend considerable time on the Kawarau and lower Shotover rivers, it spends a fair chunk of the trip traversing across the deep waters of lake Wakatipu. As such, this can often mean a bumpy ride, especially on days where the winds are up and the lake gets choppy.

More KJet Reviews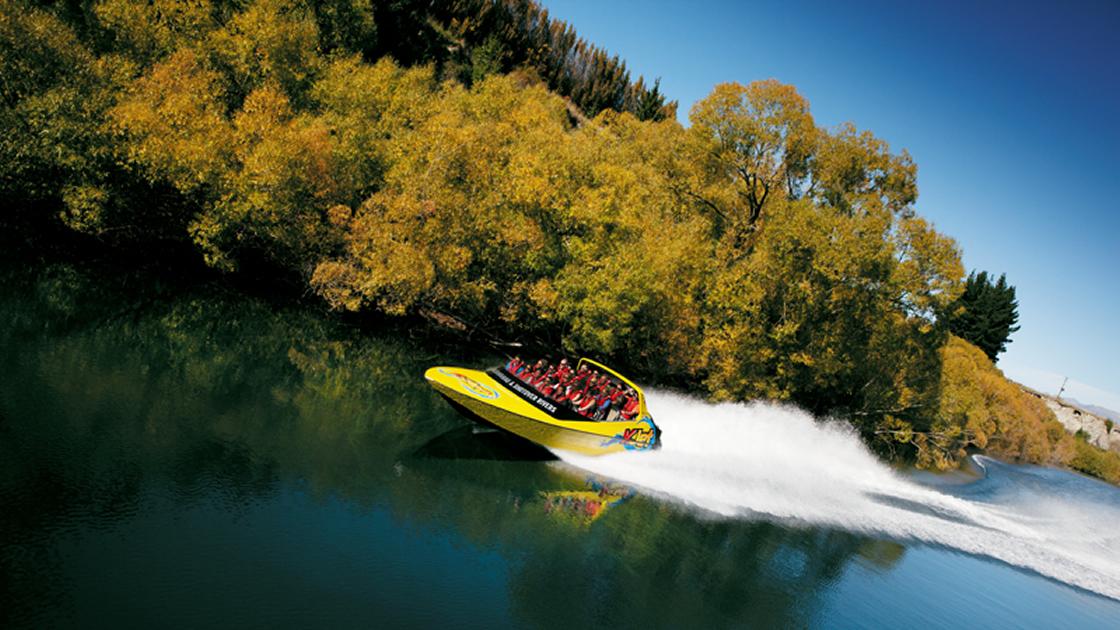 Thunder Jet
Run by the brother of the owner of K Jet, Thunder Jet offers a very similar experience, starting off at Queenstown bay before heading out across lake Wakatipu and into the Kawarau river. The main difference is that these boats travel further down the Kawarau river to the Kawarau bridge and do not spend any time on the Shotover river. Boat trips last for nearly an hour and depart regularly during the day on the hour from the Queenstown lakefront.

Why choose the Thunder Jet?
For much the same reasons as the K Jet. The price is excellent considering you get nearly an hour of jet boating and the departure point is very convenient so if you are running short on time and only have an hour up your sleeve then Thunder Jet is a great choice. Not to mention that the boats look and sound amazing and are a big hit with the kids.

K Jet and Thunder Jet compete for a similar market so you'll often find a good deal or current special available.

More Thunder Jet Reviews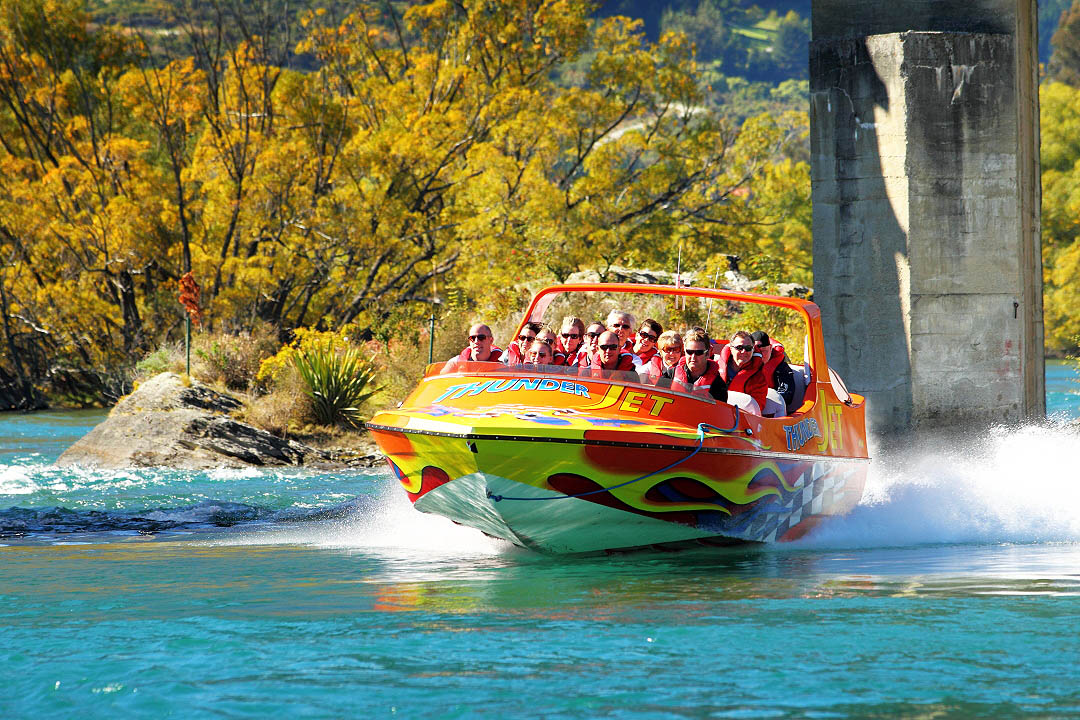 Dart River Wilderness Jet
Combining the exhilaration of jet boating on the shallow waters of the ever changing Dart river with the unparalleled beauty of the surrounding Mt Aspiring National Park, the Dart River Wilderness Jet is a half day adventure capable of whetting the appetite of adventurists and sightseers alike. Departing twice daily at 8am and 12pm, your adventure begins in Queenstown with a 50 minute drive along the edge of lake Wakatipu towards the rural township of Glenorchy. It is here that you board your jet boat for an action packed 70 minute ride upstream before you disembark and your knowledgeable guide takes you for an educational 30 minute walk through the ancient beech forest along the Paradise heritage trail. It's then onto a 4wd bus for a back road drive through some stunning locations used in the filming of the Lord of the Rings movie trilogy before you board your hour long coach ride back to Queenstown.

Why choose the Dart River Wilderness Jet?
The scenery! Aside from visiting Milford Sound, this has to be one of the most picturesque places in the south island of New Zealand. It's no wonder that Peter Jackson chose to shoot so much of the Lord of the Rings and Hobbit movies around Glenorchy. The views are second to none and the guides and commentary is world class. It's an extremely well constructed and professionally run tour that really must be experience if you have the time. If you want to spend more time in Glenorchy then you can choose to drive yourself to the jet boat base which will then allow you to check out the township before or after your tour. There's a couple of quaint cafes and shops on the main street and some neat walks to explore.

Please note, it's a 6 hour tour including return transfers from Queenstown for about 70 minutes on board the jet boat so even though the rest of the tour is still really enjoyable and interesting, be aware that you aren't going to be on the water for the entire duration of the trip.

More Dart River Jet Reviews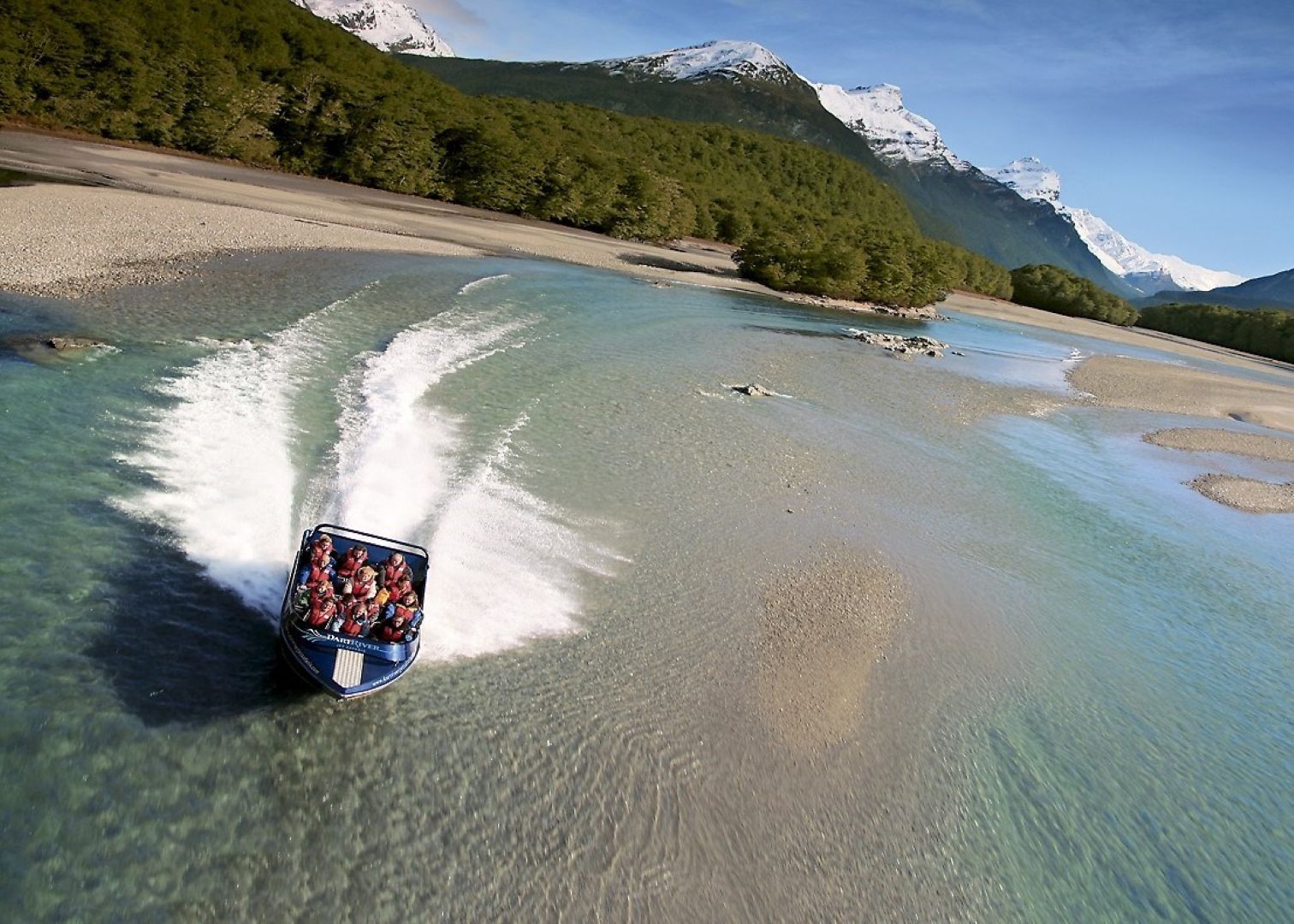 So what is the best jet boat ride in Queenstown?
It really depends on what you are looking for and it is of course very subjective, but my picks are as follows:

Most exciting jet boat - Shotover Jet

Most scenic jet boat - Dart River Wilderness Jet & Skippers Jet

Best value for money jet boat - Skippers Jet

Most easily accessible jet boat - K Jet & Thunder Jet
SPECIAL OFFER
Use promo code blog5 to get 5% off the cost of jet boating and all other Queenstown activities.


rating
93% of new customers that used Everything Queenstown to provide advice and securely book their Queenstown activities have let us know they've had a good or excellent experience with us. Thank you.