Easy to book - Secure Online Payments - Instant email confirmation - Flexible to make changes
Four Wheel Drive - Nomad Safari of the Scenes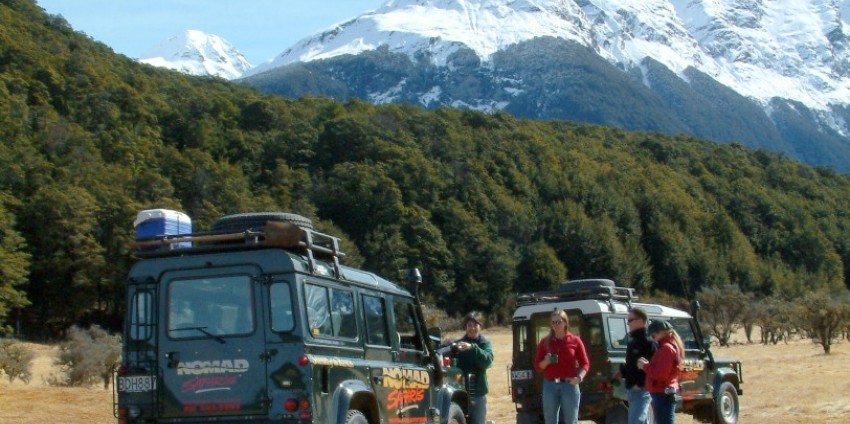 from NZD$185.00
Four Wheel Drive - Nomad Safari of the Scenes
Description
Fans of the epic Lord of the Rings trilogy will jump at the chance to join Nomad Safari on a guided tour of some of the films' most stunning filming locations.
With Nomad Safaris, you can ride in a four wheel drive that will take you deep into the wilderness of New Zealand's high country, which perfectly embodies the Middle-earth Tolkien envisioned. The "Safari of the Rings" tour will allow you incredible views of the stunning scenery that perfectly encapsulates the spirit of Middle-earth.
Tour several of the actual sites where filming occurred. You will however not be visiting movie sets but real pockets of wilderness of an amazing natural beauty that no amount of film editing can truly capture. The atmosphere the film so expertly evokes will be felt so palpably you'll start to think you're a Lord of the Rings character yourself.
Tour Options
Tour A – Wakatipu Basin
On this tour, you will catch glimpses of the Pillars of the Argonath, the Misty Mountains, the Ford of Bruinen and the location of Isildur's fall. You will gaze down at Deer Park Heights, the location of the battle of the Wargs and the march of the Rohan refugees. Try your hand at goldpanning and enjoy the thrill of a river crossing by four wheel drive, weather permitting. Enjoy stunning views of Queenstown, Arrowtown and surrounding areas. You will see towns, farmland, dramatic canyons, soaring mountain peaks, untamed bushland and the well-known Kawarau Bridge Bungy.
Tour B – Glenorchy
View the sites of Isengard and Ithilien Camp, as well as beech forests close to the ones used in the filming of Lothlorien. Travel past the site of the Battle of Amon Hem and the Seat of Seeing. Enjoy the fun of offroad navigation as you pass through the 12 Mile Delta and be awe-struck by the incredible views from the Lake Wakatipu.
Private Charters
If you'd like the exclusivity of a private tour, you can book a private charter with a guide which allows you full control over where to go and what to see. The vehicles are able to accommodate up to six passengers, so this is a great option for those travelling in groups.
Trip Includes
Return transfers from central Queenstown.
4WD trip
Informative commentary
Lord of the Rings locations
Gold panning (on Tour A)
Duration
Allow 4 hrs round trip from Queenstown
Departures
8.30am & 1.30pm
Pick up from your hotel or central Queenstown
Operates daily all year
Other Information
Children under 5 years are free
Private charters are available. Please contact us for more information
Wear sturdy shoes and bring a warm top, we stop for morning or afternoon tea, coffee & biscuits
Dont forget your camera
Tour A (Wakatipu Basin):
adult NZD$185.00
child (under 15yrs) NZD$90.00
Tour B (Glenorchy):
adult NZD$185.00
child (under 15yrs) NZD$90.00
Private Charter:
(up to 6 passengers) NZD$925.00
Genuine Customer Reviews powered by
Service rating: excellent
We had a wonderful day and enjoyed everything about the tour. The driver, Simon was great and had good knowledge of the area plus he made a good cup of tea 😀 We were picked up on time and looked after through out.

Product rating: excellent
Great tour. Nice to see where the movie locations were up close and the scenery was spectacular.
Service rating: excellent
Use of their email system during business hours was prompt and efficient. I booked late and our initial dates were fully booked. It was quick and easy to change days with their email.

Product rating: good
The buffet lunch is excellent. The walk around the island is beautiful. The kids loved the zoo on the island and the crocodiles, however the entry fee is overpriced for the 10 minutes that the show is on for. A great day relaxing and swimming on the beach.
Service rating: excellent
Easy to book services

Product rating: poor
Traffic caused us to miss the most important part of the Lord of the Rings sites tour - actually seeing the Lord of the Rings sites. Was very disappointed and unable to make up for it in our trip after coming all the way from the US
Service rating: excellent
Queries were answered quickly

Product rating: excellent
Good tour if short on time, driver was nice lady with appreciation for her surroundings. And knew about LOTRs which the tour follows to different locations.
Service rating: excellent
Great people

Product rating: good
Saw lots
Service rating: poor
I booked and paid for a trip for my husbands birthday. The trip was already full and your booking made no attempt to contact me and advise me of that. The refund i had to enquire into 3 times and was so slow i was unable to do anything for my partners birthday. As a local i will not recommended this service to anybody
Product rating:
Service rating: excellent
awesome service... very helpful and easy to book...

Product rating: excellent
just the perfect service for three asians. the guide was very helpful and informative and funny too. nice view and nice story. will definitely recommment to others.
Service rating: good
Good discount from booking two together.

Product rating: good
Did the glass bottom boat tour which was excellent and saw turtles. Didn't dosnorkelling but think we'd have been disappointed if we had as the snorkelling areas weren't great and couldn't go far enough out to seeanything good, glad we didthat on another tour to the outer reef.
Service rating: good
Easy and responsive

Product rating: excellent
Great trip, well organised.
Service rating: excellent
Initially overcharged but it was picked up and sorted. Cheers

Product rating: excellent
Guide(s) we had 2 were both knowledge and amusing. We had a lovely time.
Service rating: excellent
Excellent customer service!

Product rating: excellent
Great trip - excellent guide really enjoyed the day
Service rating: excellent
Excellent

Product rating: excellent
Excellent
Service rating: excellent
exellent from pick up to drop off. amazing

Product rating: excellent
exellent day. loved it all
Latest Questions about Four Wheel Drive - Nomad Safari of the Scenes
Do we makes stops and walk out to enjoy the scenery? Or does the tour entail staying in the vehicle the entire time?
Comments
Hi

Travelling with a toddler 3 yrs 3 months, HOw do we book online,
Pressed BOOK NOW , was not able to see option to select Child under 5 years.

Also, if you are personally aware which of TOUR A or TOUR B actually have access to Lookouts etc, or both of them are about the same.
A tour Map would have really helped.
Comments
what is the difference between Four Wheel Drive - Nomad Safari of the Scenes and Lord of the Rings Tour - Paradise Safaris since both cover about LOTR?
Comments
Hello,
I'm going to be in New Zealand on December and I wish to make your activity to travel around Queensland.
But, I would like some information.
I will be alone. Is that possible to book one seat? I don't mind going with other people, I just would like to know if it's available to book one person to the journey.
Secondly, on the website you say that we can do both trips on one day. How does that happen? How much will it cost? Does it take a hole day trip?
I'm very interest on your activity and I hope you can help me.

Thank you,
Sincerely

Comments
We are a family of 5 adults and 2 children 13 and 6 - is it possible to fit us all in the 1 vehicle for a lord of the rings experience - 22nd to 25th September
Comments
what are the toilet facilities
Comments

rating
96% of new customers that used Everything Queenstown to provide advice and securely book their Queenstown activities have let us know they've had a good or excellent experience with us. Thank you.