Easy to book - Secure Online Payments - Instant email confirmation - Flexible to make changes
Jet boat - Dart River Wilderness Jet
Current Special
Highly Recommended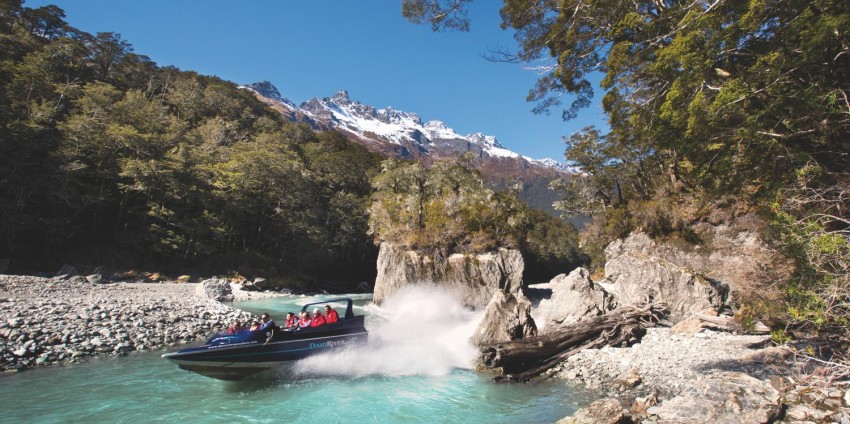 from NZD$239.00
Jet boat - Dart River Wilderness Jet
Description
On a Dart River Jet Boat Safari, you experience not only the heart-stopping excitement of jet boating through shallow waters but also the awe inspired by breathtaking scenery and the wonder of Maori history and culture—everything that makes New Zealand the special destination it is. Dart River Jet Safaris are the only company running operations on the Dart River and offer the longest and most remarkable jet boat adventure in Queenstown and its surrounds. A multi-faceted adventure awaits that will take you to the head of the unparalleled Lake Wakatipu, down the inimitable Dart River and through the jaw-dropping Mount Aspiring National Park. Visit this deeply historical, mystical and legendary World Heritage area on a Dart Wilderness Safari that will thrill and fascinate you.
On the Wilderness Safari, you will board a jet boat for an eye-opening 1.5 hour ride through the Dart River's twisting braided river system, one of the country's toughest to navigate. Gasp at the sight of spectacular mountain peaks covered in snow, dramatic valleys and torrential waterfalls. You will also be treated to a relaxed guided walk that lasts 30 to 40 minutes and takes you on the Paradise 'Heritage Trail', during which your knowledgeable and enthusiastic guides will add context to the walk with commentary that will not only fascinate you but will also teach you about the ancient beech forest, the intriguing native flora and fauna, the riveting Maori history of your surroundings and the colonial influences that shape it even today.
Take a 4WD coach ride down idyllic back roads as you listen to stories about the area and enjoy stops at stunning locations that have served as the backdrop for numerous international films such as the Lord of the Rings trilogy.
Trip Includes
Optional return transfers from Queenstown accommodation
More than an hour of thrilling high-speed wilderness jet boating
30 minute forest walk with your friendly guide
Backroad tour of Paradise & scenes & backdrops from The Lord of the Rings & The Hobbit movies
Entertaining & informative commentary including Lord of the Rings trivia
Duration
Allow 6 hours (includes transfers from Queenstown)
Departures
8am & 12pm
Pick up from your accommodation or central Queenstown shop
If driving yourself to Glenorchy please allow 45 minutes each way
Operates daily all year
Other Information
Minimum height requirement is 100cms (3ft) tall irrespective of child age
Child rates apply (5-15yrs). Infants (3-4 years) can travel on the Wilderness Safari free of charge as long as they fulfil the height requirement
Dress warmly, especially in winter
We advise you to take the following: Sunscreen, bottled water, hat, shades, insect repellent and of course your camera
Upgrade to the full day Funyaks option
Upgrade this activity to one of the following combos:
Adult: Special NZD$239.00 (was NZD$249.00)
(Special from 1 st April 2017 - 31 st December 2017)
Child (5-15yrs): NZD$139.00
Family (2ad+2ch): Special NZD$617.00 (was NZD$637.00)
(Special from 1 st April 2017 - 31 st December 2017)
Genuine Customer Reviews powered by
Service rating: excellent
i think you should include all the fees for the trip in your price instead of being required to
Pay more once I get there.

Product rating: good
I think all fees should be included in your price instead of having to pay more once you arrive. Guide seemed a little impatient with everyone.
Service rating: excellent
Responded in a timely manner on short notice and holiday weekend.

Product rating: excellent
THRILLING tour and also very informative. Will go again in the future.
Service rating: good
Trouble free experience.

Product rating: good
It would be good if the operator can run two types of jet boating experiences. One with more spins and the other with Just a few to cater for different types of customers.
Service rating: excellent
Everything travel was great with making arrangements for my activities. Good stuff

Product rating: excellent
Very good service
Service rating: excellent
service as great- were informed about possible weather issues and cancellations- were provided with options and alternatives in a clear and understandable manner that permitted informed decision making-

Product rating: excellent
a fantastic experience- with knowledgeable guides and rivers- we were kept up to date on weather issues- a truly memorable opportunity
Service rating: excellent
Morning trip was cancelled due to bad weather but we managed to have the trip changed to the afternoon with no problem, excellent service.

Product rating: excellent
Exactly what I expected, excellent trip.
Service rating: good
Really good trip; comfy bus and good guide. Would have liked a little bit more focus on the movie locations, though: seems like we missed a few spots along the way and were told about spots after we'd already passed them.

Product rating: excellent
Fantastic ride--like Tokyo Drift on the water! I absolutely loved it, and as a motorcycle rider I found myself leaning into the curves!
Service rating: excellent
Well organized

Product rating: excellent
Excellent adventure trip
Service rating: excellent
the young man we spoke to on line here before we left was so helpfull he set up our week in queenstown, spaced our tours so we could fit it all in, had the best time.

Product rating: excellent
our jet boat driver was very informative and gave us a fun and enjoyable day. we were a party of eight with an elderly lady my mum they looked after her as well
Service rating: poor
There 2 pre-booked activity being cancelled due to weather condition-helicopter ride;tar glazing at mt cook.

Refund was not being processed till date

Product rating: poor
Did not realize is just a half a day activity. Should have beem more informative which we can pack in canoe and barbecue. Ended up, we jave half a afternoon wasted.
Service rating: excellent
Great

Product rating: excellent
Great People,Great Boats, Great Day.
Service rating: excellent
All bookings worked well
Product rating: excellent
Latest Questions about Jet boat - Dart River Wilderness Jet
Hi did a dart river jet boat ride about 18 years ago then kayaked back up the river and through caves in a inflatable kayak/ canoe do you still do the same trip
Comments
Hi me and partner are 70+. the walk on the dart jet trip, how hard is it.
Comments
please could you confirm that the Dart River Safari Tour is appropriate for our 4 year old. she is 110m tall.

Comments
My Wife and I will be in Glenorchy on the 3rd. or 4th. of March 2014.
Is it possible to join the Dart Rivrer Safari from there.
If so, at what cost per person.
Regards
Bill
Comments
Hi......Planning a Dart River trip in Jan. 2014.
Does the cost cover pick-up in Queenstown?

Thanks.
Monica.
Comments
What Lord of the Rings sites do you visit on the Dart Wilderness Safari?
Comments
We would like to do the funyaks option with our daughter who is 9 1/2yrs. Can 3 of us ride the one kayak?
Comments
My husband and I are looking at taking the Dart River Safaris on 1/10/13. The Shotover boat looks really fun too. Can we do both? or is the boat on the Dart River tour the same?
Comments
Will you be operating on Christmas Day?
Comments
Hi - Do you stop anywhere for a bite to eat on the 6 hour trip?
Comments
what are your age limits re kids? I have a two year old.
Comments
Please can you let me know the cost for 2 adults and onechild/family package without the Queenstown pickup, as we are stayiing in Glenorchy. Thank you.
Comments
Are there any family package options for Dart River Safaris?
Comments
My husband and I will be in New Zealand in March. Your Dart river safari with funyaks has been recommended. My husband was injured in an accident and has no use of his left hand. I can paddle and guide a canoe. Would we have trouble navigating the funyak? Thank you.
Comments
We will be staying at Mercure Queenstown Resort. Do you have pick-up there?
Comments

rating
96% of new customers that used Everything Queenstown to provide advice and securely book their Queenstown activities have let us know they've had a good or excellent experience with us. Thank you.