Easy to book - Secure Online Payments - Instant email confirmation - Flexible to make changes
Milford Sound Overnight Cruise - Wanderer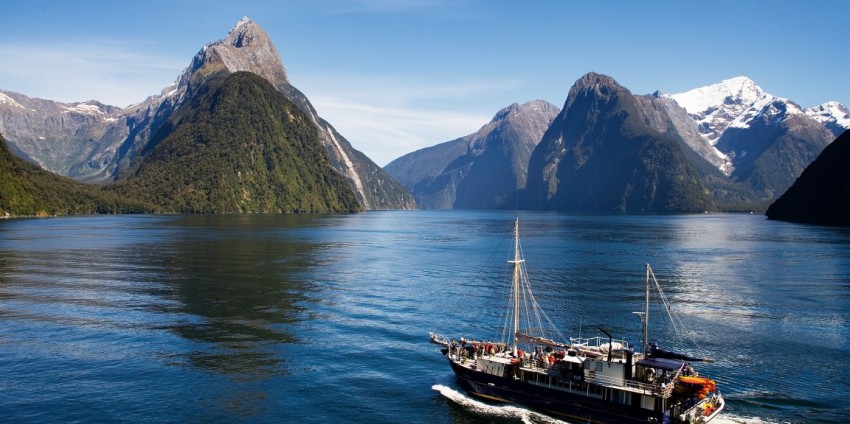 from NZD$315.00
Milford Sound Overnight Cruise - Wanderer
Description
The astounding beauty of the inimitable Milford Sound is legendary. The ancient Maoris believed that the fiords were fashioned not by the action of rivers filled with ice but by the demi-god Tu Te Raki Whanoa, whose powerful magic adze and mystic incantations created his most amazing work, Piopiotahi, as Milford Sound is also known. Whatever the weather, Milford Sound is absolutely breathtaking.
At the end of the day, most visitors leave the area and Milford Sound is soon shrouded in tranquil silence. An overnight cruise amidst the quietly looming mountain peaks and fiords is an unforgettable experience.
Two overnight cruises are available from Real Journeys, each offering the opportunity to soak in the sights and sounds of Milford Sound in the still of the night. The Milford Mariner enables up to 60 passengers to stay in private cabins equipped with ensuite bathrooms, while the Milford Wanderer provides up to 61 passengers with shared bunk-style lodging as well as twin share accommodation.
Exploring Milford Sound overnight on the Milford Wanderer is a very special experience. Together with the welcoming crew and a knowledgeable nature guide, you will sail down the complete length of the incredible fiord. Watch out for the many native animals such as fur seals that you might spot resting on the rocks. You'll have more than enough time to explore your surroundings in the tendercraft and kayaks. Amidst lengthening shadows you will return for the night, sails billowing if the weather permits, to tranquil Harrison Cove. Meet your fellow passengers in the homely saloon where you will share a mouth-watering dinner before retiring to your twin and quad share accommodation.
Trip Includes
Optional return transfers from central Queenstown or Te Anau
Luxury cruise on Milford Sound
Expert commentary & guides
Overnight accommodation on board (double/twin or quad share)
Explore the Milford end of the famous Milford Track or ride in the tender craft to explore the shoreline
Three course buffet dinner & cooked breakfast
Duration
17 hrs (from Milford)
24 hrs (from Te Anau)
31 hrs (from Queenstown)
Departures
Boat departs from Milford Sound Wharf or pick up can be arranged from your Queenstown or Te Anau accommodation
4.30pm (from Milford) returns by 9.30am
12.30pm (from Te Anau) returns by 12.30pm
8.30am (from Queenstown) returns by 3.30pm
Operates during summer only (December - March)
Other Information
Infants not allowed on board the Milford Wanderer. Please book a private room on the Milford Mariner
If you want to travel in April, May, September or October you can book the Milford Mariner boat instead
Dress warmly and don't forget your camera
Free tea and coffee is available on the cruise boat as well as a fully licensed bar, dinner & breakfast
This trip begins in Milford (PLEASE NOTE MILFORD SOUND IS A 5 HOUR DRIVE FROM QUEENSTOWN). Coach options are available from Te Anau or Queenstown
Ask us about the Real Journeys 20% Multi Purchase Discount off selected Real Journeys products
Adult (quad share):
from Milford NZD$315.00
from Te Anau NZD$386.00
from Queenstown NZD$458.00
Adult (twin share):
from Milford NZD$365.00
from Te Anau NZD$435.00
from Queenstown NZD$510.00
Child (quad share):
from Milford NZD$158.00
from Te Anau NZD$193.00
from Queenstown NZD$229.00
1 Adult & 1 Child (twin share):
from Milford NZD$548.00
from Te Anau NZD$653.00
from Queenstown NZD$765.00
Genuine Customer Reviews powered by
Service rating: excellent
Loved the trip and especially the rapore the staff have, they made us feel very welcome.
As a kiwi I feel very proud of the fact you and your team are out there every day teaching everyone about the Milford Sound which is an amazing place.
The only negative I have was the bunk beds were very hard to sleep in.
Product rating:
Service rating: excellent
Well organised and kept us informed throughout

Product rating: excellent
What a fabulous experience. Superb boat and crew and the scenery will live in the memory for a long time
Service rating: excellent
Very friendly fast responses.

Product rating: excellent
Fantastic tour. Scenery aside the staff were wonderful, food excellent. Exceeded expectations.
Service rating: excellent
Booking our trip on the Milford Sound through your amazingly helpful staff has created a lasting impression.

Product rating: excellent
This is a terrific way to see and be part of one of NZ's special areas. Staff on the boat were helpful, knowledgable and responsive to my special dietary needs. The weather was perfect, who could ask for more.
Service rating: excellent
good, fast responses and great travel packages. keep doing what you are doing!

Product rating: excellent
service was great, food was excellent, cleanly bathrooms
Service rating: excellent
Very good value for price
Product rating: excellent
Latest Questions about Milford Sound Overnight Cruise - Wanderer
We may drive our hire car from Queenstown and take your overnight tour mid December. IS there somewhere to park the car overnight?
Comments
We are a family of two adults and two children (aged 9 and 14) keen on an overnight Milford sound cruise. We will require two twin cabin to depart Milford Sound on 28 Dec 2012.
Please advise on availability and cost.
Comments
Do you run tours in August?
Comments
what is a child age up to?
Comments
The prices listed for the Milford Sound cruise; is it per person or per couple.
Comments

rating
96% of new customers that used Everything Queenstown to provide advice and securely book their Queenstown activities have let us know they've had a good or excellent experience with us. Thank you.