Easy to book - Secure Online Payments - Instant email confirmation - Flexible to make changes
Helicopter Flight - The Remarkables
Current Special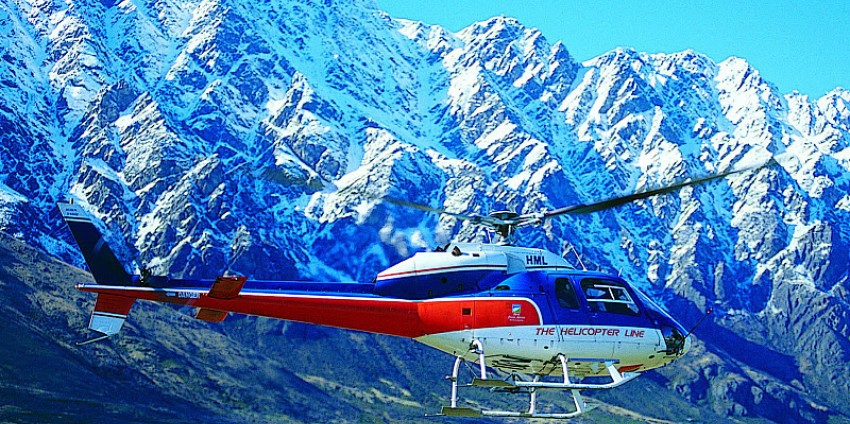 from NZD$165.00
Remarkables Mountain Helicopter Flight from Queenstown
Description
The wild beauty of Queenstown's alpine scenery becomes even more evident when seen from the air, sandwiched between a backdrop consisting of the jagged peaks of the Remarkables mountain range on the one hand, and the tranquil waters of Lake Wakatipu on the other. The Helicopter Line's helicopter flights, which depart from Queenstown Airport just 8 kilometres from the city centre, enable you to have the most incredible panoramic views of Queenstown's wonderful landscape.
From The Helicopter Line base, experience the full impact of the amazing Remarkables mountain range when you fly straight up and land on a spur 1,538 metres above Queenstown. During the winter months you can step out into the snow and look across the serene Lake Wakatipu to the impressive Southern Alps beyond.
Trip Includes
Return transfers from central Queenstown
20 minute scenic helicopter flight (including landing) up to the Remarkables mountain range
Mountain landing with time to take photos
Duration
Allow 50 minutes round trip from Queenstown (including return bus transfers). Total flight time is 10 - 15 minutes
Departures
Between 9am-4pm
Pick up from your accommodation or central Queenstown
Operates daily all year
Other Information
This flights offers travellers a brief taste of flying in a helicopter. If you are after a longer flight, the 30 minute Cecil Peak Snow Landing, the 50 minute Glacier Landing flight or the 90 minute Milford & Alps flight are all spectacular
Sunglasses, sturdy footwear & a camera are recommended!
Children under 15kg can sit on your knee & travel for free. If they are over 15kg then legally they must have their own seat & are charged at the child rate
Charter rates are available
Operates all year
Upgrade this activity to one of the following combos:
Remarkables Special:
adult/child

Special

NZD$165.00 (was NZD$245.00)


(Special from 5 th September 2017 - 30 th November 2018)
Remarkables Flight:
adult NZD$245.00
child (4-14yrs) NZD$171.50
Remarkables Charter Flight:
heli (up to 6 people) NZD$950.00
Genuine Customer Reviews powered by
Service rating: poor
Tour was not actually available, but they got back to us quickly to let us know and issued a refund quickly.
Product rating:
Everything Travel Group Review
The Remarkables mountain is one of the most dramatic and stunning views around. From the landing point you can see for miles in a 360 degree view. Look back accross Queenstown to the houses and famous golf course - Kelvin Heights or the other way to some spectacular remote scenery, and the beautiful Lake Wakatipu. It's hard to believe you are only a short flight away from Queenstown.
Wow Factor
Fun Factor
Latest Questions about Helicopter Flight - The Remarkables
Hi,

I am looking for a helicopter flight to a nice scenic location to
propose to my girlfriend. What are my options and prices please?

Kind regards,

Khai
Also, if we can't fly because of weather and if I can't reschedule the flight, will I be entitled to a full refund?

Thank you
Comments
Hi,
Two questions:
1. my family (me, wife and two kids age 4 & 1) - would we just need 2 adult tickets for this?
2. will there be a snow landing in the last week of September?
Thanks,

Comments
Hi

We are looking at coming to Queenstown late January, we are 3 adults and 2 children. Children are 3yrs and 4yrs
Interested in doing your 1530 special but we aren't sure on dates, we will either be there 25Jan - 29Jan or 01feb16-05feb16.
Would the children be free or would there be a charge for them?

Approx weight 115kg 113kg 65kg 25kg 22kg

Cheers
Keryn
Comments
Hi, my partner has a cast on his leg and is on crutches. Is it still possible to do this?
Comments
Hi, my son is three years old. Is he able to come on the flight (can he sit on my lap)?

Thanks
Karina
Comments
Hi ,

Does your snow landing on the remarkables
operate late october ?- we will be in Queenstown 22-29 October .

Thanks
Comments
Comments
Hi,
Is the 330pm special only online or can I book this when I arrive on Friday?
Thanks
Comments
Hey Im really interested in booking this but just wondered why in particular 3.30pm there is a special? Is there not clear visability at that time due to clouds or something? Also the helicopter is obviously a weather dependant activity, what happens if we arent able to fly due to poor weather? - beacause we are in queenstown for a short amount of time

Thank you

Kind Regards


Bryony Nixon
Comments
To Whom It May Concern,

I'm enquiring about your Helicopter flight up to The Remarkables. I am looking at possibly booking a flight for June 7th, 2014, as we're going to be in Queenstown that weekend. With your 3.30pm special, is that $135 per person? How many people are you able to accommodate? I'm hoping for either 3 or 4 people.
Also, do you know if there will be much snow that early in June?

Kind regards,

Jaimee Cutting
Comments
How much to hire a private helicopter to fly to the Remarkables on the 20th March 2014 for 6 people.
Thank you
Kay
Comments
HI
May i know what is the time for private charter heli flight in the morning and afternoon from central Queenstown ?
Thankyou
Comments
Can we bring our 8month old on the helicopter flight?
Comments
HI

I have a group of business people staying in Queenstown and they would like to do the Helicopter flight - 6 people on Wednesday 18th September - is this available. Also what would total cost be? Prefer morning if possible
Comments
hi there, I am thinking of arranging this as a gift for my partners 40th. Can we take a beer up to enjoy once landed on the remarkables?
Thanks
Comments
I am enquiring about a helicopter flight from Queenstown to any nearby glacier and be dropped off for around 4 hours (my partner and I) with a picnic basket and drinks (supplied by ourselves or you) and picked back up by helicopter and returned to Queenstown. Its my partners 40th birthday and I want to do something private and special. Don't mind if we share the helicopter but just not the private time on glacier. Any suggestions and price for charter? Looking at booking on 18th October 2013.
Comments
Hi, we will be in Queenstown from the 17th August for two weeks, Im just wondering how much is the 3.30 special? Will this be available in a couple of weeks? Thanks for your time
Comments
Hi there,
I am organising a trip for myself and 4 friends in Queenstown at the end of August, and would love to do a scenic flight! I noticed you offer a private charter service for NZ$568.00
Is this the same service as the Remarkables flight?
Thank you
Comments
what happens if the weather is unsuitable for flying? Is the money refunded
Comments
Are you flying today? I am enquiring about a flight for my 17 year old son, possibly at the 3.30pm special time.
Comments
Hi, could you tell me how many people can go on the flights please? Thanks.
Comments
What is the weight limit on the private helicopter charter?
Comments
MY daughter and her family are visiting Queenstown in May 2013. I would like to give them a voucher for a helicopter flight for their family of 2 adults and children aged 8,6 and 2. Would they be able to upgrade to a different flight if they so wished? Am I able to purchase a voucher without stipulating a day and time of flight?
Comments
Dear Sir

What is the difference between the 3.30 pm flight, heli flight and the private charter private flight for six?
If I book private charter heli flight for six, can I set at any time?
Annie
Comments
hello we have a group of 17 people one being a three year old? do you do large group bookings?
we are going for a 50th birthday and would all like to be on top of the remarkables at the same time? Is this possible? the date would be the 2/10/2012 a morning booking?
Comments
Hi there,

I was just wondering, how many people are on each flight?

Thanks

Cheers
Christina
Comments
Hi there, how many people can go up at once , we are a family of 5 and would like to book a flight. Also would like to know what you recommend in regards to footwear. thanks.
Comments
Hi I am planning on booking the helicopter flight for a present on an exact date. If the flight is cancelled due to weather etc. are we able to get a refund or do another activity? Thanks!
Comments
Hi I was just wondering if there is a minimum number of passangers as I want to book a flight for my partner but don't want to go on the flight myself?

Comments
Hi, im flying into queenstown airport at 2.45pm on the 4/6/12, JQ223. Im interested in the 330pm special for 2 people.

Will it land on the ground during the helicopter flight And will the price include a shuttle bus back to queenstown ?
Comments
Hi
Does the private charter include the same tour as buying for one person? Does it include the Remarkables landing. We are coming to Queenstown late July and we have six people so am really interested in this package.
Thanks
Karen
Comments
I am wanting to buy two Helecopter rides for a gift, we are likely to use them in June.
Do I need to purchase the tickets or can i buy a gift voucher of say $300 to go towards the flight
Comments
Hi,

I would be thankful If you can let me know your opening and closing hours(winter and summer).Thanks.
Comments
Hi,
I would like to know if snow landing is available at end of may. Thank you.
Comments
Hi just wanting to know the private charter $575 for 6 people or each person.
Comments
Is the private charter rate per person or altogether?
Comments
Hi there,
I am interested to know the details of priavte charter. I will come with my family (11 of us). I just wonder if it is possible to go in one trip and how much can you offer me for the trip.
Would be in queenstown on 21st may 2012

cheers

fauzi
Comments

rating
96% of new customers that used Everything Queenstown to provide advice and securely book their Queenstown activities have let us know they've had a good or excellent experience with us. Thank you.